Ithell Colquhoun: from Lamorna to Lanhydrock
Helen Hoyle

While usually described as a surrealist painter, Ithell Colquhoun was also a prolific author, poet and playwright. Yet her writings offer little insight into her personal life or emotional relationships. She remains an enigmatic outsider, isolated from the artistic and literary mainstream. Her fascination for mysticism and the occult became entwined with a quest for identification with the spirit of the Celtic landscape.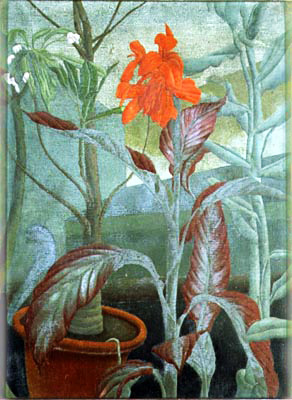 Of Scottish ancestry, Ithell was born in 1906 in India, where she was brought up in an atmosphere which encouraged freedom and independence. This enabled her to develop an unusual degree of sensitivity and curiosity about her environment. The family returned to the UK when she was very young. Educated at Cheltenham Ladies School, Ithell subsequently became a student at the Slade. Here her affinity with the natural world found expression in representations of plants of unusual shape and dimension, such as hibiscus and pomegranate.

Early works also included classical subjects such as 'The Judgement of Paris' and 'Susanna and the Elders' in which she challenged conventional gender roles by depicting the females as strong, assertive figures.

In 1931 she visited Paris, where she rented a studio and came across the work of the surrealists. Inspired by Salvador Dali, her botanical works now began to embrace notions of fertility and sexuality, in a style she described as 'magic realism'. Back in London, Ithell's status was acknowledged by solo exhibitions in the capital and Cheltenham. In 1936 she visited the International Surrealist exhibition held in London, where Dali delivered a lecture from inside a deep-sea diving suit.
Surrealism was a philosophical movement founded by the French poet Andre Breton in 1924, which rejected rationality in favour of the creativity of the unconscious mind. This had great appeal for Ithell, who joined the British Surrealist Group in 1939. However, its membership was dominated by men who regarded women as objects of erotic fantasy. Ithell reacted to this attitude by parodying the surrealists' obsession with sexual imagery. Her 1938 painting 'Scylla' offers an example of her subversive manipulation of the notions of eroticism. In 'The Pine Family' she took this further by using images of castration to promote the concept of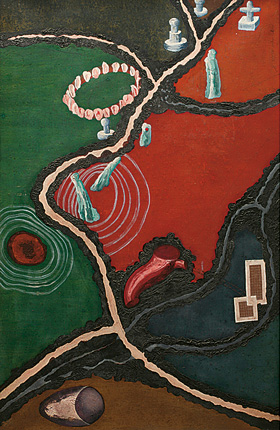 androgyny as a response to the issue of duality (also explored in her mystical writings). Ithell's association with the surrealists was short-lived. There are conflicting accounts of the circumstances surrounding her break with the movement. She was unwilling to adhere to its political agenda and her increasing involvement with occult organisations led to a rift. She left the Group in 1940. However, aspects of surrealism, such as automatism, a defining feature of Breton's original manifesto, remained integral to her artistic and literary output.

By this time she had become involved with Toni del Renzio, a Russian-born Italian surrealist poet. The couple were married in 1943 but their relationship soon foundered owing to his infidelity. They divorced four years later. Ithell was utterly devastated. Though she subsequently engaged in romantic liaisons, she never fully recovered from the breakdown of her marriage.

Having visited Mousehole during the Second World War, Ithell decided to leave London following her divorce, to make a fresh start in Cornwall. With scant regard for the comforts of domesticity, she rented a corrugated iron hut in Lamorna, with no electricity or plumbing, which she occupied as both home and studio. The simplicity of such a life enabled her to feel a profound connection with the rhythm of nature and its affinity with the ethereal world. In her book, 'The Living Stones', she described Lamorna as '… valley of streams and moon-leaves, wet scents and all that cries with the owl's voice, all that flies with a bat's wing…'

It was during her time in Lamorna that Ithell painted 'Landscape with Antiquities' (left above), an imaginary scene, but one which documents many of the prehistoric sites between Lamorna and St Buryan. Clearly depicted are the 'Merry Maidens' stone circle and, across the road, the two Pipers standing stones. Her painting evokes the sacred nature of this environment, which can so easily be overlooked by the visitor in a hurry to reach Lands End. Intriguingly, the interlocking rectangles in the bottom right-hand corner are said to represent Boleigh Farm, where the painter Lamorna Birch originally settled.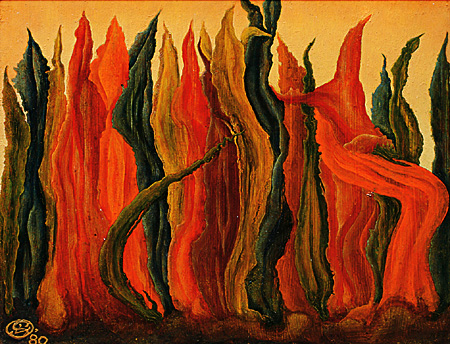 In 1959 she moved to a cottage in the village of Paul, inland from Mousehole. As she immersed herself in the activities of various occult organisations, her work became more inward-looking. 1961 saw the publication of her gothic occult novel, 'The Goose of Hermogenes', described by the Daily Telegraph as 'possessing a haunting, visionary quality'. Ithell began to sign her paintings with a distinctive monogram with magical connotations. She continued to exhibit in the 1970s with retrospective shows in Exeter and at the Newlyn Orion in Penzance. As a painter of fantasy she achieved some success in Europe. However, writing became of primary importance to her during this period.

One of Ithell's most powerful late works is 'Dark Fire' of 1980. While the subject can conjure up the idea of regeneration or purification, in this context it is the destructive force which prevails. It has been suggested that the painter was inspired by the role of fire in the process of alchemy. Here it forms an impenetrable barrier, beyond human control, which threatens to consume all in its path.

Ithell Colquhoun died in 1988. Her writings, letters and library were bequeathed to Tate Britain. The National Trust was granted custodianship of her artworks, and they are currently stored at Lanhydrock. Visiting the archive in the hope of coming across some of her lesser known canvases, I was taken aback by the sheer volume of her output. Though yet to be fully catalogued, the variety and scope of these works is awe-inspiring. The collection (in excess of 1,000 works) ranges from pencil and charcoal nude studies of the early 1930s, to eerily empty landscapes recording her travels in Greece and Corsica, and commissions for costume design and stage sets. It is evident that the 'surrealist' label obscured an oeuvre of exceptional versatility.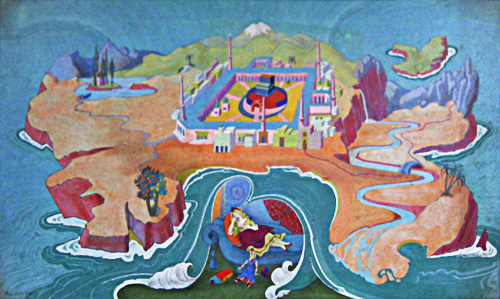 One image in particular which caught my attention was a preparatory work for a mural entitled 'Decoration for a Children's Waiting-Room in a Hospital' (1936), with a curious inscription in the bottom left-hand corner, 'Benedict Yae'. I understand it was destined for the hospital in Moreton in Marsh, but have been unable to ascertain whether this project ever came to fruition. An oriental fantasy, it would have delighted its young viewers, enabling their imaginations to roam freely in an enchanted world.

Ithell Colquhoun was a strong individual who refused to conform to expectations. An atmosphere of mutual antagonism existed between her and the artists of St Ives, with whom she had little in common. It would be interesting to speculate what she might have made of 'Dark Monarch – Magic and Modernity in British Art', the 2009 exhibition at Tate St Ives in which her work was shown alongside that of her St Ives contemporaries. This show was testament not only to a resurgence of interest in her paintings, but also to her importance as a writer and collector who embraced surrealism, automatism and the occult. The accompanying catalogue includes an excerpt from her book 'Children of the Mantic Stain' describing automatism as applied to her visual work.


Posthumous acclaim, then, for an artist ahead of her time. It is to be hoped that documentation of the Lanhydrock collection will facilitate wider access to the legacy of this exceptional woman.


© 2011 Helen Hoyle www.cornishmuse.blogspot.com



Acknowledgements to:

Richard Shillitoe: ithellcolquhoun.co.uk
National Trust, Lanhydrock
Royal Cornwall Museum
Special thanks to Amy Hale, PhD, Adjunct Professor of Humanities, UMUC, whose book 'The Supersensual Life of Ithell Colquhoun' is due to be published later this year by Francis Boutle Publishers at http://www.francisboutle.co.uk/.


Canna 1936
Cheltenham Art Gallery & Museum
Oil on canvas
Landscape with Antiquities, Lamorna 1955
Oil on canvas ©National Trust/Ithell Colquhoun bequest
Courtesy of Royal Cornwall Museum
Decoration for a Children's Waiting Room in a Hospital c. 1936
Oil on board ©National Trust/Ithell Colquhoun bequest