Mary Down, Marilyn Middlemiss and Jo Aylward
The Salt Gallery, 6th October-8th November, 2006
The Salt Gallery is unusual – indeed unique – in having both an unfunded commercial gallery space, and a separate space for installation and video work funded by the Arts Council.
In terms of the international art scene there is less distinction between these two types of art-activity, and there are many artists whose works combine elements of painting and 'installation/video'. In fact it can be argued that the myriad ways in which traditional and new media were combined will, in retrospect, be recognised as one of the defining features of international art in the nineties. Throughout this period painting remained in the background as the most commercial of art-activities – but its credibility, interest and value were always sustained and dependent on art emerging from different media.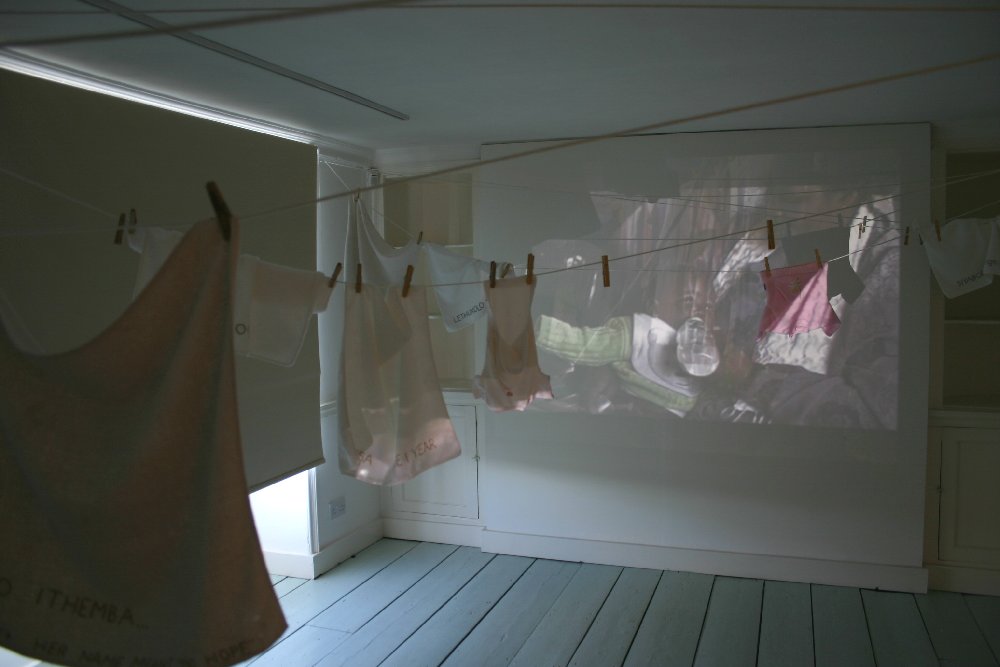 In Cornwall, however, things are somewhat different. This is probably because of the audience for art, which may be less accepting of the dis-junction and frisson that occurs when artworks made in differing media are shown alongside each other.
In October 2006 the Salt Gallery showed a chall-enging work by Mary Down called 'for Lelethu' in the installation space or 'Frontroom'. The centre-piece was a video made by Mary in South Africa when she was working as a volunteer in an AIDS treatment centre. The video, shot in a straight-forward uninflected style, featured children affected by the disease and their mothers talking to camera. In front of the projection, and partially obstructing it, were towelling nappies and baby-grows hung on washing lines, in a way that brought the streets of the townships into the gallery. Each was lovingly embroidered with the name of the children in the video: of which Lelethu was one.
The domestic scale of the gallery space reflected the domestic context in which the tragedy of AIDS as it affects families all over Africa is being played out. AIDS has now claimed the lives of nearly 40 million people world-wide, the majority in the sub-saharan African continent. Although effective treatments are available they are too expensive and most African health-care systems are unable to
deliver them.
The effect of placing a work addressing an issue of such global importance in small a gallery in Hayle was startling, especially as it came hard on the heels of the Tracey Emin show there. It demonstrated that Cornish galleries do not have to conform to the stereotype of the provincial gallery but can think big, and grapple with difficult issues.
Depicting third-world hardship in any art-gallery is complicated, however, because this privileged setting can throw an unforgiving spotlight on the stark wealth differential that exists between Western and non-Western countries. And yet, equally, there should always a place for art with a social conscience.
Inevitably the highly emotive content of Mary's installation affected the viewers experience of the work in the adjacent space, where there were paintings by Marilyn Middlemiss and Jo Aylward. Marilyn showed several new paintings that consisted of two or more panels nudged up against one another. All of Marilyn's work (picture above, right) is understated and minimal, and like most minimal art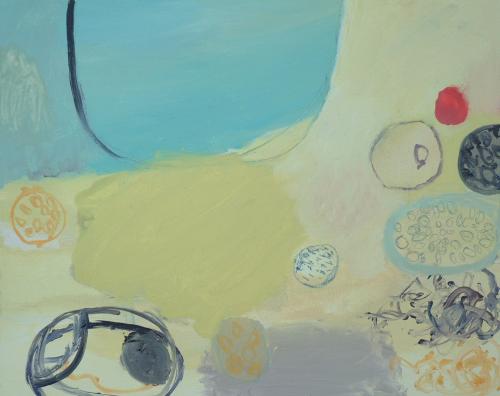 it is very sensitive to the context in which it is hung. The robust geometry in her paintings is mollified by her use of veils of gentle blues and greens, and this sets up a balance between opposite poles: hard and soft, masculine and feminine, serious and playful, intimate and grandiose. The emotional depth of the paintings was such that, in some way, they provided a suitably sober response to Mary's installation.
Jo Aylward's paintings were, in contrast, like small jewels, featuring cut flowers and domestic motifs (mugs etc) as well as egg and breast-like forms. Although delicate and beautiful, in the setting of this unusual show they risked being extraneous. In some ways, however, it can be argued that the untroubled idealised family life to which they appeared to refer is precisely what in Africa AIDS threatens to destroy.
RW