more August
Oneinamillion changes
Bones, doomsaying, pulpits and dead birds: although 'Oneinamillion changes' at Voguebeloth Chapel initially took as its theme history and evolution, what it delivered was their mirror image. Drawing on Victorian gothic, the show was concerned more with death, decay, and the end of time.
In the entrance hall of the old methodist chapel was a jumble of illegible letters connected by a string. A sculpture by Rupert White, it spelt - very badly - 'The End is Nigh' and it towered over the space. Two more related works, imbued with the same religious hyperbole ('Apocalypse' and 'Doomsayer'), were sited in the main body of the chapel. The latter was made up of a clump of letters four feet high that spelt 'doom' and blocked the steps up to the pulpit.
Dominating the central area of the chapel was Stephanie Boon's 'Inside and within (Bower)'. Derived from her studies of bower-bird nests which have the same womb-like shape, it was strewn with pink toys, a bridesmaid's dress and other trappings from an idealised girlhood. This dark grotto or tomb appeared to be the site of some violent transgression.
Boon also showed some smaller works: drawings and objects featuring images of birds, and their feathers and nests.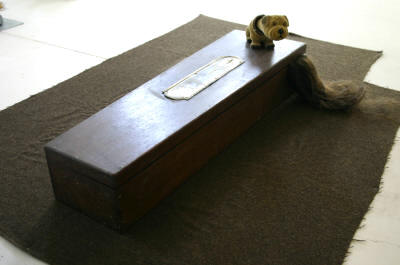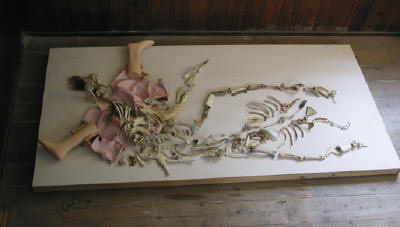 In the far corner of the chapel, lying flat on the floor was the most abject and disturbing of all the works. Tim Chamberlain had arranged bones from a number of different animals so that they looked like the regurgitated remains of a mutant or alien: a symbol, perhaps, of a future dystopia. Such a reading was modified, however, by the title: 'Autobiography'.
Chamberlain also showed a number of other smaller hybrid sculptures that worked in a similar way. He also showed 'Sssh he's sleeping': a wooden box that acted as a simple projector, displaying small backlit images of a man and a lily. This was a work dedicated to his late father.
Adjacent to this was a video by Rupert White of what appeared to be a giant snail crawling over a slowly rotating chair. The chair was designed by modernist architect and designer, Le Corbusier, and the work seemed concerned with pitting nature's design against man's design, and questioning notions of time and technological progress.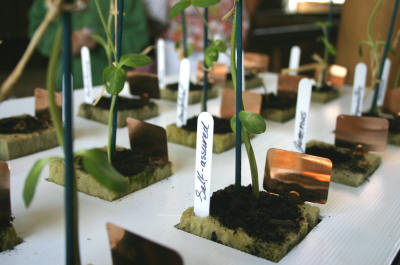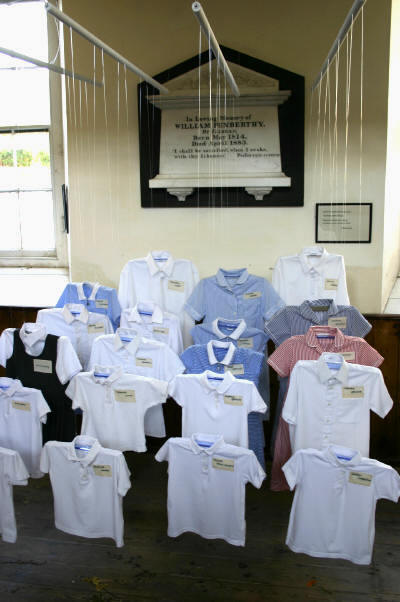 Chantal Brooks injected a note of optimism in a trio of related installations all of which featured text written onto objects: growing plants in one case and a display of drawing instruments in another. The largest installation 'Common ground' consisted of a collection of children's uniforms hung from threads so that they appeared to float like ghosts. Onto their breasts were the latin names of healing herbs. In the context of the show, the work suggested reconciliation and hope.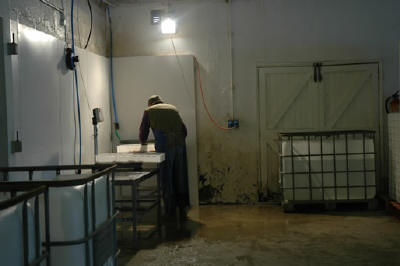 Kate Ogley's video 'Scallop cutters' also quietly offered salvation: this time through work. It depicted the harsh light and cold surfaces of a local scallop-processing plant, the employees working silently and diligently in artificial light to clean and separate the fish from their shells.
Unity Wood
Unity Wood is a triangle of woodland between Chacewater and Scorrier. Part of the Tregothnan estate, it is peaceful and atmospheric like any secluded wood, but it is unusual in that its floor is peppered by mineshaft openings. Together with the new grills that cover most of them, they appear incongruous, alien and vaguely threatening. On August the 11th and 12th the wood was, for one weekend, the setting for one of the last of the shows comprising MORE.
Close to the entrance of the wood was a sign bearing a roughly pasted poster by Sovay Berriman. 'Sally' was a fragment of narrative about a person with the same name, but the text also referred to the landscape, such that the words almost became written onto it.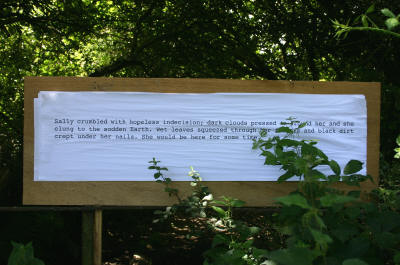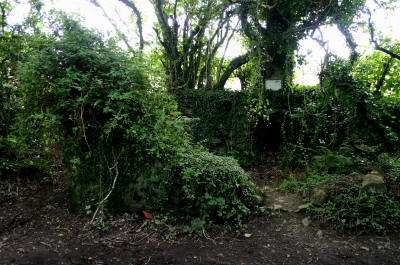 Inside the gate was the remains of a building from which Berriman had extracted a similar, though more fantastical narrative, this time using the device of a framed map attached to a tree that described the woods. Also mentioned on the map was a fictional gem-mine, and scattered on the ground glittery gem-like shapes that stylistically referred to the artifice of cartoon fairy-tales or computer games.
Deeper in, was a large galvanised cage over a mineshaft, from which hung 3 vibrating green strings. Looking down into the darkness, it became apparent that the movement was caused by whirring mechanised birds on the end of each one. A piece by Alison Sharkey, the title, 'Quiver', emphasised the fact that this was a kinetic work that utilised both lightness of touch and formal daring to good effect.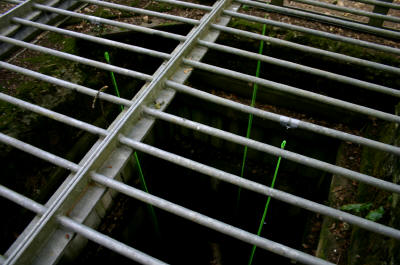 In a similar vein was 'Zimmerpan', also by Sharkey, which comprised several metres of shiney black cloth. The material appeared to spill out of another of the grills, like a river of oil.
Furthest into the wood was Steven Paige's 'Dig'. Complete with awning, table, labelled samples and clipboards, it looked like an archeological or forensic investigation. The boundaries of the installation, and the artist's intentions, were deliberately unclear however. Had the children's toys scattered across the space been brought to the site or were they already there? And what about the zipped-up tent to one side? Was this part of the art-work? And could there possibly be someone inside it?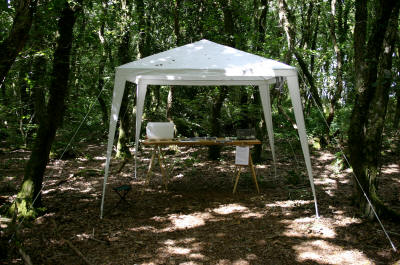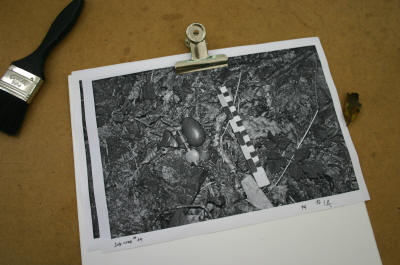 The uncertainty created by this most filmic of works was anxiety-provoking, and whilst it was probably located on the site of an existing child's camp or play area, the work's power came from the fact that it was easy to imagine that something more sinister or haunting may have happened there.
gostopgo
gostopgo took place in a disused school high up on the side of Carn Brea: the ancient hill overlooking the old mining towns of Redruth and Camborne.
One of the most experimental and ambitious of the more shows, it was made and remade four times in as many weeks by a group of 6 artists: Kitty Wingate, Oliver Sutherland, Gabriel Stones, Chris Miller, Andy Mealor and Sovay Berriman.
They worked collaboratively in developing ideas and installing works during the working week, before then opening up the show to public scrutiny at weekends.
week one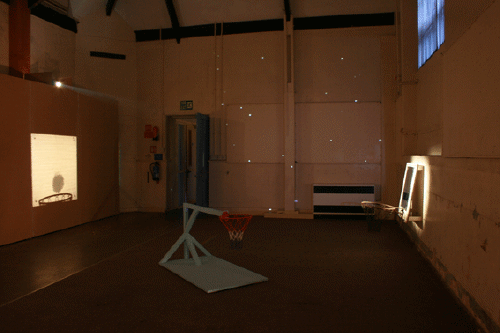 week two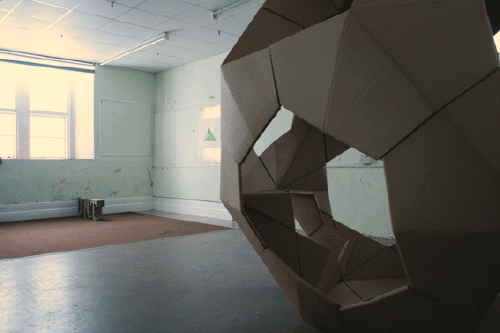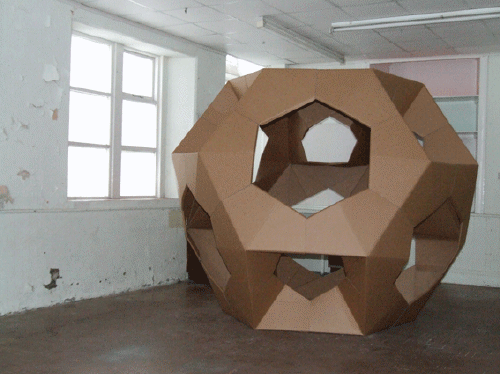 week three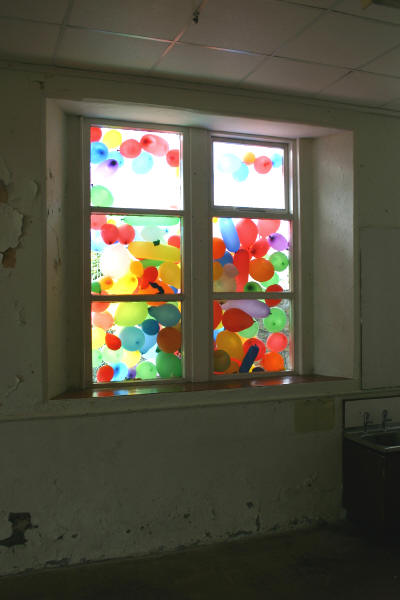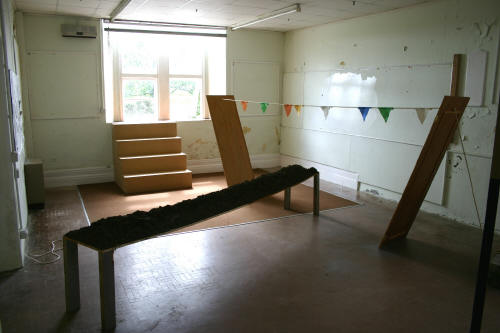 week four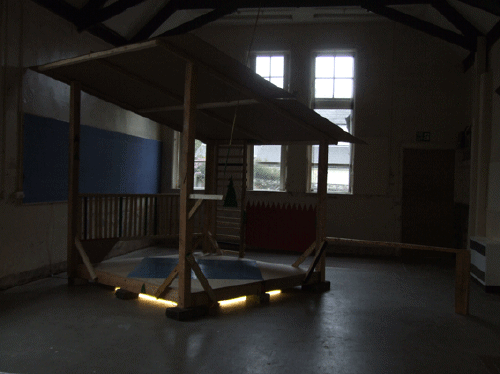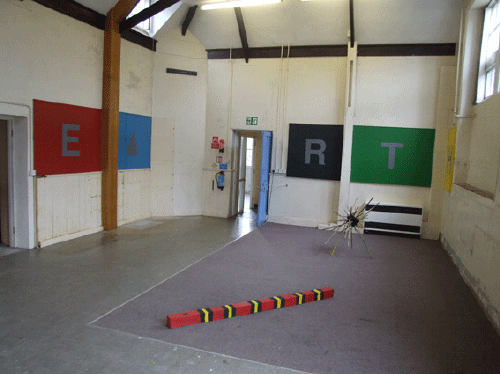 Gostopgo was decidedly not a dutiful response to the site it was housed in: even though, it could be said, some of the forms and colours were reminiscent of children's toys. Instead it was a refreshingly free experiment in process and form. Though symbolism and narrative were largely absent, the 4 installations still communicated powerfully, united as they were by their attitude which was defiant, inventive and cosmopolitan.
Wharf Wharf
For several years, some of the warehouse space on Falmouth wharf has been given over to artist's studios. Currently being considered for redevelopment, one of the largest of the rooms was laboriously transformed for the three scorching-hot days of the Bank Holiday weekend, into this, the last of the MORE shows.
Near the entrance was 'Wharf by night' by Paul Chaney: postcards of the wharf buildings with lasers marking the height of future predicted high tides. Also in this space was a video: '24 hour wharf' by Rebecca Diss.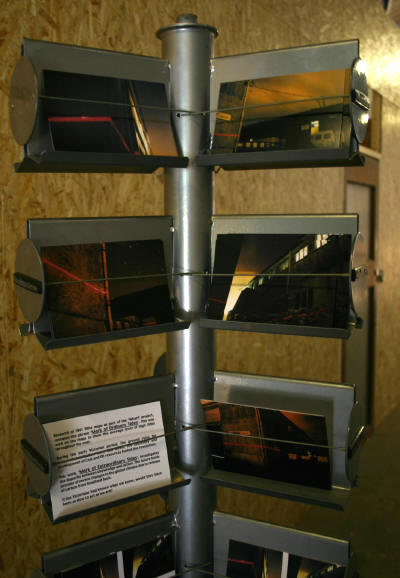 Diss contributed a number of other works that responded in various ways to the history of the site. These included site-specific ink portraits of local people in the corridor to the main space, and around the corner, a complex allegorical work, containing several moving parts. Called 'A Lifetime, a day, a wingbeat' this included an inverted belljar containing a slowly rotating tree of butterfly wings, linked in turn to a Victorian clockface.
Nearby were a collection of gestural paintings of the Penryn River by Jamie Boyd.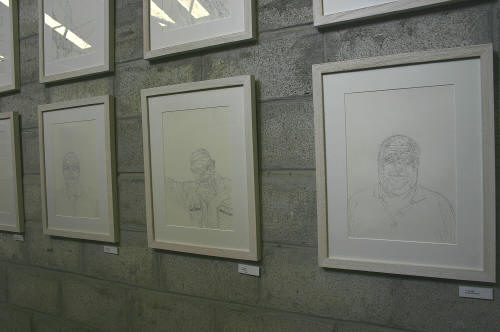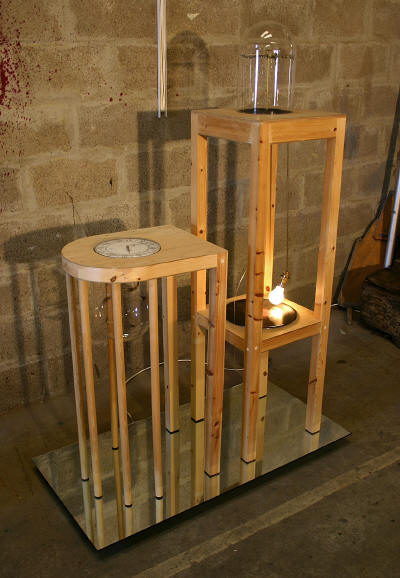 In the central area of the main space were two stepladders. Throughout the weekend, Paul Carter and Alexandra Zierle intermittently used them to enact a ritualised shredding, by hand, of a long ribbon of paper onto which they had printed the invited private thoughts of visitors to the show. This work was called 'Minced and dispatched' (see video below).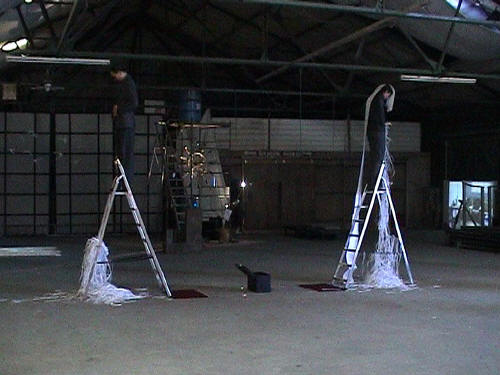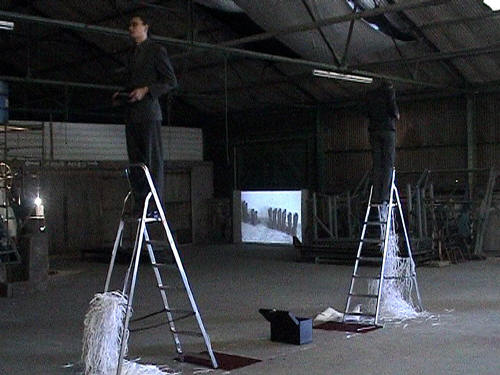 Behind them was the semi-documentary video by Kate Ogley: 'Scallop cutters', projected onto a low board (below: see also One in a Million Changes), and an extraordinary structure by Clarissa Beothy, made economically using materials found on the site. Called 'Liquid Gold', a fine trickle of the oil caused a wheel bearing golden scallop-cups to turn very slowly. Given that scallop shells are recognised as brand icons for fuel, the work was a powerful illustration of the diminishing oil stocks that both drive and pollute the world, and the way in which symbolic value is conferred to, and transferred between, products.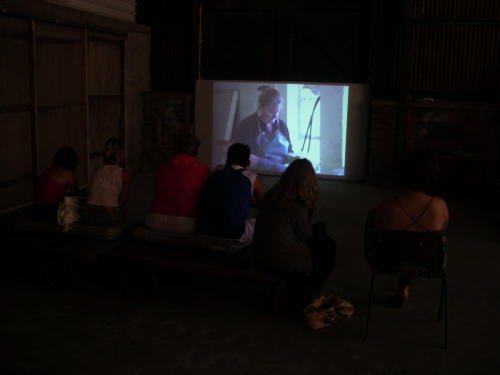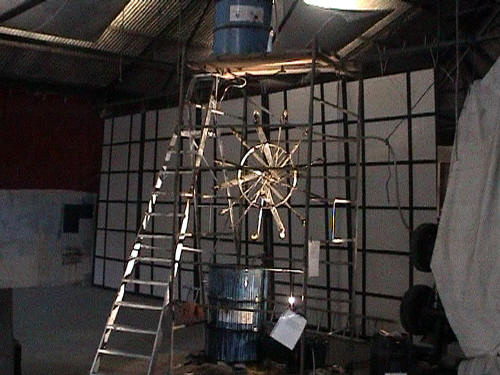 Another work celebrating the traditional fishing industries of Cornwall, 'Pilchard politics' comprised a projection onto a metal tray on the floor by Rebecca Diss of writhing pilchards. 'Swallow down', also by Diss, was installed closely by, so that the shadows of origami birds, appeared projected onto the fishes (see video footage below).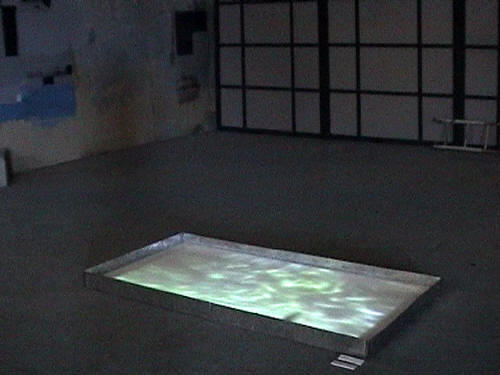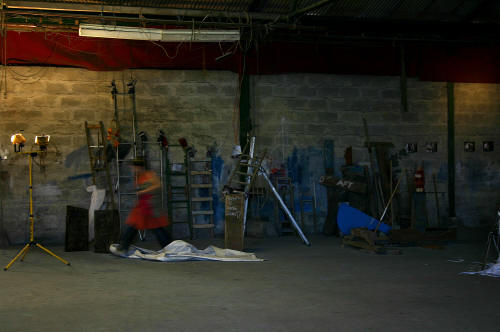 Other works in the main space included 'Play area' by Susanne Partoll (above) which was an arrangement of brooms, ladders and other found objects with which visitors were invited to play, and a timelapse film on a tiny screen: 'Penryn tide Archive' by Paul Chaney.
Outside, on the ground close to the waters edge, was a 16mm camera scanning the sky: part of a work called 'Another day' by Brendan Byrne. Some of the resulting footage was projected in an adjacent storage shed.
On the top floor of another building were two more works. 'Self (limitation)' by Clarissa Beothy, was made up of two cage-like forms joined by an enormous knotted rope (below), and in a room overlooking the water was an installation by Jacqui Orly called 'Myspace.now'. The room was dominated by a kinetic sculpture that flicked cocoa and icing sugar on the ground beneath it. In front of this was a Louise Bourgeois-like room made of doors in which a sound track of backwards-speech played.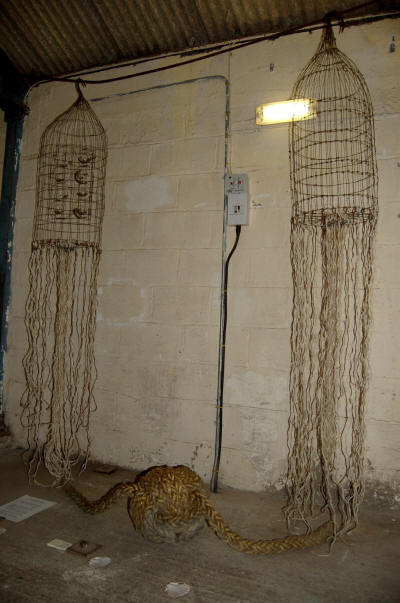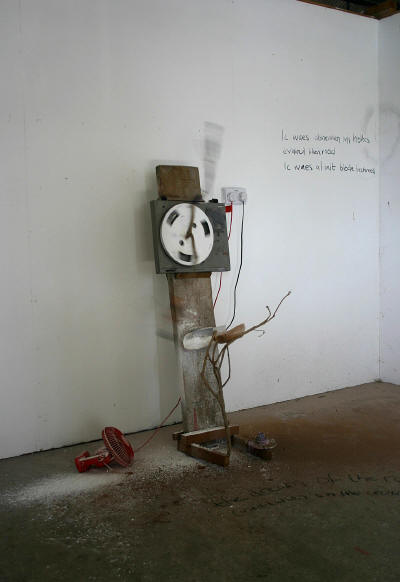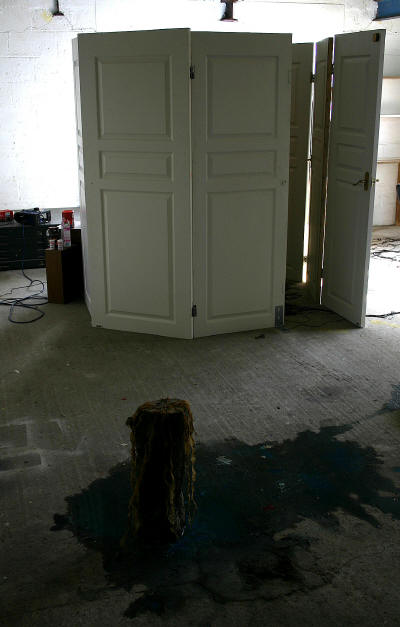 'Wharf wharf' was installed across a number of spaces including one that was bigger than any other gallery-space in Cornwall. It took both confidence and energy to fill it so effectively, yet like most of the other 'more' events 'Wharf wharf' still showed a sensitivity to the site, and its industrial history. Like the others, it also contained multiple references to nature and the natural world.
Tales of the Unexpected
Amongst the new works made for www.talesoftheunexpected.blogspot.com in August was a performance by Andy Whall in Penzance called 'Welcome, willkomen, bienvenue, benvenuti, bienvenido' made with Graham Gaunt, and a solar-powered digital projection of very painterly gull-droppings on the wall of Tate St Ives by Green Cube.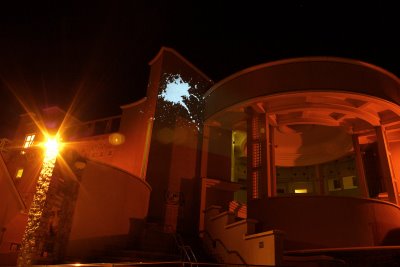 The August pieces also included the most Westerly more Cornwall works made on Tresco on the Isles of Scilly by Rupert White.