Street life
Belgrave Gallery, St Ives
29th Feb - 24th March
The first wave of street artists to move into the gallery were the graffiti artists associated with early hip-hop in New York in the 80s: most notably Keith Haring and Jean-Michel Basquiat. Their art was predominantly hand-drawn, and expressionistic, with its subject matter taken from a number of sources: most commonly comics and primitive art. In this sense their work was aligned with other neo-expressionist painters of the time.
Street-life at Belgrave Gallery in St Ives was a chance to see art by a newer generation of street artists - many from France and Britain - in a most unlikely of settings. Whilst St Ives abstraction is contemplative and spiritual, and a celebration of the space and light of Cornwall, the work in Street Life was its polar opposite: urban, sexualised and political.
It also seemed different from the 80s graffiti artists: rather than being hand-drawn, stencilling and screen-printing were much more in evidence as were a range of other techniques which were more conceptual than expressive.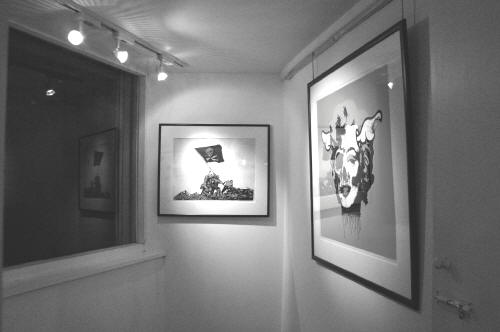 D'face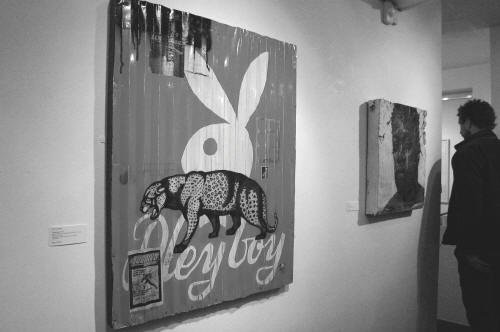 Date Farmers, Matt Small
Appropriated images abounded, with British artist D'face putting the face of Saddam Hussein on a dollar note, drawing a skull into an iconic image of revolutionary Che Guevara, or writing 'HATE' in the style of Robert Indiana's famous 60s 'LOVE' image.
There was more than one reference to Andy Warhol: this included detourned images of Marilyn, and a screen-print by frenchman, Blek Le Rat, who copied the image of Elvis the cowboy. Other works by D'face and Borf referred to American imperial might by using the iconic image of flag-raising American marines, and British soldiers were depicted drawing a CND logo in a playful screen-print by Banksy.
Such overt imagery has an edge when seen in public spaces. In the street it competes for our attention with billboards, shop-windows or shop-signs and so, in a small way, disrupts the spectacle of consumerism. But absorbed into the art-market and shown in an art gallery, the political content becomes something of an empty gesture.
However to give the works their due, their strength is their energy, readability and directness which appeals outside the usual elite circles of art connoisseurship. Street art has these qualities mainly because it requires no special knowledge of art history. Plonked into a sea-side town drenched in art-history, it will be interesting to see how the Belgrave show is received, and whether the mind-set of the situationist - or street artist - has any kind of a place in a non-urban setting like Cornwall.
Partly in recognition of this possibility, in a side room near to original work by Ben Nicholson, Terry Frost and Sven Berlin, four contemporary Cornish artists who make interventions in public spaces were shown together in a Street-life 'complementary exhibition': JD Anon, Swiftie, GreenCube and AACCEHHJKLLNORRS. These works shared the same mindset as those in the main exhibition, but had a slower-burn quality.
.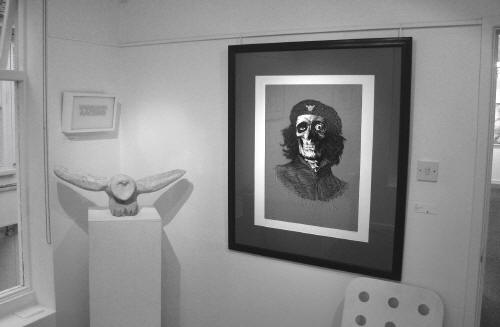 D'face, AACCEHHJKLLNORRS, Sven Berlin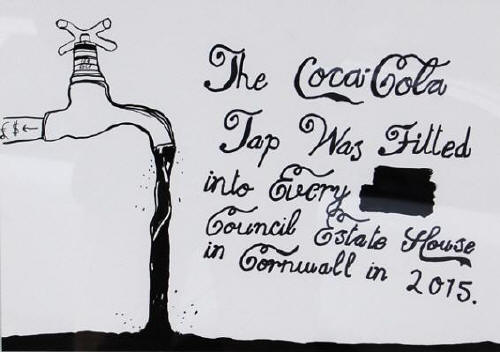 Swiftie
RW 17/3/08