Kenneth Martin and Mary Martin
Constructed Works
Tate St Ives 6th October 2007 - 13th January 2008
A spare - and colourful - geometric elegance permeates Kenneth Martin's and Mary Martin's ultra-modernist works on display at Tate St Ives this month.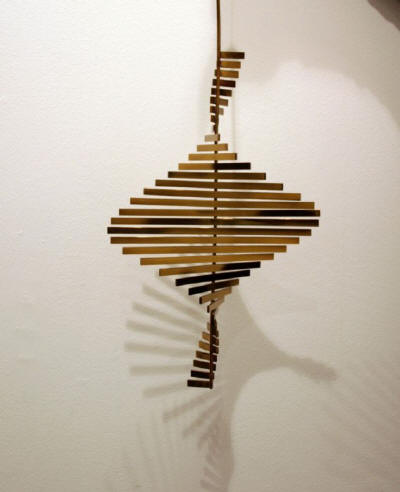 For the first time in over thirty years, Tate St Ives is exhibiting a rare display of work by two major figures in British abstract art, Kenneth Martin and Mary Martin. This exhibition gives an insight into their professional relationship - the correspondences and differences between two visionary artists who lived together, exchanged ideas, yet who seldom collaborated in their lifetimes.
Perhaps the term 'mobiles' misrepresents the complexity of Kenneth's air-borne kinetic sculptures and Mary's reliefs created in Perspex, plaster and stainless steel, materials more akin to industry than art, diminishes their significance.
Their work is iconic. Retaining the concepts of the earlier Constructivists, who believed art should directly reflect the industrial world, Kenneth and Mary's artworks are like time capsules. During the period after the Second World War, anyone working in an abstract idiom was marginalised, as they were working against a tide of representational and figurative artists, who were producing realist 'kitchen sink' paintings – the visual equivalent of John Osborne's angst-ridden plays.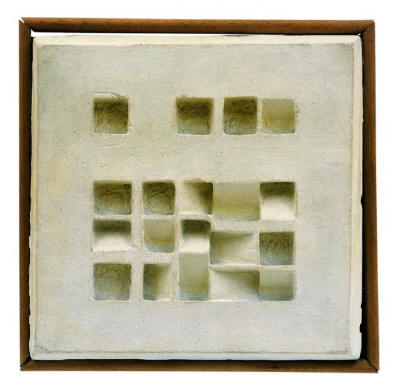 However, today Kenneth and Mary's work has been rediscovered by a younger generation of artists who are exploring and expanding its concepts. As this exhibition shows, it bridges the gap between the former St Ives modernists, Naum Gabo, Ben Nicholson and Victor Pasmore with artists who are working today, such as Toby Paterson, whose mural on the stairs at Tate St Ives seems to float off the wall into space. Toby acknowledges the influence which classic British modernists, including Kenneth and Mary, has on his work, 'Victor Pasmore's move into abstraction was a contentious one and this group – the modernists in the 1950s – walked a lonely path.'
Kenneth and Mary sought to make 'a popular art from the difficult and culturally elevated ground of pure abstraction, creating work which was spare and austere with elegant sinuous lines.' They used primitive forms, circles and ellipses, to convey complex ideas, including the molecular structure of DNA strands, often building on something more idealistic and irregular than just angles and fractions. And, unlike Nuam's constructions which appear self-contained, composed within their own internal spaces, Kenneth and Mary's work is 'expansive and open, piercing the space surrounding it.'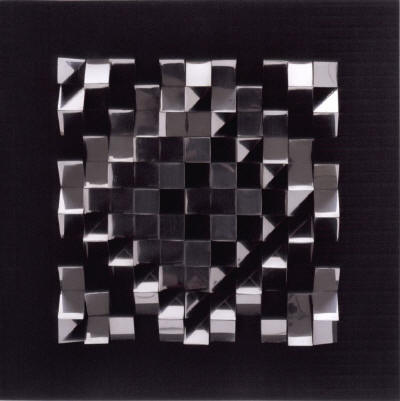 Fascinated by movement, the motions of Kenneth's fluid constructions play with light and space, making shadows dance on the wall behind them, which lends an unpredictable element to his work. "The elementary methods of (my) constructions are related to the elements of life," he believed. "The forces of life are variable and inevitable." His latest series of paintings, Chance and Order is also being shown. As artist James Hugonin says, "These confirm that it is possible for a painting to be made from the simplest means and create a richness of experience." His words echo Mary's concept that 'the end is always to achieve simplicity.' Using the cube as her basic unit, she 'subjected it to division according to geometrical systems and proportional rules.'
Believing practising artists have a social role to perform with potential to influence people's lives, Kenneth and Mary were instrumental in placing art within the public arena. Mary carried out several architectural commissions, including a piece called Wall Construction, Musgrove Park Hospital which 'was intended symbolise, on the personal scale, the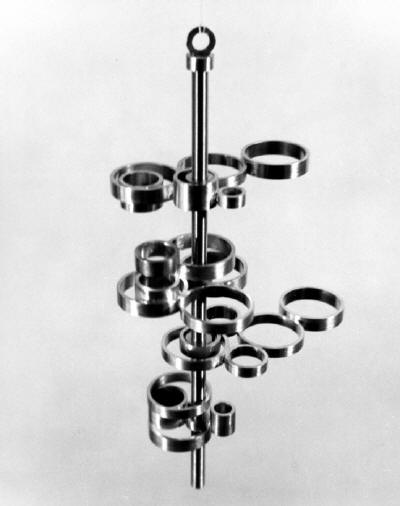 building, its architecture and function ….' Wall Construction for the University of Stirling, a huge frieze, endows its canteen with an elegant gracefulness. Kenneth displayed two mobiles, Screw and Reflector, in the children's ward in Highgate Hospital and created a large mobile for the Nuffield Institute at London Zoo.
Of course, Tate St Ives was designed to display modernist artwork and, despite being within a gallery space, this exhibition highlights the role art performs in public. As Libby Purves said, "Artists envisioning public works are in a unique position. Many people, who never voluntarily go into an art gallery, walk past a sculpture every day and grow fond of it. Thus the mass of us enter into the vision of the artist and are almost imperceptibly enlarged and enriched by that unsought communication." Kenneth and Mary's work affirms this belief. This combination of Kenneth's mobiles and his Chance and Order series of abstract paintings, and Mary's elegant relief-sculptures, offers Tate St Ives visitors an unrivalled opportunity to examine a focused body of work by a pair of significant modernist artists.
Peta-Jane Field
article appears courtesy of 'Inside Cornwall'.