Sovay Berriman, Jacqueline Knight & Patrick Lowry
Installation, Sculpture, Print
New County Hall, Truro, Cornwall 31st May – 10th June 2006
An atrium in a city council headquarters is a difficult setting for installation and sculpture. For a start, the space used by Sovay Berriman, Jackie Knight and Patrick Lowry at the New County Hall in Truro is a sort of thoroughfare. Every five minutes besuited council workers march across the floor looking neither right nor left.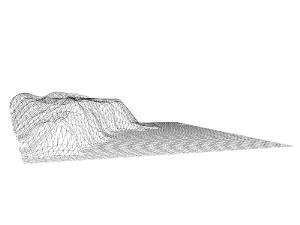 Not only does the function of the space discourage closer scrutiny of the art works, but some of the pieces seem to be architectural or decorative features in disguise. For example, Jackie Knight's transparent landscapes are set half an inch away from the wall and starkly lit from above and are not to be confused with the many commemorative plaques in the space. Etched with a laser onto perspex they are the antithesis of painting and use the bare contours of coastal scenes (Godrevy, 2006 and Perran Sands, 2006) to depict landscape as a series of computer generated lines. In Godrevy an empty plot at a tourist campsite casts a rhomboid shadow on the white wall behind, as ephemeral as the mental image of Cornish landscape that flickers in the mind of so many visitors to the region.
To create the screen prints (Bassets Cove, 2006 (pictured above) and Chapel Porth, 2006) Knight has used 3D wireframe software to interpret information from scanned photographs.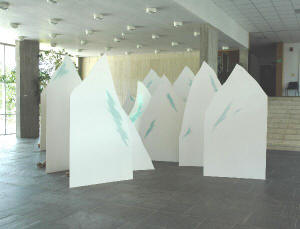 Appearing as a topographical grid they reveal the landscape morphology, but the density of tone, and therefore the actual land characteristics are only obvious from a distance. Valleys plunge and mountainous peaks erupt from terra incognita. Both techniques survey landscapes that may be deeply familiar to the artist with a detached, even neutral gaze. They are either a mental shadow or an evolving feature of a vaster geological continuum.
At first glance Sovay Berriman's Scheme (2006) could be a table-top scale model of the council building, yet it is a charming escapist fantasy at the heart of the institution. In the spirit of Jim Lambie, Berriman has used cheap, low-tech household materials to create a landscape on the top of a dented metal desk. Washing powder Alpine peaks are fringed with plastic yellow Rawlplug trees. Could they also be figures, an army advancing in formation? Kneeling down to take a child's eye view of the desk top I see how the deliberately careful arrangement of Rawlplugs embodies control, yet the vulnerability of the flimsy materials and the precariously balanced powder also suggests imminent collapse.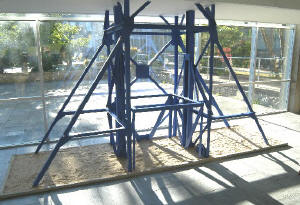 How tempting it might be to sweep the mountain aside, and with it all the little cohorts.
In a similar way, Pass (2006 -pictured left above) mixes a playful childlike façade with illusions of grandeur. Fifteen white boards are cut into whipped-cream peaks at head height and are arranged in an overlapping formation, so that the "pass" is a zigzagging path between them. Blue glitter streaks on the boards give it a touch of fairground pizzazz, but moving back again through the formation you see untreated plywood behind, a reminder that this game requires an imaginative leap from the viewer. I did not feel the thrill of fear as apaches watched from the valley tops, but I did enjoy the impish appeal to my inner eye.
Patrick Lowry's Blue Lift (2006 - pictured right above) appears to be a metal framework with a pulley system that seems to both support the building's walkway above it and sink into the ground beneath. The structure, painted a 1980s municipal blue, is actually made of wood. This redundant "machinery" may point to the many disused tin mine sites in Cornwall which now form part of the heritage trail. Where they were once an essential part of an indescribably noisy industrial process they are now silent enigmatic features in the landscape.
Each of the artists have attempted to reimagine landscape, both as it is incarnated in the realms of memory and fantasy and how it is hinted at through symbolic reference. Physical place may reside outside of us but within us a sense of place undergoes metamorphosis. It is warped, muted or amplified selectively, according to our will.
Megan Wakefield July 2006