Wharf
Level Two Falmouth Arts Centre December 2005
Wharf was the inaugural exhibition for the "Level Two" Artists Led Initiative, whose members have each worked in studios at the Falmouth Wharves on the banks of the Penryn River in Cornwall. The exhibition reflects the sites rich maritime history and a desire to expand the idea of local heritage by responding to Cornwall's industrial and commercial past as well as its much depicted coastal scenery. The project was also a means of poetically recording some of the transitions the site has seen over its 300 year history through the experiences of the people who have worked there.
I was immediately impressed by Alison Sharkey's dynamic use of the floor space. Her installation Transplant consisted of parallel aluminium train tracks bisecting the gallery at an oblique angle. They sprouted real grass along their length, vibrant green lines broken at random intervals, authentically mimicking the gradual revelation of the man-made through an organic medium.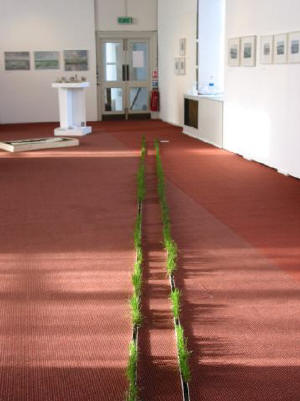 Paul Chaney's quirky drawings on board (included Chum & Bucket and Penryn Ferryn) used diagrammatic lines and traces of erasure to illustrate scenes from the Wharf's history. A meandering red line across the four pieces represented the tide line after a future rise in sea level. By combining 18th century maps with contemporary ecological predictions Chaney avoided a simplistically nostalgic approach to the Wharfs history and pushed the idea still further with a series of beautifully eerie photographs documenting his installation event, the projection of a laser beam on the Wharf buildings at night at the level of this imaginary tidal influx.
The installation by Rebecca Diss, A Lifetime, A Day, A Wingbeat addressed the discrepancy between the persistence of memory and the pace of change, both on a human scale and on the level of a natural habitat. It was cleverly contained by a series of linked mechanised elements; impaled butterflies and bees revolved within an upturned bell jar, while an oversize insect constructed from typewriter keys moved with slow, methodical wing beats above a clock face, hands speeding backwards. A shrill cacophony emitted from a record played by a gradually disintegrating light bulb.
The sophisticated level of craftsmanship and complexity of meaning in her pieces provided a nice counterpoint for Jamie Boyd's oil sketches. These rapidly executed views of the Wharf in different seasons had a directness reflected in their display, framed pages torn from a sketch book, and a lightness of brush mark still evident in the larger paintings.
The artists informed their work through oral history and local archive research, collaborating with Cornish Audio Visual Archive. An entire room was devoted to text and photographs, daunting in their volume and perhaps not strictly necessary as archival information and anecdotes were successfully integrated in the artists' works and written statements. From this point of view the show felt like a fresh, immediate response to social history and a starting point for future group collaborations.
Megan Wakefield