Visiting writers and the fin-de-sičcle
Rupert White
'I am very religious but Huxley and Darwin had done away with the simple religion of my youth' – WB Yeats
In the late 1800's Cornwall started to become a holiday destination popular in progressive, literary and bohemian circles 1). Typically travelling by train, the new visitors appreciated the same 'unspoilt' qualities that appealed to the artists, and some bought second homes, or moved more permanently.
From 1881, a few months before their daughter Virginia (later Virginia Woolf) was born, the historian and biographer Leslie Stephens and his wife Julia, started to lease Talland House in St Ives. The family, including Virginia's younger sister, the Bloomsbury painter Vanessa (later Vanessa Bell), had idyllic summer holidays there every year up until the death of Julia Stephens in 1895, following which Leslie could not bear to return.
Virginia and her siblings retained strongly nostalgic feelings about Cornwall, and did make several return visits, including one in 1905, recorded in Virginia's diary, in which the magic of the railway is very much evident: It was with some feeling of enchantment that we took our places yesterday in the Great Western train. This was the wizard who was to transport us into another world, almost into another age. We would fain have believed that this little corner of England had slept under some enchanters spell since we last set eyes on it ten years ago, & that no breath of change had stirred its leaves, or troubled its waters. There too, we should find our past preserved, as though through all this time it had been guarded & treasured for us to come back to one day — it mattered not how far distant. Many were the summers we had spent in St Ives; was it not reasonable to believe that as far away we cherished the memory of them, so here on the spot where we left them we should be able to recover something tangible of their substance? Ah, how strange it was, then, to watch the familiar shapes of land & sea unroll themselves once more, as though a magicians hand had raised the curtain that hung between us, & to see once more the silent but palpable forms, which for more than ten years we had seen only in dreams, or in the visions of waking hours.
Yesterday…we followed foot paths to Trencrom, which was, 11 years ago, our punctual Sunday walk….On the top of Tren Crom indeed, I was considerably surprised to see how large a view of the surrounding country was unfolded; moreover I had no notion that from this point you can see both sides of the coast at once; Hayle Harbour on the North, St Michael's Mount on the South, & all the long stretch of bay which ends in the Lizard point. But as these features of the landscape have not changed in eleven years, or in eleven hundred, the change must be in my point of view & not in the outlines of the earth.2)
Other visiting writers saw the income-generating potential of more modest dwellings in the area - many left derelict by emigrating miners - and as early as 1890, writer Edith Lees acquired 'The Cot' in Carbis Bay, which was the first of several properties that she would buy to let during the summer, and live and write in during the winter.
That same year she became acquainted with her husband-to-be, the sexual and social reformer Henry Havelock Ellis who, having recently completed medical training, worked as a locum doctor in Probus in mid-Cornwall before taking a holiday with a friend in Lamorna. Edith and Havelock met, both there and in St Ives. In his biography he recalls: Concerning the economic basis of the relations between men and women we had, I think, already begun to speak as we walked along the beach at Porthmear (St Ives). Our opinions on that point were from the first identical. We both alike firmly believed that the social equality of men and women should involve an economic equality in marriage, each partner thus preserving independence.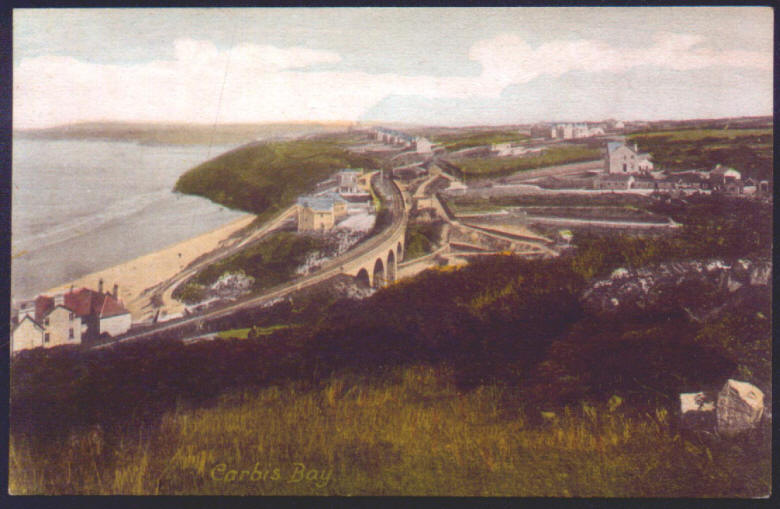 Carbis Bay circa 1910. The branch line from St Erth is unchanged, but the houses are much, much fewer than now.
Theirs was not simply a marriage of economic convenience however, and Cornwall provided the backdrop for their burgeoning romance, with Havelock asking Edith to join him in Lamorna again the following summer (1891): its very lovely here - so delicious to lie in the sun and hear nothing except an occasional insect or bird, and to know that our dear brother men are at a safe distance…I've taken a-little house (rent free) made of granite and bracken and honeysuckle. It's a lovely little house, hidden away from the world; the pillars of it are two huge foxglove stems which tower up above you against the sky when you lie down in it. I've got room in my house for a little wife - but she must be small - I've also got a nest in the rock right over the sea - and a very, very tiny sweet bird might nestle in close beside me there - I've also got an ordinary rock, the same I had last year, where I lie and bask in the sun and read or dream.
Whilst training at St Thomas's Hospital, Havelock Ellis had developed an eclectic knowledge-base and an interest in literature and social justice, and in 1883 he became one of a handful of founding members of 'The Fellowship of The New Life' 3).
The Fellowship was a group of radical social reforners, inspired by Leo Tolstoy, that included champion of vegetarianism Henry Salt, school reformer Cecil Reddie, future Labour Prime Minister Ramsay MacDonald, and gay rights pioneer Edward Carpenter. All became close friends and colleagues.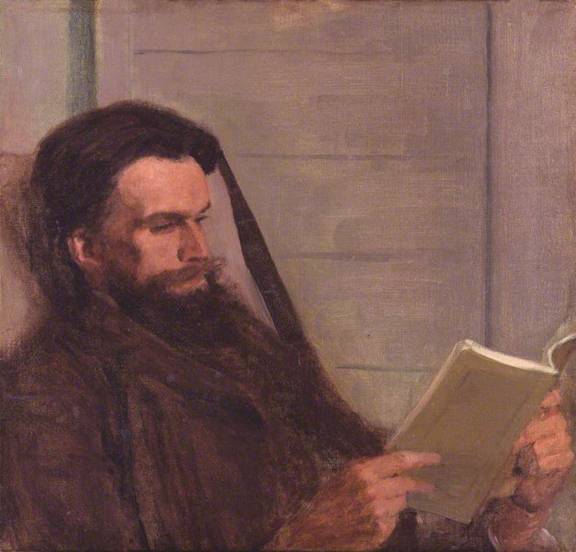 Havelock Ellis by Henry Bishop. Depicted in the hut at Hawkes Point in about 1895. NPG.
Edward Carpenter's description of the fellowship, written for the preface of a book by Edith, explains its relation to the Fabian Society, and to the ideas of Tolstoy and Ruskin: There was a general urge towards Socialism—though more from the ethical and humanitarian than from the political side; there was a great determination to simplify life as much as possible; servants were to be dispensed with or adopted as friends; manual work to be cultivated side by side with intellectual; education to be greatly reformed. There were schemes for settlement on the land; and schemes for co-operation or community in household life. And always these schemes and reforms were to be carried out as far as possible personally and by the personal effort of the members. They were not to be merely philosophical propaganda applicable in a distant and general way to society at large.
I think I am right in saying that it was on this point of personal effort that in the quite early days (in 1884) a split occurred in the society, which led to a certain group breaking away and becoming the founders of the Fabian Society. These latter concentrated their energies on general socialist and economic propaganda, apart from the question of individual and personal reform.4)
Carpenter, like Havelock Ellis, remained focused on the latter and set up the self-sufficient Millthorpe community in rural Derbyshire. and influenced a generation of Cambridge graduates and dons, especially EM Forster and Rupert Brooke 5). As well as being openly gay, Carpenter became a vociferous advocate of the 'nature movement' with its denial of machinery: We find ourselves today in the midst of a somewhat peculiar state of society, which we call Civilisation, but which even to the most optimistic among us does not seem altogether desirable. Some of us, indeed, are inclined to think that it is a kind of disease which the various races of man have to pass through — as children pass through measles or whooping cough….. a move towards Nature and Savagery is for the first time taking place from within, instead of being forced on society from without. The nature movement begun years ago in literature and art is now, among the more advanced sections of the civilised world, rapidly realising itself in actual life, going so far even as a denial, among some, of machinery and the complex products of Civilisation, and developing among others into a gospel of salvation by sandals and sunbaths! (Civilisation its cause and cure, Carpenter, 1889) 6).
At the time that Edith and Havelock Ellis married (1891 – at 32 Havelock was reputedly still a virgin), Edith was acting as The Fellowship's secretary, working alongside Ramsay MacDonald, and living at the experimental commune 'Fellowship House'. Though their deep emotional bond survived intact, her marriage to Havelock was far from conventional, and whilst in Cornwall in 1892 Edith had a lesbian affair with a woman called Claire (Brome p.109). It was the first of several such romances, including one later with Lily Kirkpatrick, a local painter from St Ives 7).
As explained in his autobiography, and reflecting the openness of their marriage, Edith and Havelock settled into a pattern of living together in Cornwall during the winter months, then living apart during the summer.
In 1894 Edith bought Havelock a stone hut at Hawkes Point in Carbis Bay, which overlooked Godrevy Bay and at the time was quiet and isolated. Edward Carpenter, on one of his visits, assured Ellis it had the 'finest prospect in England' (Grosskurth 1980).
Edith also started renting The Count House in Carbis Bay, a bigger property. It came with land attached, and it allowed her to keep a range of farm animals including a scattering of cows, horses, chickens and pigs. This development is treated with contempt by some biographers, however her interest in farming was partly ideological and inspired by Carpenter's example, who she visited at Millthorpe. She also invested in other cottages in the Carbis Bay area, which she rented out to London friends including eg Somerset Maugham.
Havelock, meanwhile, would walk to Hawkes Point every morning and - no doubt between bouts of nude sunbathing - would write in solitude whilst sitting in the shelter of a dinghy turned on its end. During a highly productive career he completed more than fifty books, as well as numerous other papers. This included glowing tributes to Whitman, Millet and Tolstoy amongst others (The New Spirit, 1890) and the first known description of a future National Health Service (The Nationalisation of Health 1892).
In Carbis Bay in 1897 he wrote a ground-breaking article for The Lancet describing his experience of taking mescaline, the LSD-like hallucinogen derived from the peyote cactus for which he is later acknowledged in Aldous Huxley's 'Doors of Perception'. It was the first such account outside the US: MESCAL buttons (the fruit of Auhalonium Lewinii) are eaten by the Kiowa and other Indians of New Mexico and their use is connected with religious ceremonial…
On Good Friday, I made an infusion of three buttons (a full dose) and took it in three portions at intervals of an hour between 2.30 and 4.30 P.M…By 7 P.M. visions had begun to appear with closed eyelids, a vague confused mass of kaleidoscopic character. The visual phenomena seen with open eyes now also became more marked, and in addition to the very distinct violet shadows there were faint green shadows. Perhaps the most pleasant moment in the experience occurred at 7.30 P.M., when for the first time the colour visions with closed eyes became vivid and distinct, while at the same time I had an olfactory hallucination, the air seeming filled with vague perfume. Meanwhile the pulse had been rising, and by 8.30 PM had reached its normal level (72 in the sitting posture). At the same time muscular incoordination had so far advanced that it was almost impossible to manipulate a pen, and I had to write with a pencil; this also I could soon only use for a few minutes at a time, and as I wrote a golden tone now lay over the paper, and the pencil seemed to write in gold, while my hand, seen in indirect vision as I wrote, looked bronzed, scaled, and flushed with red. Except for slight nausea I continued to feel well, and there was no loss of mental coolness or alertness. (Lancet June5th 1897)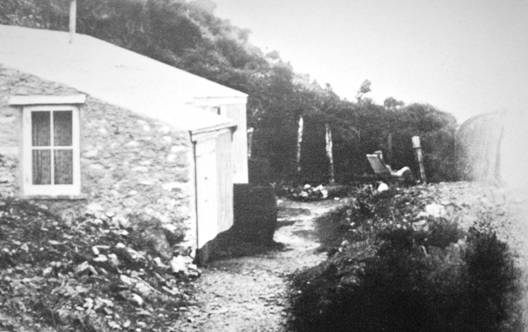 The stone hut at Hawkes Point between Carbis Bay and Lelant, surrounded by gorse and mine waste. Havelock Ellis can be seen sitting on a chair overlooking the sea, near the hull of an upturned boat.
However Havelock Ellis is best remembered now for his pioneering work on sex. His 'Studies in the Psychology of Sexuality' ran to seven volumes published between 1896 and 1928. This monumental work, which was quoted extensively by his contemporary Freud, and which inspired many who advocated for freer and more liberal attitudes to sexuality and the family (including Modernist writers like Woolf, Lawrence and Joyce), was, for the most part, also written in the little studio at Hawkes Point.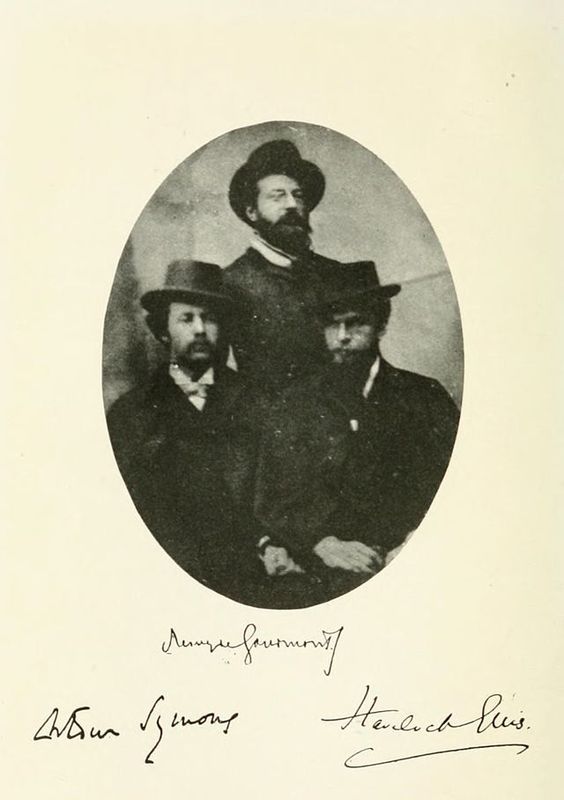 Havelock Ellis was well-connected in literary circles. Here he is pictured (right) with Arthur Symons (editor of the Savoy Magazine) and Remy De Gourmont (French Symbolist poet who collaborated with Alfred Jarry, and was an influence on George Bataille). Ellis travelled to Paris with Symons in 1889 and this photo may have been taken on that trip, or on one the following year.
The first volume was published originally as 'Sexual Inversion'8). It draws on gay literary and historical precedents, and was the first book in English to treat homosexuality as neither a crime nor a disease. Foremost amongst his collaborators was Edward Carpenter, who provided Ellis with much 'case-material', including the following account: For myself, I may say that since my earliest boyhood (eight or nine) it was always one of my own sex, that I thought or dreamed of - generally one of the same age, tho' when young I often felt also a strong passion and worship for some older boy or man. This passion has always been very strong with me, and perpetually present, making a possible romance in each new male acquaintance, and sometimes causing me the keenest anguish and suffering. It was quite congenital, for nothing occurred in my early life to encourage it, everything to discourage it…Home life was in an atmosphere of entire reserve on matters of love. I only knew that my feelings were entirely different from anything I ever heard mentioned at home or at school, and I looked upon myself as an outcast and a monstrosity. I dreamed of friends but I had none.
Published only months after Oscar Wilde was sent to Reading Gaol (1897), it was probably the most controversial and important of Ellis' books, and it lead to the arrest and prosecution of the bookseller George Bedborough. Ellis' prose style within is calm, serene and detached. It was this moral neutrality that his supporters valued most, but it also made him enemies. Many years later Ellis commented: When only one volume of these Studies had been written and published in England, a prosecution instigated by the Government put an end to the sale of that volume in England, and led me to resolve that the subsequent volumes should not be published in my own country. I do not complain. I am grateful for the early and generous sympathy with which my work was received in Germany and the United States, and I recognize that it has had a wider circulation, both in English and the other chief languages of the world, than would have been possible by the modest method of issue which the government of my own country induced me to abandon. Nor has the effort to crush my work resulted in any change in that work by so much as a single word. With help, or without it, I have followed my own path to the end…Men die, but the ideas they seek to kill live. Our books may be thrown to the flames, but in the next generation those flames become human souls.(vol7?)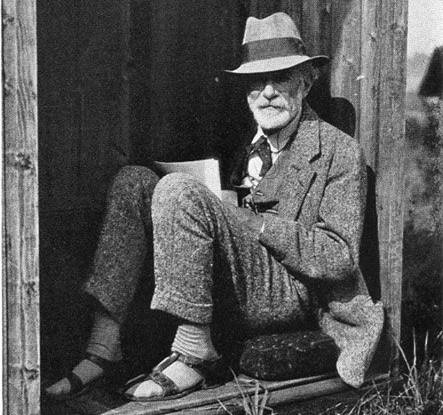 Social reformer and incorrigible sandal-wearer: Edward Carpenter. Carpenter's sandals were an ideological statement and usually home-made.
As a respected polymath, Havelock Ellis' influence reached in many directions. For several years he leased rooms in the Temple area of London, and sublet some to Arthur Symons. Symons (a Cornishman) was editor of 'The Savoy' literary magazine and author of 'The Symbolist Movement in Literature' (1899), a book that introduced Rimbaud and other French poets to English speakers. One year, whilst Havelock was away in Cornwall (winter 1895-1896) Irish poet and occultist WB Yeats also used the flat. It has been noted that, at the time, Yeats was impressed by Ellis's writing on Nietzsche in the Savoy (3 articles).
Before the close of the century Edith herself wrote a novel, Seaweed: a Cornish Idyll (1898 – also known as Kit's Woman), and later published a selection of short stories (My Cornish Neighbours (1906)), and a number of plays (eg The Subjection of Kezia (1908). She also collaborated with Havelock on 'Three Modern Seers' (1910): a study of the life and works of James Hinton, Fredreich Nietzsche and Edward Carpenter.
In 1906, with the farm proving too much for Edith's then failing health, the couple moved out of the Count House to Moor Cottages near Carbis Bay. Then in 1909 they moved again to Rose Cottage Carbis Water. After a drawn out and difficult illness, Edith died of the complications of diabetes in 1916 at the age of 55.
Ellis's international stature continued to grow steadily after Edith's death, however, and publication of his works in Germany resulted in extensive correspondence with Sigmund Freud, dating from 1907 until both men's death nearly 30 years later. Though sharing many of Freud's concerns (including his sceptical views of 'Civilisation') Ellis never developed the same armoury of treatment techniques. Probably to his credit, he remained wary of the scientific claims that Freud and his followers made, and was content to offer commonsense sympathy and advice - free of charge - to those that came to him for help instead. These included heterosexual married couples wanting marriage counseling, as well as homosexuals and others who saw themselves as 'perverted' in some way. This, as we shall see, included imagist poet and lover of Ezra Pound, Hilda Doolittle, (who in fact has the distinction of having had 'treatment' with both Ellis and Freud).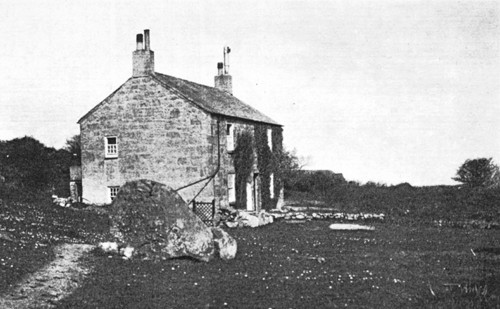 Moor Cottages near St Ives. Havelock and Edith Ellis bought the two adjacent houses in 1894, and moved into them in 1906. They had one cottage each.
Manifestations of Havelock Ellis's undying affection for Cornwall are scattered throughout his work, particularly in the three volumes of his diaristic 'Impressions and Comments'. In 1913, for example, he wrote: February 5, 1913. Dirt remains the note of London, brown dirt all over the streets, black dirt all over the buildings, yellow dirt all over the sky, and those who live in it become subdued to what they live in, "like the dyer's hand," even literally. So the sight of the Cornish coast, the prospect of seeing it, the very thought of its existence, has the exhilaration of a rapturous prayer. There—sometimes, at all events—the earth is exquisitely clean, the bright sea bubbles like champagne, and its mere mists are rainbow-hued dreams; the sky has flung off its dingy robe and is naked, beautiful, alive. Profoundly alien to me as I always feel this land of Cornwall to be, it is much to feel there something of that elemental reality of which men count God the symbol. Here the city-stained soul may become the sacramental agent of a Divine Transubstantiation of the elements of earth, of air, of water, of fire.
Whilst there is evidence of his wife Edith visiting the Arts Club in St Ives, and having a degree of involvement with the arts community there, Havelock appears to have rather kept himself to himself. This characteristic reticence did not prevent him from writing perceptively about Cornwall in 1897 for New Century Review, however: THE River Tamar divides from the rest of Great Britain an ancient land, small in extent but strong in its individuality. The first impression which Cornwall makes on the traveller who enters it by rail is that of a semi-French country; he passes stations with names of totally foreign complexion, St. Germans, Menheniot, Doublebois; and when he reaches his destination the names of the streets confirm this suggestion—thus, Street-an-Pol indicates a French rather than an English method of denomination. The language the people speak also scarcely sounds English to the stranger. I know a lady who immediately after arriving in Cornwall was addressed by a Cornishwoman in words that were unintelligible, but in tones that sounded so French that before realising where she was she spoke in French…
For the sake of convenience I have called the Cornish Kelts. There is no doubt whatever that the language was purely Keltic, but the modern ethnologist is inclined to demur when the race is called Keltic…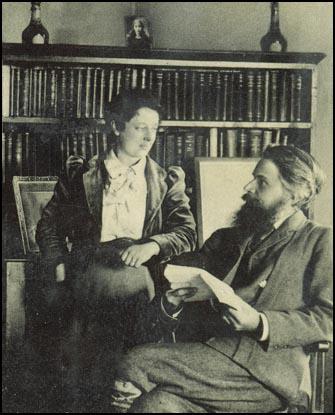 Edith and Havelock inside the Count House in 1896.
written 2013 uploaded may 2019