Chris Hines on surf-culture, sewage and balsa-wood
Chris is a founding member of Surfers Against Sewage, where he was Director of Campaigns for ten years. Since 2001 he has been working as Sustainability Director at the Eden Project. He was recently given the Emerald Path Award by 'The Surfers Path' international magazine.
Chris, did you grow up in Cornwall, and if not what originally brought you here? I know you worked in a design agency as a young man. Were you a designer by trade?
I was originally from Devon – though I spent as much time as possible here surfing. I moved to Porthtowan/St.Agnes area when I was 19 to work as Assistant Editor of Surf Scene magazine – the UK's first surf mag with national distribution. This was working with Chris Neal of Chris Neal Design. I was a surfer with a passion for writing and the sport.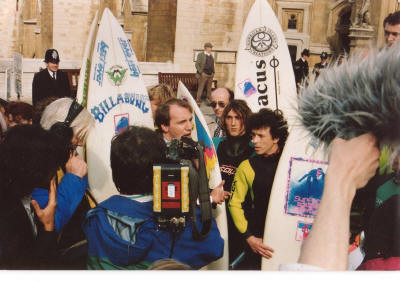 How did you get into surfing, what was the surf-community like then and how has it changed? How important is surfing to Cornwall's economy and image?
I was always taken to the beach by my parents and had my first wooden belly board by age 5! I saved up my dinner money and creosoted my parent's fences to buy my first £20 board (very heavy second hand homemade board) and a year later a second hand diving wetsuit. A friend Rob Hooper and myself were the only surfers at our school (Tavistock Comprehensive). We used to always wave at surfers in other cars when surfing up around Widemouth and Bude. When I moved to Porthtowan there was small tight crew of probably 20-30 regular surfers with a bigger crew in St. Agnes. Summers upped the numbers but you knew most people in the water. It was getting more popular though and the improvements in wetsuits made a huge difference.
This is something that has always intrigued me: I seem to remember say 10 years ago there were hardly any surf brands that were high-street names. Now there's any number (Fat-face, Quiksilver, O'Neill etc). Does this mean surfing is more popular than ever, is it something to do with sports-wear and the fashion-industry, or is it a bit of both? Do you know? And are these brands all American or Australian? I'm asking because, presumably, a lot of money that could be boosting the local economy actually ends up leaving the country.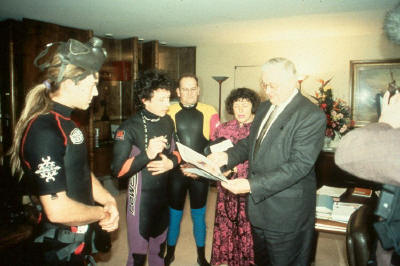 Surfing itself is at a bit of a cross roads. It has gone from being a small sport to a series of global brands that are now floated on the stock market. More surf wear is sold than the boards or wetsuits. So there is a question now that surfing has to face and that is – is the long term effect good or bad? Where do those products come from and how sustainable are they? We are working towards hosting a global surf conference here at Eden later this year where we will discuss these issues.
For Cornwall there is a misperception that surfing is thriving and this is all great. The harsh reality is that whilst more people make their livings in the sport most of the money leaves the county and even the country. There are fewer and fewer manufacturers here in the UK. Boards, wetsuits, clothing and accessories are being manufactured in the Far East and China. There is a major carbon footprint to this and the products are becoming just the same as any other product except that they have a surfing label on them. There are some success stories such as 'Homeblown' and 'Sustainable Composites' the companies involved in the Eco Surfboard project, and 'Finisterre' and 'Seasalt' two local clothing companies are others. It's a tiny percentage of the total but lets ensure we grow on this!
This Christmas I heard a local brass band playing carols, and reflected on the fact that brass bands and pasties are really symbols of an olde worlde Victorian Cornwall - whereas surfing is one of the few things that has come to symbolise modern Cornwall. Positive modern symbols like this are important to all of us in the county if we are in the business of trying to promote ourselves and what we do. Would you agree with this?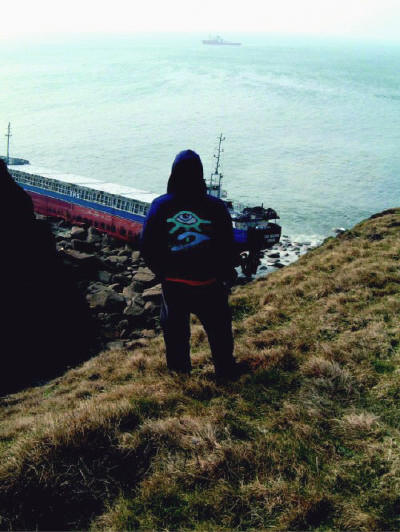 Yes we need positiveness and things like surfing and Eden can help with that but we must not fall into the trap of those images hiding the reality of things like a decline in surf products made here. We have a huge potential and there is a mass of rhetoric. The challenge now is to turn that talk into actions!
How did 'Surfers Against Sewage' come about and did you ever imagine it would be as successful as it was? Many artists and business people struggle in Cornwall to take their 'product' out to the world. Do you think SAS managed this and if so how?
Surfers Against Sewage started because we were fed up with panty liners in the face, condoms in the water and surfing and playing in a slick of human excrement. A small bunch of us decided to do something and formed SAS. We were wonderfully naive and even imagined we could save up for a sewage treatment works!
We were very successful – beyond our wildest dreams. We used the iconic imagery of surfing to drive the case for clean seas, if we'd been beach users against sewage we'd never have had the same level of success. We were not career environmentalists – we simply did it because we knew our beaches weren't right. Our naievity worked as well because we had nothing to lose and everything to gain. We were the underdogs against a line up of a Conservative Government, the privatised water industry and complacent councils who were happy to play the Jaws game where they denied there was anything wrong with the water because it might lose them tourists. Taking the product out was a case of marketing, hard nosed, media orientated and solution based. We would also travel anywhere in the UK to push the debate and campaigned hard right around the UK. Much of our success came from work outside of Cornwall. Cornwall needs to be careful that it doesn't over-hype itself. Sometimes I think that people need to get out a bit more.
What were the successes of SAS, in terms of policy changes and cultural impact? What are the issues in the future that SAS might still have to confront?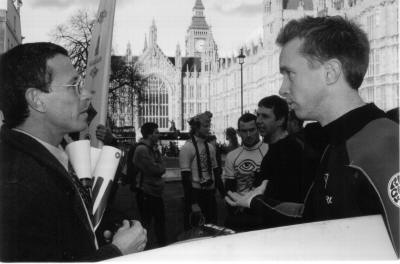 SAS helped deliver £5.5 billion spend on the clean up of the coastal waters around the UK. When we started there were 400 million gallons of crude sewage being discharged every single day. By the time I left SAS in 2000 we had won agreement for all continuous discharges of sewage to be treated to at least secondary level with tertiary treatment for about two thirds of the discharges. A huge change and if you were to compare the water quality from 1990 to now it is a huge difference and improvement. SAS still has work to do on storm waters and chemical discharges and chemicals in our water systems… A big task but you'd need to talk to them for an update on the campaign. I'm still a fully paid up member and support all they do.
Culturally we established that normal people can make a huge difference, that surfers can drive change and aren't just a bunch of hedonistic layabouts. Culturally we helped shift the music scene in the county with the SAS Ball - Faithless, Freak Power (with Fat Boy Slim), Dick Dale, The Darkness, Razorlight etc. Now there are loads of gigs including the highly successful Eden Sessions and of course Africa Calling which was part of the Live 8 global event.
You're right to highlight this kind of important cultural impact because it can be easily overlooked, but its all part of a bigger cultural melting pot that serves to enrich people's lives, and in this case contributes to people feeling that Cornwall is a good place to live. Yes Cornwall is a melting pot and there is no doubt that things like the Combined University will help drive that. It is important though to remember the areas of considerable poverty that still exist and that everything isn't roses for everyone. Maybe that is part of the real challenge for the county, to support the culture that is already there and bubbling. We have to ensure that all the funding coming to Cornwall does benefit everyone and not just those who know how to access it. Proper Job Charlie Curnow is well worth a read for all those who want to affect change in the county. Not necessarily easy but worth the read…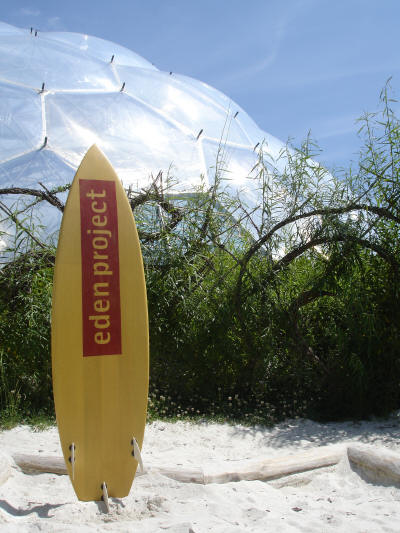 I understand you've left the organisation now after many years and have become the Sustainability Officer for the Eden project. That sounds like a unique job if ever there was one. What does it involve? What sort of projects have you overseen in this capacity?
I left SAS in 2000 and took a break for a year – going surfing and doing a little bit of TV. I Joined Eden in 2001. My role as Sustainability Director is a great one. I champion the issue internally and represent us externally on many panels and debates, and try to push the whole issue of living as 6 billion people on this planet without wrecking it for future generations. This is serious stuff and we need to ensure that we rise to the challenges of the 21st Century. We can solve these problems, as a species we can do anything we just have to act. SAS showed that, all the industry and experts said it couldn't be done that way yet we helped change all that. Eden itself is a project that many would have said couldn't happen and again the team proved that it could be done. So we can solve these issues and need to enthuse people and drive the solutions especially into the popular culture. These issues affect all of us and it is no good just covering this in the Guardian or late on Channel 4.
What role do artists have in this respect? I think painters like e.g. Constable and Turner in this country helped us to recognise the magnificence and visual splendour of the natural world, but no-one these days would dispute that any more. Perhaps in our time the arguments and debates are more complex and subtle, so that artworks relating to the landscape or environment have to engage the viewer at another level. An example of this would probably Andy Hughes recent photos - which are currently at the Eden Project. What are your thoughts on this? Andy's work is brilliant and I've worked with him for some 16 years now. There is a powerful beauty and a shocking truth to the images and they fit well with Eden's educational remit. They engage people into a huge debate in an irresistible way. I guess that is part of the work of some artists now – how to engage without being too off putting.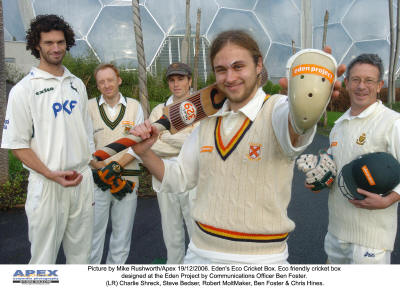 Finally can you tell us about the eco-board (left above)? I know this is a surfboard that is made from balsa wood. Is n't this how boards used to be made once upon a time?
On a global level we need exemplar products and that is exactly what the eco surfboard is. We are using the iconic imagery of surfing to drive positive change. The original boards were made from balsa grown in the biomes and laminated in hemp and a plant based resin. We are now working with two local companies 'Homeblown' and 'Sustainable Composites' on a plant based foam core. This is essential to take the mass surfboard market. Boards were originally made from heavy hardwoods and then in the mid 20th century balsa was used to make them lighter. We are using the board and more recently the eco cricket box as exemplars of what can be done. Then we are saying: If we can make surfboards this way then surely we can make computer bodies or cars or whatever from these same sustainable materials. The eco board story was recently covered by CNN and went out to 200 million people. worldwide. That's the power of surfing!!