Outsider
Princess Pavilion, Falmouth 16th - 19th November 2006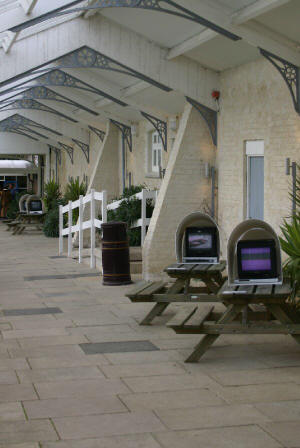 The Princess Pavilion was originally part of the estate of Gyllyngdune House, bought by Falmouth Town Council in 1903. This year it was chosen as the central site for the Cornwall Film Festival, which ran over a weekend in November. Artist-curator Steven Paige (see profile page) was asked to organise a programme of artist-videos to run alongside it.
Some were works that had already been submitted for the festival, others were made by artists that had been invited by him to contribute. Unlike most gallery exhibitions, the show was open till 9 o'clock at night, and the work seemed to alter its qualities depending on the ever-changing November light – with much of it coming alive in the darkness as it fell in the late afternoon. (Indeed, the two projected video pieces were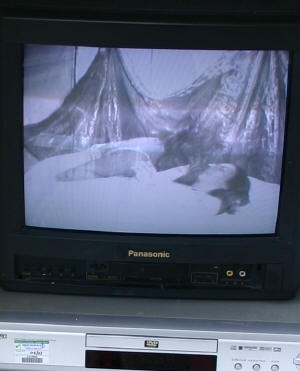 not visible until then, and would have been missed by some day-time visitors.)
On picnic tables shielded from the blustery wind by white plastic casing were four monitors showing work by Paul Carter and Alexandra Zierle, Alban Roinard, Gillian Holt and Mary Fletcher (above). Carter and Zierle's work had been seen earlier this year at Artonomy in Truro, and depicted the two artists bound together at the waist engaging in a number of compelling but absurd studio set-pieces using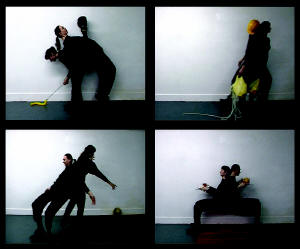 simple props such as boxing gloves (left) . Roinard's work was an intriguing collision of two styles – the first section of the film being images of people watching TV – with news headlines overlaid in reverse as they would be if one was looking out from the television - and the second a black-and-white film evocative of early underground filmmakers like Kenneth Anger (above). This section was an unusually candid - yet dreamlike - representation of sexual longing and desire. Gillian Holts video was a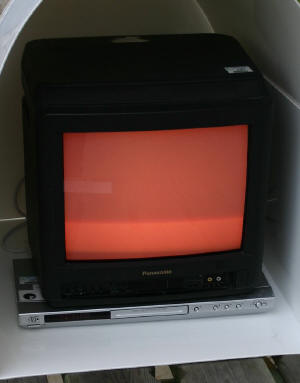 gentle-paced, wistful evocation of time-passing, shot in Poland, and Mary Fletcher's was a diaristic monologue. In this latter piece (right) the artist could be heard reflecting, painfully at times, on why she does not have children. Also featuring the menacing sound of ticking clocks, the soundtrack was accompanied by an alternately blue then red screen.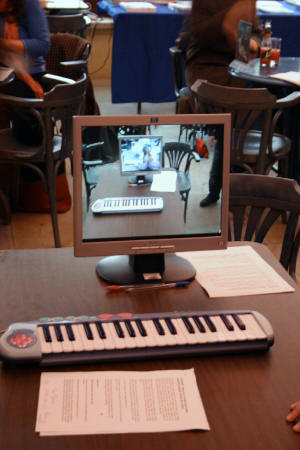 Inside in a space adjacent to the café, Brendan Byrne had installed two pieces that, respectively, referenced time-travel and synaesthesia. Although superficially casual and lo-tech, both used interactive digital technology in a way that genuinely tested the imagination. In the wonderfully titled 'Now, now, there, there, then' (left) a visitor could control the image they saw on a monitor by pressing a key on a child's electronic keyboard – with notes higher up the keyboard triggering images recorded only seconds previously, and those lower down triggering older images from the same day. In most cases this was other visitors performing exactly the same actions. 'Digital Decay' – the other installation - was a computer screen showing slowly shifting computer pixels that were programmed to change according to the ambient sound.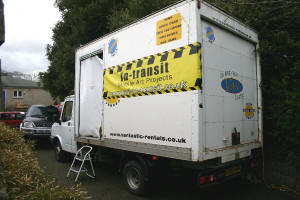 Back outside, Simon Jacques' work was installed on tiny monitors on the walls of a white transit van. Part of the ongoing 'In – transit' project (right) , these were images of a spectacular thunderstorm recorded on a mobile phone in Durban, South Africa. In being reduced to pixels on such a small screen a strange digital transmutation took place, that somehow highlighted the peculiarities of the technology and the process of digitally encoding moving images.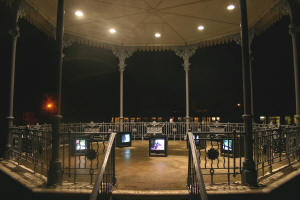 Centre-stage in the bandstand, Amanda Lorens had installed 'Close Embrace' (left). Five monitors clad in black panels showed the feet of tango dancers who had been filmed dancing in the same space some days previously. Accompanying them was not music, but a separate soundtrack in which the dancers reflected on the experience of dancing as a form of intimate, and sometimes passionate, non-verbal communication. Amanda showed 'Tango in transit' earlier in the year as part of Tract Live art, which featured live dancers. Bandstands are increasingly being used as venues for tango dancing across the country, and Close Embrace had many of the same themes as the Tract piece but its setting - lit by spotlights and surrounded by Edwardian filigree iron-work - lent it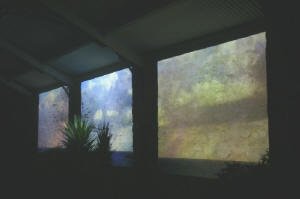 an uniquely theatrical grandeur.
Around tea-time the outdoor projectors were switched on. Paul Ridout's 'Three degrees of separation' (right) consisted of the same seascape filmed using stop-motion time-lapse and projected out of sync so that time moved from left to right across the three screens. Seen against a slightly uneven whitewashed wall the slowly shifting image had a highly seductive and painterly quality. Adjacent to it was Clare Bridgemans video (below) which was a remarkably systematic and even obsessional record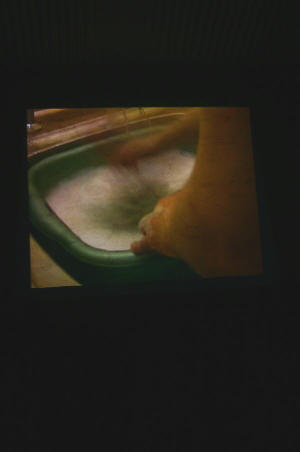 of her daily activities, in which only her hands and other extremities appeared.
This was a confident and professional first outing for Outsider video projects, which promises to bring to video art in Cornwall what PALP did to installation and artsurgery to live art.
www.outsidervideo.com