The Art of Cornwall
Helen Hoyle responds to a programme broadcast on BBC4, Thursday 2 December 2010 that focussed on Modernism in St Ives.
A personal journey from Cambridge to Cornwall underpinned the structure of last week's 90-minute programme presented by Dr James Fox. Visiting Kettle's Yard as an undergraduate, he became aware for the first time of the works of Ben Nicholson, Christopher Wood and Alfred Wallis. This experience engendered a fascination for the art of Cornwall.
Focussing on the significance of St Ives from the 1920s to the 1970s, Fox identified the outbreak of the Second World War as a pivotal moment in the history of the colony. In the hope of avoiding the dangers of bringing up their family in wartime London, Ben Nicholson and Barbara Hepworth left the capital in 1939, heading west. Others, such as Naum Gabo, fled to Cornwall from Europe, having experienced the horrors of the Russian revolution, followed by years of political instability.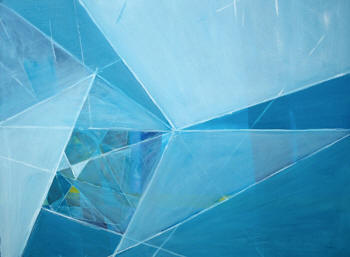 The programme described how the influence of the elements permeated the work of the newcomers. Hepworth said of the landscape that she 'felt through her feet its geological shape', while Nicholson's work revealed a rejection of rectilinear abstraction in favour of more rounded forms borrowed from nature. The convergence of talent within this small community fuelled an outpouring of creative energy which positioned St Ives alongside Paris or New York as a centre of modernism, but one which was uniquely British.
Patrick Heron, initially a writer and critic, and the Cornish-born Peter Lanyon (whose meteoric career was cut short by a fatal gliding accident in 1964) were presented as central figures in post-war St Ives. Something of a rebel, Lanyon was a founder member of the breakaway 'Crypt Group' formed in 1947. However, I felt that some attention could have been paid to a fellow member, Wilhelmina Barns-Graham (image above right), who came to St Ives from Scotland in 1940. Influenced by the works of Wallis and Gabo, by the 1950s she was exhibiting in London, Paris and the USA. Barns-Graham's contribution to the British modernist movement, overlooked for some years, is now considered significant.
Another omission in this narrative of the St Ives phenomenon is Margaret Mellis. In 1939 she and her husband, Adrian Stokes, were living in a large house in Carbis Bay. Were it not for her hospitality, it is unlikely that the Nicholsons would have found refuge in Cornwall in 1939. They and several other artists were guests of the Stokes's for several months. Mellis was the youngest of the group. Encouraged by Nicholson and Gabo, she developed a talent for collages and reliefs. In the 1950s she moved to Suffolk, where she became well-known for her driftwood sculptures. She was honoured with a major exhibition in the Sainsbury Centre for Visual Art shortly before her death in 2009. Several of her works are in the collection of the Tate.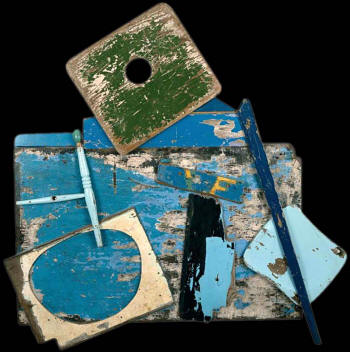 While the period spent by Barns-Graham and Mellis in Cornwall was relatively short-lived, the growing international status of Hepworth and Nicholson attracted a second wave to the county. These were artists who wanted to put the experience of the Second World War behind them. St Ives offered them a fresh start.
At the invitation of Patrick Heron, who had reviewed his work in complimentary terms, Roger Hilton began to visit Cornwall and soon made his home in St Just. Here his canvases began to fuse abstract forms with the contours of the Celtic landscape. Exhibitions in the UK and abroad followed, and he was represented at the Venice Biennale in 1964. By this time his work had taken on overtones of eroticism, combined with black humour.
Strangely, Hilton was not mentioned in BBC4's programme. Neither was another 'giant' of post-war St Ives, Trevor Bell who, at 80, is still working and exhibiting today. In 1955, Trevor Bell found himself in St Ives as a consequence of meeting Terry Frost. Soon afterwards, Bell was described by Heron as 'the best non-figurative painter under 30 in this country'. The United States subsequently became the base for his highly successful career. His return to Cornwall in the 1990s breathed new life into the artistic community of St Ives.
The programme concluded that 1975 marked the end of an extraordinary era of international prominence for St Ives. Art historically it is a convenient, if simplistic, moment to close the chapter on Cornwall, coinciding as it does with the death of Barbara Hepworth, and also of Roger Hilton. In reality history is always more complex, however.
After Hilton's death his wife Rose was able to resume her career to great acclaim. Yet another woman artist working in Cornwall who gained prominence towards the end of the twentieth century was the colourist, Sandra Blow. It was in Italy in the 1940s that she first discovered abstraction. A highly successful lecturing career at the Royal College of Art followed (where her students included David Hockney and R B Kitaj). This period was interspersed with visits to Cornwall, where her huge collage canvases, reminiscent of Matisse, were considered of such significance that they merited inclusion in Tate Millbank's 1985 exhibition 'St Ives 1939-64'. Sandra Blow returned to Cornwall in the 1990s. She was further honoured with a retrospective, 'Space and Matter' at Tate St Ives in 2001-2, and died in 2006.
I think this programme suffered from some glaring omissions, as I have outlined. It would have benefited from a less one-sided, masculine approach – one which explored the prominence of some of the women artists working alongside their male counterparts, not only in the mid-twentieth century, but also today. It was noteworthy that Fox interviewed Naomi Frears in her Porthmeor net loft studio. But what a shame that he omitted to mention the line of continuity from the conversion of the lofts in the 1880s to working spaces, still used by artists today. The community of St Ives, building on the artistic heritage of the past, is thriving and has much to offer our changing world.
See 'Naomi Frears at Porthmeor' http://www.youtube.com/watch?v=TgN7_OnT8IQ
See also Contested Histories of St Ives art http://www.artcornwall.org/feature_contested%20histories.htm
© 2010 Helen Hoyle http://cornishmuse.blogspot.com/