Art Now Cornwall
Tate St Ives
For most of the last decade and more the first gallery (Gallery 1) at Tate St Ives has been home to the oldest and probably most important items in the Tate collection. Deciding to have these hugely revered but familiar works removed to one of the back rooms to make way for Art Now Cornwall, was, in curatorial terms, audacious and bold.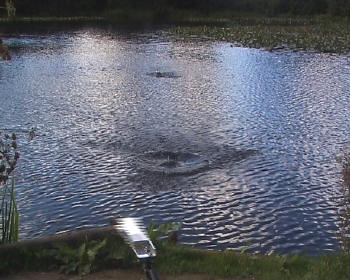 Whilst it was possible to discern links between the new art, and the work that would usually be installed there, it was the contrast that was more striking. In place of rigid post-war formalism was a post–modern emphasis on fluidity and process, and in place of austerity: play. This was epitomised in the videos on opposing walls by Jonty Lees and Andy Whall. In one of number of pairings that repeated through the show, both featured water. Jonty's video (left), shown with a commissioned painting, was of stones thrown from a clay-pigeon launch in a detached, mechanical recreation of a familiar children's game. Andy's black and white video was made using waterproof housing inside an Atlantic wave: with water convulsing and bubbling past the lens.
Between them were several paintings by Michael Porter, including the visionary 'Issel Road', that were poised tantalisingly between representation and abstraction; together with joyful abstract paintings by Matthew Lanyon and Iain Robertson. Andy Hughes showed two of his compelling 'Dominant Wave Theory' series of photographs on the same wall, as well as another close to the entrance.
Occupying the centre of the room and placed casually on a trestle table were Andy Currie's collection of lo-fi kinetic sculptures: familiar objects blown into a mesmeric dances by small electric fans. On the opposite wall were abstract still-lives by Jessica Cooper, and an informal neo-geo painting by Clare Wardman. Richard Nott's industrial-looking painterly construction, 'Striation', made
by compacting and slicing sheets of plaster board, occupied the centre of the wall, and two minimal paintings by Luke Frost consisting of soft dove greys enlivened by zingy fringes of bright colour were in the corner.
Looming over the stairs down to the lower gallery was a whimsical painting by Jesse Leroy Smith of a child wearing a leopard print head-dress, and round the corner Sax Impeys' massive work 'Event 9' evocative of the sea and weather charts that featured on the cover of the catalogue.
In the studio space were a selection of quieter, more introverted works: Harriet Bell's seed-like forms in wax, Partou Zia's self-portraits in pencil on paper, a beguiling monochrome painting by Naomi Frears and other works by Cathy Watkins, Lisa Wright and Jesse Leroy Smith.
In the curving lower gallery facing the sea was a strongly tactile seascape by Richard Cook, and as if paired with it, an epic parody of history painting called 'Asleep by the light of glow-worms' by Ged Quinn. This work depicted Joseph Beuys explaining pictures to a dead hare while sitting in a time-machine, and although it incorporated art-historical references and symbolism, any coherent reading was overwhelmed by the simple grandeur of the image. Beyond that was another apparent pairing this time of figurative paintings by Lisa Wright and Partou Zia, and between them a large, gestural abstract painting by Mark Surridge.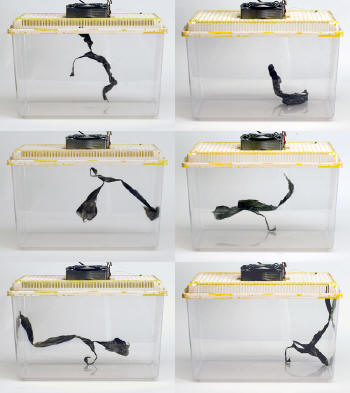 In the same space was a lovingly-made delicate black carpet made of marble dust by Lucy Willow, and two large painted metal sculptures by Philip Medley. On the end wall of the gallery were colourful abstract paintings close in spirit to St Ives modernism by Neil Canning and Anthony Frost.
There were also some works shown somewhat apart from the main galleries. On the balcony overlooking the lower gallery was a video by Hadrian Piggott of rubbish floating on churning water. Strangely hypnotic, many viewers would have wrongly assumed it was a depiction of a cornish wave, but in fact it was filmed in Italy (hence the footballs?).
In the entrance hall was a performance/ installation by Amanda Lorens. For the first weekend of the show, tango dancers danced hidden behind a crisp white wall. The audience could only see them through peep-holes in the wall, which served to separate the dancing, as an intimate private act, from the public gallery space. Above that, was another charming work by Andy Currie consisting of a bin-liner agitated by desk-top fans. Away from the main Tate gallery, Delpha Hudson showed visitors around the Barbara Hepworth Museum as part of an artists performance.
To what extent did the show achieve what it set out to? As is always the case with survey exhibitions, there were artists in Cornwall who felt aggrieved that they were not included. Whilst in London, for example, artists tend to understand the rules of engagement, and the processes by which shows are selected and curated, the situation in Cornwall is less straight forward because the same rules cannot be applied. Partly because of the artistic legacy, the audience is different, the infra-structure is different and the debates are different. In particular there seems a wider gap between private galleries and artists making new art: this is because many of those galleries have a commercial interest in promoting art that tends to look backwards rather than forwards.
The Tate has, however, become the most important arbiter of taste in the visual arts, and the consequences of stamping its approval and authority on some art-works and not on others would, to many, seem huge. Under the circumstances it is inevitable that the process of selecting the work and curating the show was scrutinised very closely by the local artist community: it prompted considerable debate, and even spawned an alternative show at Goldfish in Penzance.
Although it was therefore a difficult show to put on, it did an excellent job of reconciling and bringing together a number of competing interests and tendencies. It managed to point to the future whilst acknowledging tradition, it mixed older artists with younger ones, artists represented by private galleries and artists not, and broadly speaking it had representative works in each of the main genres (photography, performance, video, installation, sculpture and painting). As well as managing to present a comprehensive overview of this creative diversity, the exhibition was also installed in a way that made the work accessible,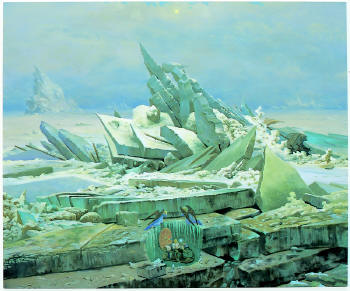 dynamic and vital, and which encouraged visitors to recognise links, and points of contrast between the individual pieces.
One of the most significant features of the show was that straight-forward depictions of the landscape, which has been staple subject matter for generations of Cornish artists, were conspicuous by their absence. Although in the catalogue, the curators express surprise that 'the landscape is not a predominant subject for many artists in Cornwall', it has to be viewed as having been a curatorial decision not to include more landscape-work, as in fact there are any number of accomplished artists who still work in this way. If so, one might conclude that depicting the landscape, even in a way that is formally inventive or original, is not considered enough in itself any more: most of the works included in the show that referenced the landscape did so obliquely and in ways that revealed the historical, social and political meanings that attach to it.
What else did the show tell us about art in Cornwall? To an outsider, aspects of the selection suggested that a lot of art made locally lacks originality or 'edge': it is too restrained and polite, and avoids polemic or difficult subject matter. This is especially true of certain sectors of art activity in Cornwall, and there are good reasons for it. As most private gallery-owners will admit, much art from Cornwall is conditioned to be conservative because of the nature of the local art-market. This market is shaped hugely by the all-pervading influence of the 'artistic legacy' - itself packaged for easy consumption by the Tate. It is not surprising therefore that art buyers have expections that art from Cornwall should have a certain non-threatening and familiar retro quality. The issue for the public galleries, and shows like Art Now Cornwall, is the extent to which they should challenge this state of affairs. Many feel that the current show achieved this in part, but could have gone further.
In fact, in its defence, the private galleries have had a lot of influence in recent years because of a lack of credible alternatives.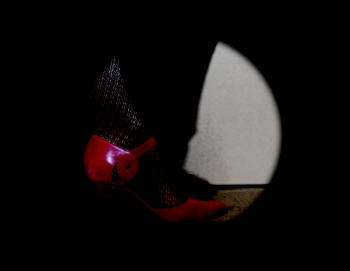 For example there has been little significant art-writing in Cornwall, and even institutions like the artist societies have, in the recent past, seemed to conspire against the emergence of new art, dominated as they have been by older artists seeking to maintain their influence. Even artist-led organisations have struggled to gain enough momentum to make much of a difference, partly because the audience for genuinely challenging work has been so small. There are signs, however, that this is changing.
Cornish art is at a cross-roads. No longer able to rely on past glories, it has made the move away from the relative certainties of modernism into the uncertain world of 'post-modern' art tentatively and reluctantly, and has yet to fully assert its own identity and direction. Making good and interesting art is difficult and needs support from the right kind of infra-structure. Because of this, there are probably only a handful of artists living and working down here who are currently good enough to 'compete' on a national or international stage. That's the bad news. The good news is that, on the evidence of this show and others, there are a lot more who have the potential to do so.
images from top to bottom: Jonty Lees, Andy Whall, Andy Currie, Ged Quinn, Amanda Lorens. Why not respond to this review on the forum or submit your own review for publishing on the site...