Art Now Cornwall?
'Art Now Cornwall?' opened, quietly, on the same night as its namesake on the North coast of Cornwall.
In the first room were two small paintings and some limited edition artists books by Andrew Lanyon. Brother of the abstract painter Matthew, who was showing simultaneously at the Tate, Andrew has been exhibiting for much longer, and was associated early in his career with the late British surrealist movement. A compilation of his extraordinary video vignettes was playing on a laptop to one side of the room. These short films (below left), featuring friends and artist collaborators, have the same satirical quality of Luis Bunuel or Monty Python, and are unlike anything else being exhibited in Cornwall.
A link with mid-century surrealism was also evident in David Kemp's sculptures: most strikingly in a structure that looked like strap-on wings, made out of a horse's bridle, and the keys of a piano (below). This was a work that took the idea of Cage's prepared piano to another more metaphorical level, in which the classical figures of Pegasus and Icarus were literally harnessed together.
Adjacent to other wall-mounted works by Kemp were paintings by Michael Rees and Andrew Litten. The former consisted of simply drawn figures, walking in a fleshy, timeless landscape, the latter a contemporary personal iconography in bright, child-like colours. Also in the downstairs space was a large abstract painting in blues and blacks by Kenneth Spooner.
On the stairs were two elegantly carved caryatids by Alex Smirnoff - one of them a rather melancholy mermaid (below left) - and dark, tactile landscapes by Phil Whiting. Beyond them, were intricate figurative paintings by Zoe Cameron, which with dark, rich tones were evocative of old masters.
Looming over visitors at the top of the stairs was the jaundiced eight foot figure of Silenus, a character from Greek mythology, made with polyurethane foam and steel (below right). This large sculpture by Tim Shaw shared a semi-darkened room with some haunting enigmatic work on paper by David Doble (above right), and a video projection 'The Fall of Tom' by Daryl Waller (below left). This extraordinarily striking monochrome work, was genuinely innovative in being part painting, part drawn animation, and part film.
Bathed by natural light in the adjacent room was work inspired by the natural world by Rupert White, Simon Allen, Simon Averill and Paul Chaney. The former contributed drawings made by following the paths of ants as they scurried across sheets of paper (below right), the latter small pewter casts of insects in especially designed light-boxes (below left).
Bold abstract paintings by David Briggs decorated the wall of the second flight of stairs, whilst in the top room was more figurative work by Joy Wolfenden Brown and Ivan Bray. Three works on paper by Kate Walters, whose work was also in this room, depicted angrily drawn, disintegrating figures, in red and orange (below).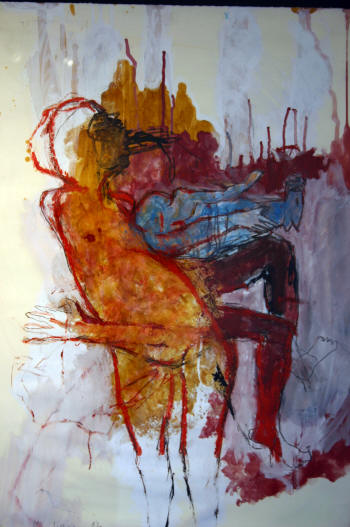 In the last room of the gallery were two walls bearing the names of artists known to be active in Cornwall. Visitors were asked to write down any others that might have been overlooked. In addition a large stretched canvas was adorned with invited comments which were occasionally insightful and often irreverent.
Goldfish mounted this show quickly in response to last minute news that the Tate were planning a show of contemporary Cornish art. Through going ahead, and calling it Art Now Cornwall? they risked upsetting a number of people, but they clearly decided it was a risk was worth taking. The addition of the question mark to the title reinforced the fact that the Goldfish show was offering a gentle critique of the Tate one, and challenging whether it is ever possible to make definitive statements about the state of 'art now' anywhere.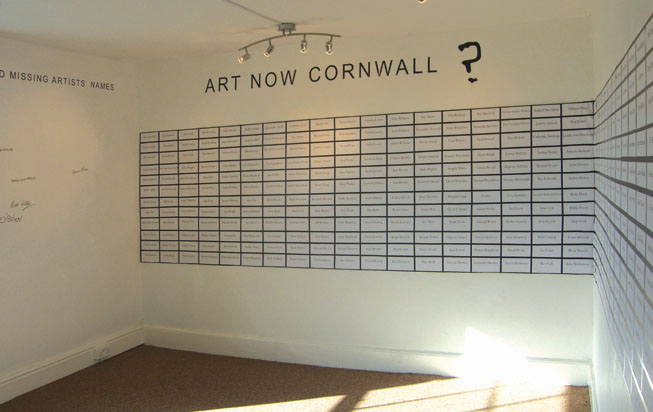 One of the distinguishing features of European modernism was the tension between surrealism and abstraction. Each movement had very different aims and objectives: the former celebrated and embraced the unconscious anti-social realm of sexuality, dreams and the irrational; whilst the other repressed these elements, in its drive toward formal purity and social constructivism. In Cornwall, as elsewhere, the abstract/constructivist tendency was always championed by the establishment - probably because it was less anti-social - and more difficult art derived from the surrealist tradition was side-lined.
Art Now Cornwall? highlighted the fact that whilst many aspects of art in Cornwall were well- covered by the Tate show, there were some omissions. In particular much of the figurative art in the Tate show was comparatively lightweight, and more complex irrational, or difficult psychological content was missing. In fact the differences between the shows could not have been better demonstrated by the contrasting work of Peter Lanyon's two sons, Matthew and Andrew, one of whom featured in each.
Participating artists: David Kemp, Michael Rees, Alex Smirnoff, Andrew Lanyon, Andrew Litten, Kenneth Spooner, Phil Whiting, Zoe Cameron, Rupert White, Paul Chaney, Simon Allen, Simon Averill, Daryl Waller, Tim Shaw, David Doble, David Briggs, Ivan Zadok Bray, Joy Wolfenden Brown, Kate Walters.
There is lots more on the forum about this show!
The Tate Show will be reviewed on the site soon: we're waiting for installation shots from the Tate!!