Barrie Cook
Lemon Street Gallery, October 2007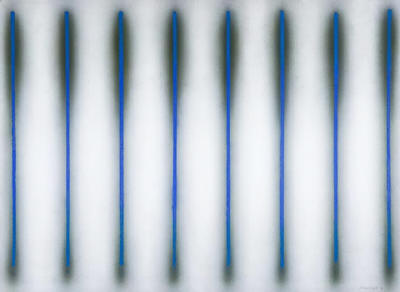 Barrie Cook is one of Cornwall's big name artists. He built his reputation as an abstract painter in the 70's - a decade that was not, generally, kind to painting - with solo shows at The Serpentine, Whitechapel and Camden Arts Centre.
He moved to Cornwall much later, and since being here has shown regularly at Lemon Street Gallery (LSG). He was, however, a surprising absentee from the Art Now Cornwall show, particularly as he had been shown in Tate Britain only a few years previously.
Returning to LSG in October, 2007, Cook had works from both periods on show and so the exhibition had the feel of a mini-retrospective.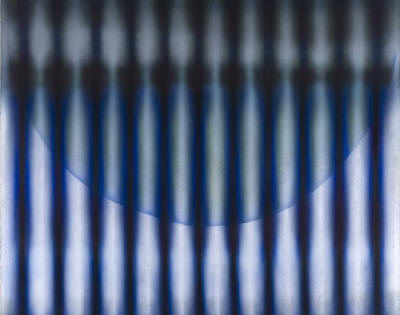 The older paintings from 1969 onwards were in the upper gallery. These comprised imposing canvasses and work on paper consisting typically, of large muscular striations in repeating patterns of blues and blacks on a white ground. The all-over, slightly mechanistic execution of these 70s works owed much to American painters Gene Davies, Kenneth Noland and Frank Stella, and to the vogue for pattern painting and op-art that was around at the time.
Cook was already deploying the aerosol or air-brush extensively in these sombre but majestic works. This device, with which he has persisted ever since, is what makes his art instantly recognisable.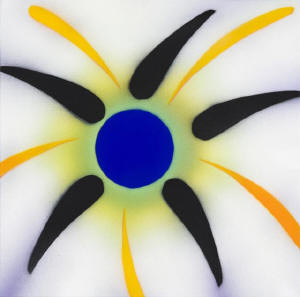 It was particularly suited to the minimalist paintings of this early period because of the way it detached him from the making of the work and disguised his presence as the artist. The blurred edges also gave the paintings a distinctively ambiguous depth, and an amplified sense of their having no central focus or motif: i.e. nowhere that the eye could easily rest or linger.
In the stairs and in the two lower galleries, was work from the 90s and later, which were markedly different. The scale of these more recent works was smaller, the palette brighter and more playful, and the designs more composed.
In the basement gallery, were a group of paintings in bright colours using a circle-motif which suggested planets, suns or other cosmic events. The air-brush though it still featured, was less prominent.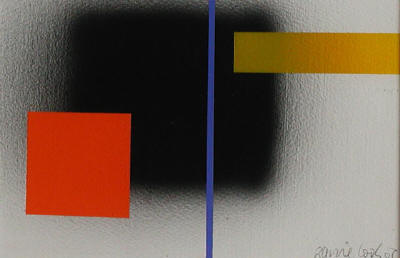 In other works, uneven geometric forms created a rhythm across the canvas familiar e.g. from constructivist St Ives art of John Wells - though the colours, acidic oranges yellows and pinks as well as ultramarine, were perhaps more reminiscent of late Wilhemina Barnes-Graham or Terry Frost.
There was even a group of paintings titled 'Variations on a 50's theme', which acknowledged the historical references for these works, and gave a clear indication that Cook was consciously quoting from art from another period.
Thus there is a sense that whilst many Cornish artists started their careers influenced by European modernism, only coming under the influence of American art later, Barrie Cook has done precisely the reverse, but done so knowingly and not completely without irony.
photos courtesy of Lemon Street Gallery