Sarah Poland and Christopher Marvell
Belgrave Gallery, St. Ives, 10th - 31st July 2006
This summer's exhibition season began in some style on Saturday with the opening of what may prove to be one of St Ives' strongest exhibitions of 2006. The evening's sultry damp accompanied a substantial (and clearly thirsty) throng to be entertained not only by the quality of the works on view, but also by an unusual and original performance by one of the featured artists and a catalysing supply of Kir.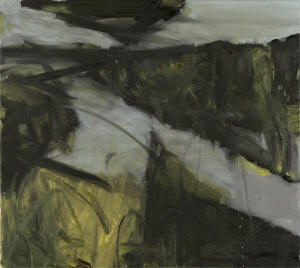 Essentially, the new Belgrave Gallery show is comprised of two solo exhibitions sharing mutual space. Therein, Christopher Marvell's seemingly unsubtle but curiously engaging sculpture in bronze, intertwines almost seamlessly with Sarah Poland's explosively Romantic, landscape-derived, semi-abstract paintings in oil. Presented in the manner of a public exhibition, Gallery Director Michael Gaca's proven ability to hang a show in a way sympathetic both to the demands of the space and the needs of the works, is demonstrated to satisfyingly coherent effect.
Sarah Poland's debut solo outing is a confidant affair, where sizeable canvases impose themselves on the senses by virtue of an almost visceral physicality, coupled with an effusive appeal to the subjective inscape; the landscape in all of us. Her paintings fall into three distinct but related groups. Best exemplified by the raw power of Disturbing A Sleeping Carn (which references Bryan Wynter's Birds Disturbing The Sleep Of A Town (index page)), the first of these are her near-representational landscapes, which deploy a predominance of black and lemon yellow in voluptuous description of the physical, with a tacit overlay of the psychological. In these, Poland's feel for oil paint finds free expression in energetic, paint-heavy representations of her focal landscape.
The second group of works are entirely abstract in presentation, but are also patently possessed of that same landscape. Dissolution and Divine Motion, for example, are works that relate directly to the artist's physical and intellectual experience of landscape, but which, when reinterpreted and titled, lead the viewer into a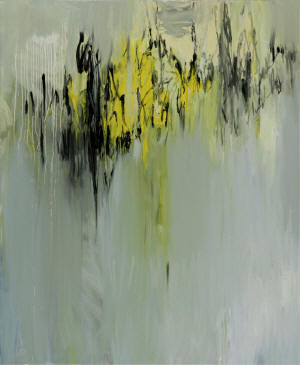 theatre of langue for her emotional parole. The third group of works had their genesis illustrated to the assembled crowd via a short performance by the artist. Accompanied by a double bass and folk fiddle, Sarah Poland danced and drew simultaneously, allowing the movements of her body to guide her mark-making. A series of paintings in the exhibition are derived from similar drawings - made as she either danced in the studio space, or walked through the landscape. The resultant works, Raga, Make It Happen (right), and Mareel, for example, are intriguingly beautiful abstract works that attain a strong sense of representation from the unselfconscious input of the body's movement through space.
Sarah Poland's success in this first major showing of her work lies in the coherency of her enquiry. She makes paintings for her own good reasons, using a scale that references Modernism, but which essentially expresses a personal form of landscape-based Romanticism. The self-evident importance of her communication is underlined by the almost brutal honesty of her paint's application, by the use of an intense compositional style that renders space almost entirely non-existent, and by an attitude that invites you to drown in the work before it smothers you.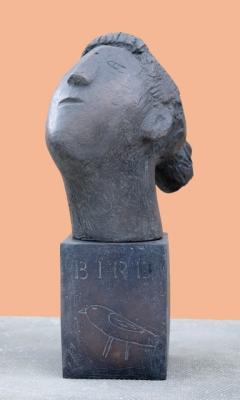 It is a simple fact that there is not enough good, new sculpture in St. Ives, and so it is pleasing to find a veritable menagerie of the stuff under the one-and-same roof. (It is also a simple fact, by the way, that it's not every day that you'll find a life-size sheep in the Belgrave Gallery.) Christopher Marvell is a well-established sculptor making his first major showing in St. Ives. His sculpture is made from heavily patinated, cast bronze, and centres on representations of human and animal figures, often presented in juxtaposition to one another (left). Despite the occasional whiff of whimsicality, Marvell's figures can achieve an irresistible balance between an engaging playfulness and a more serious mode of expression. Roughly cast and often inscribed with words and symbols, his human figures in particular manage to convey an understanding of pathos that lends weight to the work. Small Birdwatcher, Crowd, Penzance Dog, and Birdwatcher Head, in particular, resonate through their articulation of wonder; of non-conformity; of modesty; of humanity; of sheer dogginess. These are figures beset by gravity, aspiring to the sublime. The striking Penwith Bird moves toward the human in it's form and size, and renders flight irrelevant, and his Bird is a charming and lyrical conception of simple beauty.
This 'particular head' preferred Christopher Marvell's boats boys and birds to his beasts, but nevertheless enjoyed the whole exhibition tremendously. And as for Sarah Poland, well I expect that next time her Kirs will be Royale.
Richard Blackborow
article first published in the St Ives Times and Echo
images courtesy of the Belgrave Gallery