Alejandro Jodorowsky's 'Dune: An exhibition of a film of a book that never was

Plymouth Arts Centre 2 April – 16 May 2010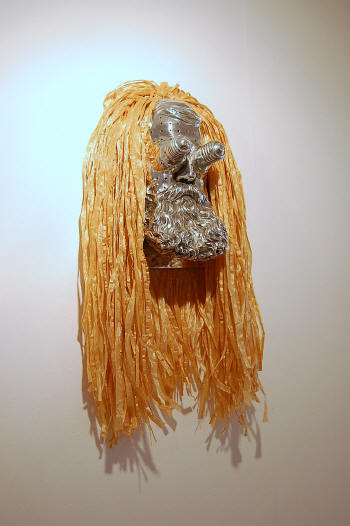 Dune is a weighty Science Fiction novel written by Frank Herbert and published in 1965. The cover blurb by Arthur C. Clarke says its "unique among SF novels. I know nothing comparable to it except The Lord of the Rings".
There have been several attempts made to film the book, and the rights to it have passed through several hands. It has been the subject of a TV mini-series, and a new cinema version is currently being planned, to be directed by action specialist Pierre Morel.

1984 saw David Lynch's version of the book. Lynch's Dune was not well-received by critics and performed poorly at the American box office. Lynch distanced himself from the project, stating that pressure from both producers and financiers restrained his artistic control and denied him final cut privilege.
In some versions of the film Lynch's name is replaced in the credits with the name of a fictional director Alan Smithee: a pseudonym used by directors who wish to be disassociated from films they have worked on. In fact, like a lot of bad sci-fi, David Lynch's Dune retains a fairly large cult following.

Before Lynch, in 1976, Alejandro Jodorowsky was given the job of directing the film. He gathered around him a group of collaborators including the Swiss artist HR Giger, who later designed the movie Alien, the French graphic novel artist Moebius, and English sci-fi artist Chris Foss. Pink Floyd were to provide the soundtrack and the proposed cast was to feature Orson Welles, Mick Jagger, David Carradine and Salvador Dali. Dali was to play the Emperor of the Universe who ruled from a golden toilet-cum-throne in the shape of two intertwined dophins, their mouths designed to receive, respectively, urine and excrement: "Dali considers it very bad taste to mix piss and shit".
But Jodorowsky never got the finance and the project was abandoned. All that survives are the director's notes and production drawings by Giger, Moebius and Foss.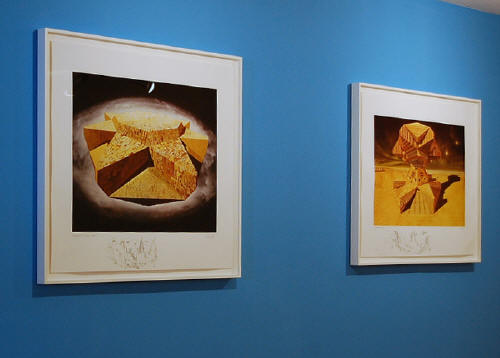 Jodorowksy has written about his adventures in film-making as a process of spiritual discovery and has said film-making should be a way of losing money, not making it. "Contemporary art" tends to be all about about price tags and status, so I was interested to see the interpretation of this material by the contemporary artists in this touring show. I hoped for something over-the-top and mystically bonkers.

In the downstairs room there's a chrome head with raffia hair and bulging eyeballs. This is a Steven Claydon piece. The chromed metal looks like it may have once been a colander and yes, it could easily be a portrait of the young Jodorowsky strung out on amphetamine...

On the opposite wall is a portrait print also by Claydon. It's not Jodorowsky. Perhaps this is a portrait of Frank Herbert? I look at the label and find it's a portrait of Somerset Maugham. I wonder what Somerset Maugham has got to do with the film that never was? Tom Morton's notes say it may "be read as a stand-in for the Emperor Shadam IV (Maugham's stately pleasure dome Villa Mauresque recalls the Emperor's golden planet)". So, it's not Emperor Shadam IV, it's not the Emperor's golden planet, it's a portrait of an author who once wrote a book with a scene in it that was similar to a scene in Dune. So this is the Portrait of the Author of a Book That Contains a Scene In It That is Similar to a Scene in The Book...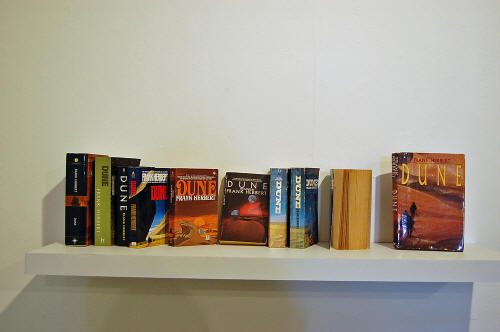 Vidya Gastaldon's paintings are small, pleasant watercolours with pieces of Herbert's text written on them. They're a bit like William Blake's in style, only William Blake put a bit more effort in. Blake would have also used his own secret method of printing and his own text, whereas Gastaldon 'has used Herbert's novel as an i-Ching-like instrument of divination, flicking through the pages at random and then making an image based on the first line her eyes alight on'. So she hasn't actually read Dune, she's just skimmed though it a bit? I love the way contemporary artists cut corners!

Upstairs there are materials actually related to Jodorowsky's Dune project: a set of nice big illustrations by both Giger and Foss and loads of magazine clippings about the project.

On the top floor, in the exhibition space, there's Day Jackson's piece. His human skull morphing into platonic solids seems to be in a Jodorowsky groove, and there's a load of science fiction comics on loan from a local shop, and some reading matter on the subject of science fiction illustration.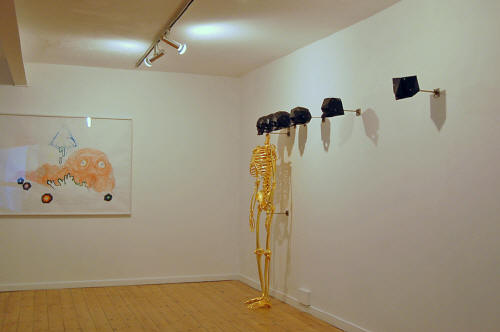 Curator Tom Morton writes that the remains of Jodorowksy's Dune project: "reveal a potential future for sci-fi movie making that eschewed the conservative, technology-based approach of American filmmakers in favour of something closer to a metaphysical fever-dream...In 1977, George Lucas' Star Wars was released and the history of sci-fi filmmaking and even mainstream cinema, would never be the same again"

I'm not so sure that the sci-fi movie genre and mainstream cinema has become so much technology-based as effects-based in its approach, and that beneath this layer of sensationalism its underlying ethos is to re-inforce the fears and insecurities that drive the modern hyper-capitalist economies. There seems instead in Jodorowsky's sacrificial film-making an attempt to blow apart those insecurities and enter into something akin to personal freedom and autonomy, using film as an uninhibited process of spiritual discovery, rather than a means to make money for corporations.

But then the guy is so obviously barmy that it's hard to tell.