Neil Canning: Changing Tides
New Millenium Gallery 21st March - 22nd April 2008
A painter of the metaphysical, Neil Canning is in tune with the Cornish landscape. He seeks out its hidden depths, lines and curves: the places where the sea meets the land, where the sky meets the horizon and where the sun and the moon generate light. Every painting in his latest exhibition at the New Millennium Gallery is a triumph of balance, energy and motion, and the purity of his palette expresses his clarity of vision. Visiting at the beginning of March, and the little red dots which pepper the gallery walls are testament to his considerable reputation, as is the visitors' book, which is filled with glowing comments.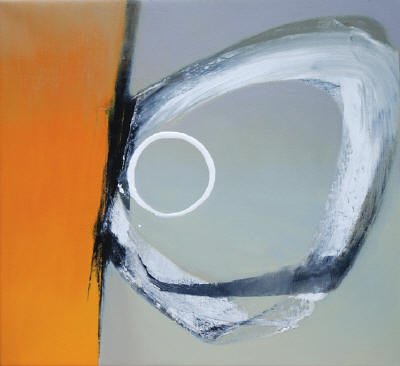 "My starting point is nature," Canning says. "I used to paint figurative landscapes en plein air but now my paintings only refer obliquely to the landscape. I am recording my experiences, expressing the essence and mood of a particular moment."
Canning's work is paradoxical. The large physical impasto gestures and strong brushstrokes which slash their way through the element in his canvasses, verge on being aggressive yet these he balances and softens with minute fine marks, curved lines and tiny dots and gentle swirls. Primordial elements are evoked, a shaded ochre land mass takes on the full force of a thermal current or a tidal surge in 'Nature's Drama,' (right) or the wind as it rushes through the top half of 'Altitude,' (below left) a spectacular large blue painting whose grey and white core shape is offset by a thin yellow curved line and a single signature dot. Elsewhere, external factors appear, the vivid red of a fluttering lifeguard's flag appears in 'Coast: Summer Breeze' (below right), a painting inspired by Porthmeor Beach.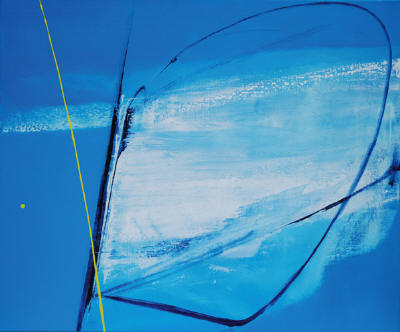 "I painted in Wales for ten years and formed my vocabulary there, it was an open book for me - not many people were painting there at all," explains Canning. "My move to Cornwall had a tremendous emotional impact on my work. It is not simply the light, there is a definite feeling of being on the edge which signifies space and a loss of gravity."
Indeed, his current work has an aerial quality to it, as if it were painted from somewhere hovering high above the land, in a place where air thermals swirl and gravity is defied. Yet elsewhere, as Canning says, a strong u-shaped border appears, reflecting the small coves and natural harbours which are scattered along the Cornish cliff. These shapes have a comforting feel to them, intensified by the warmth of their colours, like the deep ochre seen in 'Coast: Shelter'.
"Since moving to Relubbus where I am surrounded by inland landscape, trees and soft valleys, my view of the sea has become more focused. Different tones and hues are creeping into my work, there are a lot more greys and whites. But sometimes I use an intense colour or shape, and I think, no, that is too much, but then I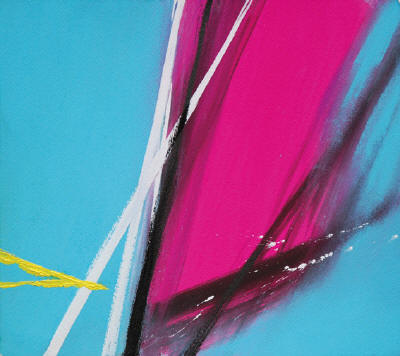 see it in nature, the lurid green of lichen on trees, the sharp angles of the granite stones and the changing colours of the seasons; the autumn's rich ambers and golds juxtapose the spring's soft blues and greens...Of course, during period before an exhibition, every waking second is spent thinking about the work in progress. It is really difficult to concentrate on anything else. This is a very intense period and my sense of colour and form seem heightened."
David Falconer who owns the New Millennium Gallery says, "This is Canning's fifth show with my gallery. I first saw his work about eight years ago when he was on the cusp of becoming abstract, a brave move. His highly successful earlier work tended to be semi-figurative landscapes with the occasional figure.
Because I have a policy of nurturing my artists, I have been able to watch and enjoy his progress and development. This current show definitely marks a moving on. I think he has been working closer to his canvases because he hasn't had the studio space (Canning is currently having a new studio built) and this has given his work an intensity and slightly earthier quality."
Neil Canning was first selected for the Royal Academy Summer Show in 1981, and has exhibited regularly there ever since. At the age of 23 he became the youngest artist ever elected an Associate of the Royal Society of British Artists. He won the Bronze Medal at the Paris Salon in 1994.
Words: Peta Jane Field Photos: Brian Stanley