Robert Bradford: Made in Cornwall
New Street Gallery, Penzance 11th July - 9th August 2008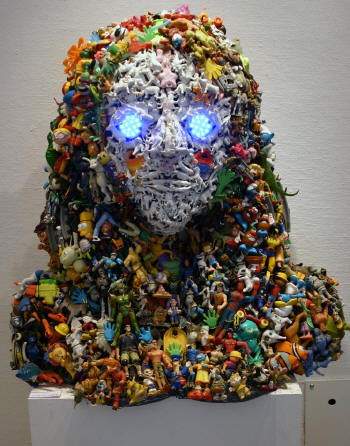 Familiar in Cornwall only at the Eden project and at Falmouth Art gallery, both public institutions, Robert Bradford's artistic career is now taking off in the commercial world. In London his recent show 'Plastic' at The Trafalgar Hotel - hosted by Mauger Modern Art - has been extended until 5 October, and he has shows lined up in New York, Paris, Amsterdam and Bankok. His current exhibition at Mike Mason's new gallery in New Street, Penzance is a great opportunity for a Cornish audience to see and buy the work of an increasingly significant artist. It is Robert's first one-man show in his adopted home and a good thing too, otherwise his work would remain largely unknown in Cornwall.
Robert has built his growing reputation by making sculptures, large (over 6m high) to small out of plastic toys of every description; from recognizable cartoon characters including the Simpsons, Batman and Dennis the Menace, to plastic guns, guitars and swords. Worthless mass produced plastic is not a new medium for artists – Tony Cragg used it in the early 1980's when was making wall collages from found plastic. But Robert does not use the plastic as flat decoration like Cragg; he uses it to create sculptures and installations which stand-alone.
Robert has found that all these toys are strong enough to be screwed to a wooden armature and he can build any shape or form he wants. The visible screw heads add a further detail. The completed sculptures are usually figurative, and in this show he has made two impressive wolves that are placed in each bay window at the front of the gallery acting as sentinels guarding the door. 'Fairly Fierce Wolf 1' is made from all sorts of toys and is standing in a landscape of coloured plastic, making it more colourful than fierce. The other is predominantly made from crushed Coca Cola cans and is called 'Slightly Fiercer Wolf 2', where the sharp edged metal and the reputation of the company that makes the cans, give this wolf its fiercer edge. What is clever about both these sculptures is that the toys still follow the forms: in 'Fairly Fierce Wolf I', the metallic handled cutlass echoes the line of the hind leg and a yellow handled water pistol forms the jaw and nose of the wolf. This sculpture is also interactive - with guns and toys that have buttons the audience can press to make flash and sound alarms. This wolf is therefore more playful than hostile.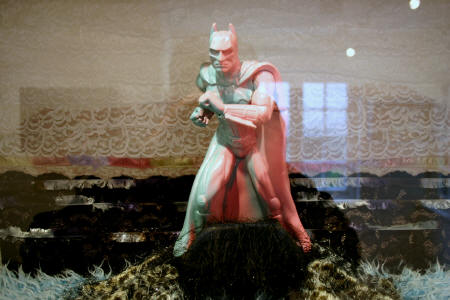 An earlier piece included in the show 'Moi Yed's girlfriend' (picture above), of a girl's head is looser in shape as Robert has tied the toys to an armature rather than screwed them in and they add to the over all movement within the piece – suggesting a writhing mass of bodies which form the girls hair. Combined with the blue headlight eyes that light up, this is a far scarier sculpture than the wolves.
There is a serious comment that lies beneath the use of toys as artist's materials and they raise certain questions.
Are children being subjected to mass marketing images from such an early age they are preconditioned to recognise the stereotypes before they have encountered different people from different cultures? Are guns for boys and dolls for girls just another way of preconditioning children and does the toy gun lead to the use of real guns? How much oil and other raw materials are being used to make these short lived non-degradable distractions?
On a lighter note, Robert is constantly playing with our associations with toys and has made in the second room in the gallery a series of boxes, which are domestic in scale and are screwed to the wall at eye level. With titles like 'Male Box', 'Selection Box' 'Security box' and 'Confession Box' he uses toys which he has manipulated with paint, textiles and other additions to make humorous, thought provoking sculptures.
For instance, 'Apocalypse Box' features a toy of batman painted pink and green standing on a rock on a sea/ landscape of fur (above). 'Selection Box' is a playful look at selecting a mate using different toy animals. The most sinister box is in its own alcove in between the two rooms of the gallery, called 'Beat box', where the artist has painted the two toy boys white and cut out spiky shaped hair conjuring the image of youths listening or making music in a drug induced state.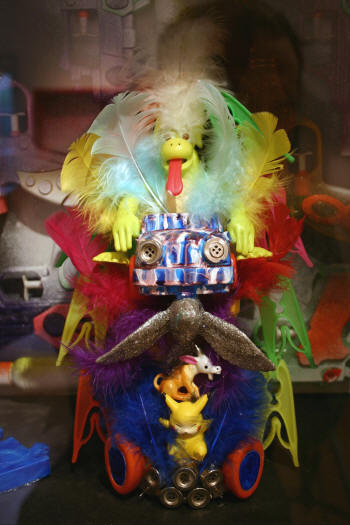 All of Robert's sculptures have a powerful sense of scale and are formally strong. His sculptures combine detail with overall visual dynamism. This applies also to his paintings, which are featured on the walls of the third and first rooms of the gallery. He uses a spray paint method to apply the acrylic and the paintings are abstract. Some are purely aesthetic, harmonious, balanced compositions of form and colour while others are joke versions of abstract paintings, with arrows placed strategically to guide the eye in the right direction around the composition as if the artist cannot resist satirising his own art.
At the far end of the third gallery, which can be seen through the archway from the front, is a life size sculpture of a human, constructed from toys in high relief, simply called 'Man Splat'. His pose suggests a man who is staggering to get up, as if peeling himself off the wall, like a cartoon character who has just been run over by a steam roller and is becoming 3-Dimensional once more, his body from a mass of toys.
This is a show that stimulates, amuses and scares the audience, not unlike some nearby theme park attractions, but it's cheaper and just as much fun for all the family.
Cath Wallace