COVET
Plan 9, Bristol 23 October – 8 November 2009


'More bargains to be had upstairs' shouts the large, day-glo orange sign positioned near the entrance to this exhibition. This is Bargains (2009) by Bristol artist Savage, but it's a promise that rings somewhat hollow as there are certainly no bargains to be had downstairs and none of the works here at Plan 9 are ostensibly for sale. Curated by Bristol-based photographer Suzanne Mooney, COVET brings together nine artists for a discursive exploration into the rhetorics of retail display and the visual languages employed in merchandising consumer goods.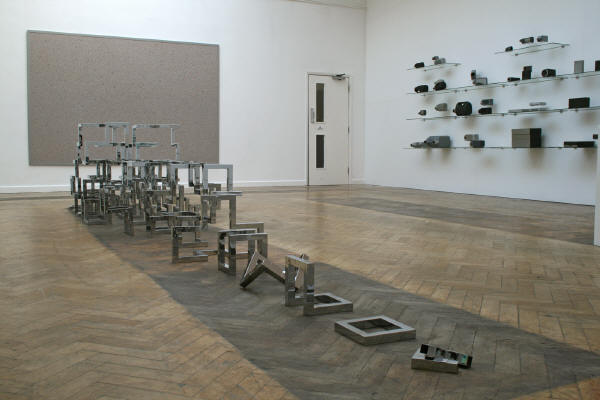 Stretching across the gallery floor, Anthony Gross' intriguing Sculpture Unit (2006) comprises a series of chromed, injection-moulded plastic shapes. Based on product display units found in Chinese supermarkets, the row of angled, modular structures features several simple forms alongside larger, more complex configurations. Like the consumer products that these units usually proffer, the sculpture's highly reflective surfaces are designed to be alluring and seductive; but here the supermarket display units have themselves been ironically transformed into desirable consumer objects in the form of sleek minimalist sculptures.
Slipping in a couple of her own enigmatic photographic works, curator Suzanne Mooney also focuses on the apparatus of retail display. For her Display Systems series (2009) she takes usually overlooked objects such as commercial bracelet holders or earring stands and elevates them to the status of high art by photographing them in a stark, formalist manner evocative of minimalist paintings from the 60s and 70s. Tipped on its side, the earing stand in Display Systems No. 23 takes on a mysterious abstract quality, making the image tantalisingly ambiguous.
Nearby, artist collective Common Culture ramp up the hard sell with their amusing video piece Book Launch, 2006. A female shopping channel presenter enthusiastically extols the virtues of their 'Pop Trauma' publication, informing us of its great design features such as a wipeable matt satin finish and its black rear cover, which, apparently, signifies "an element of mystery." The piece perfectly mimics the format and style of a commercial shopping channel but any urges visitors may have to purchase a copy of this "beautiful, deluxe, limited edition book" are frustrated by the fact that none are available to buy during the show.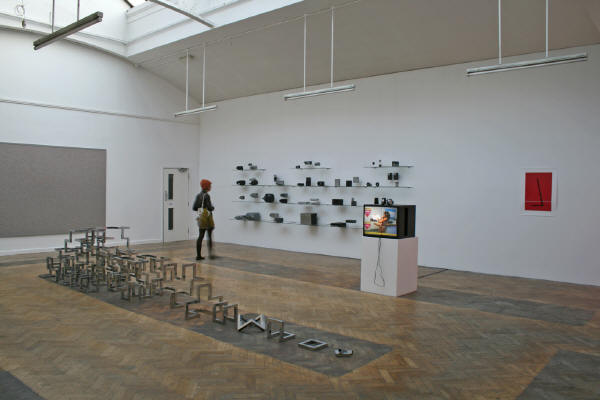 From a distance Caroline McCarthy's impressive installation From the Testors Military Range (2002) appears to be a display of high-end consumer electronics. A series of glass shelves hold slick black, grey and silver objects resembling cameras, laptops and other expensive electronic gadgets. However, these objects are actually plastic containers and cardboard boxes that McCarthy fished out of rubbish bins; detergent bottles, fruit juice cartons and fast food containers are all camouflaged with the enamel paint used by military model makers, transforming them from discarded waste into apparently desirable retail goods. It's a clever, beguiling work that confounds our expectations as we slowly descry the blank, vacuous forms.
The irony of credit card design is highlighted by Greg Jones' poignant photograph Dove (2006), which feels even more apposite in the light of the current economic crisis. Zooming in on his VISA credit card, Jones focuses on the small holographic image of a dove in mid flight. Signifying freedom and peace, the dove symbol is the very antithesis of the credit system, which actively encourages financial bondage via the accumulation of debt.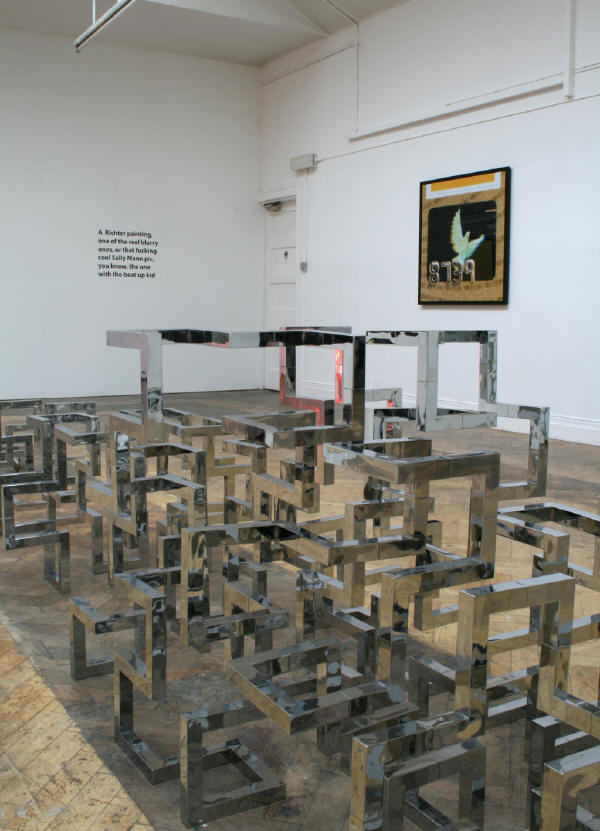 While the majority of works in this exhibition cohere convincingly, there are several oblique inclusions that feel slightly out of step with the curatorial agenda. For instance, David Blamey's oversized pinboard, Wallspace 2 (2007), which is filled with coloured pins evoking a constellation of distant stars, has ostensibly little to do with consumer culture. Similarly, it's hard to grasp the relevancy of Paul O'Neil's simple, flashing neon sign NO (2001-2009), which alternately displays the words 'VACANCIES / NO VACANCIES'. Another curious decision is the inclusion of Peter Bobby's prosaic film Curtain (2009), in which a static view from a high-rise auditorium window is punctuated by a large curtain opening and closing. Surely Bobby's photographs of aspirational show homes and marketing suites from his Show homes series, which actually deal overtly with the aesthetics of display and desire would have been more germane here. Nevertheless, COVET is a sophisticated, ambitious and hugely enjoyable show, offering an insightful critique of the quotidian and often surreptitious structures fuelling our consumer desire.
David Trigg