Mixed/No Theme
Goldfish, Penzance 21st March 2008
Goldfish presents its first show of 08 in its usual inspiring and risk-taking fashion. Mixed/No Theme is paradoxically unified with an unconscious sychronicity of vulnerability, anxiety and apocalypse.
In the opening room Jesse Leroy Smith's large work 'Mascara' comment on a child's premature entry into the cold glamour of adulthood; the make-up almost disfiguring, whilst on the adjoining wall Daryl Waller's projected video work 'Malabar Guilt' plays with the ordinariness of childhood & gift giving; the synchronised movements of the two boys at first suggesting a tandem of friendship but something hostile lies between them. Waller's choice to show the hand and half face of the gift giver at the edge of the screen lends it a sinister tone as does one of the boys throwing a red stare to the other; a hook into the film Predator coming into play here?.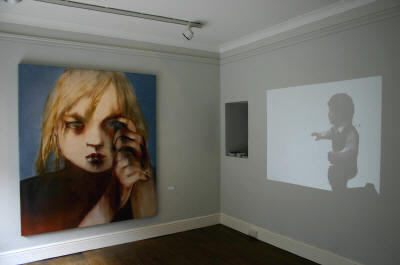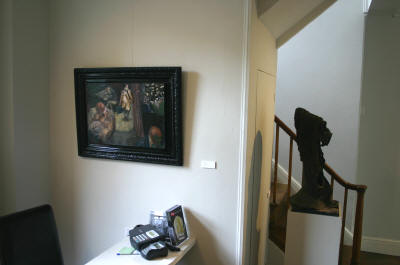 Zoe Cameron's Hostage depicting an ordinarily dressed woman, with bare feet, tied to a chair, her face searching outward – brings a question to the viewer as to whether the hands are self tied/untied in reality; held hostage to a role. On a near wall Kate Walter's Child with Heart, Block, Column & Faith echoes that visual thought here; a child blinded by life, bound to a chair, the heart above – raising questions of initiation/constriction. Geraldine Cox's Spacemen; commenting on a private executive airport lounge links further to Zoe Cameron's Hostage; as it looks at the absurdity of the roles that people give to themselves; therefore isolating themselves from their own power and true connection with others.
David Whitaker's two works Central House & Air share a theme of anxiety, told in a completely unique style to that which I have seen before; this artist explores the head as a recurrent theme and will have a solo show 'If This Life' starting on April 17th at The Goldfish. Working in a different way there is nevertheless a continued theme with Kenneth Spooner's Head and one can find two of his other works within the exhibition.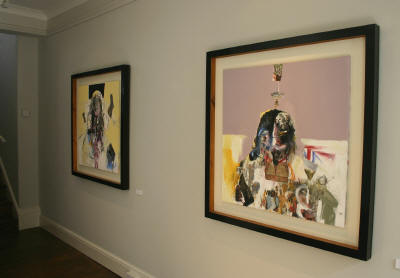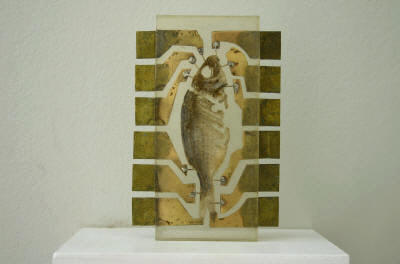 Rupert White is present in several pieces that seem to comment on the nonsense of icons and consumerism; his 'Wicker Man' presenting a fragility, Burger King straws binding the figure, and his 'Briar'; a clever & wry piece presenting an Ikea pencil with thorny fins. This artistic attitude is somewhat shared by Paul Chaney's Fish n Chip & Millenium Bug on the first floor although Chaney's other work in the front top room takes on a darker commentary with Memorial to Road Kill Foxes being a homage and almost tribal offering; one fox upturned, the other looking on. The piece is to be finalised when it is cast from lead made from wheel balance weights; a bitter sweet choice of material. Chaney's other work Fall 07 shows a chronological series of photographs of dead flies, with lead sarcophogi on a plinth underneath housing each deceased insect.
I would like to see more of David Doble's outstanding visually poetic work; his one piece present Untitled has a primeordial essence with the limited capacity of human form being vapourised into the limitless. A poetry of presentation somewhat shared by Ivan Zadok Bray and his lyrical painting of Oedopius reclining, his god-head above him, his journey before him; dreaming a man's dream or that of a god?
A different style completely is Tim Shaw's Burnt Head; both compelling and political. Due to its placement upon the floor of the gallery space the decapitated head at first look resembles a bomb and shouts a disembodied uncomfortable truth, an outcome that We have all contributed to.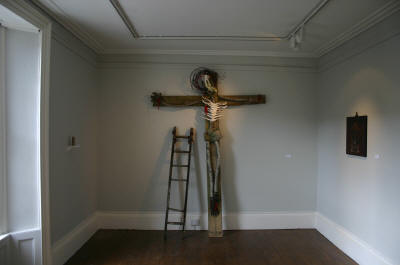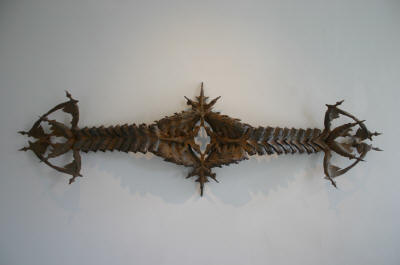 David Kemp has several works in the show and his omnipotent Hot Cross Easter has a modern age crucified with its entrapments, a ladder by the side cleverly provoking an idea of choice – as to whether to climb up and rescue or for the martyr to climb down and change direction. Also working with metal and found tools are Daniel Barnard with Tool and Seamus Moran's Erotomania; a scrap metal kundalini; suggesting the fusing of two spines; winged at the ends.
I was mesmerised by Michael Rees' Black Angel; finding it to speak socially and politically of the schism that non white people are still held in a limited perception, still held at arms length and seen as 'other' but on a mythical level the Black Angel, the Black Madonna and others are revered and paid homage to.
On the top stairs one encounters Andrew Litten's Hoodies; bringing a beauty to a media fed scourge, transforming them almost to celestial beings in cowls whilst in the top room his huge piece entitled Dog Breeder comments on the differences of the male sex drive to female nurturing. This work presents a large dog with small ones feeding off it, almost echoing a shape of praying mantis or a queen wasp. There is something sick & depraved within the work but the green background twists it with a gaiety and a typical Litten wit.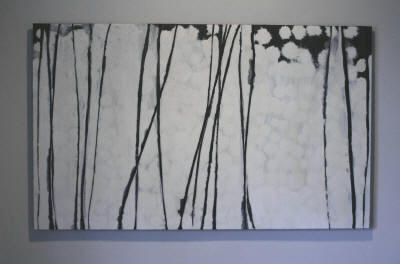 In the top back room there are two impressive pieces by Joy Wolfenden Brown, both Untitled they present fearful faces unsure of what is behind, anxious about enforced role. Simon Averill has contributed a most beautiful, delicate painting reminiscent of Japanese water and reed depictions; which causes one to stand for a while and flow with the rhythm of the piece whilst opposite one finds echoes of that flow in Simon Allen's Current II.
The Goldfish is, as ever, an interesting place to be.
Linda Cleary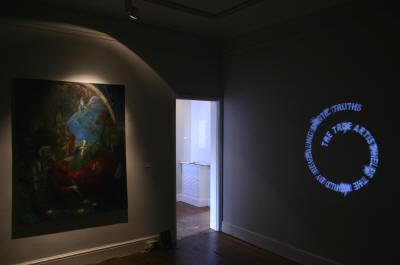 Participating artists: Jesse Leroy Smith, Daryl Waller, David Whittaker, Zoe Cameron, Kate Walters, David Kemp, Daniel Barnard, Kenneth Spooner, Ivan Zadoc Bray, Rupert White, Tim Shaw, Seamus Moran, Michael Rees, Simon Averill, Simon Allen, Joy Wolfenden Brown, Paul Chaney, Andrew Litten