Submersive Figures
New Street Gallery, Penzance, August 2008
Submersive Figures, at the New Street Gallery, Penzance, is the second of series of exhibitions by a group of artists who were originally brought together as part of the second Spontaneous Combustion show in St Ives in 2007. As Jo Forsyth described at the time: 'between commercially driven work and the state funded activities (in Cornwall) there exists a vast cavern of overlooked outpourings of creative expression of which this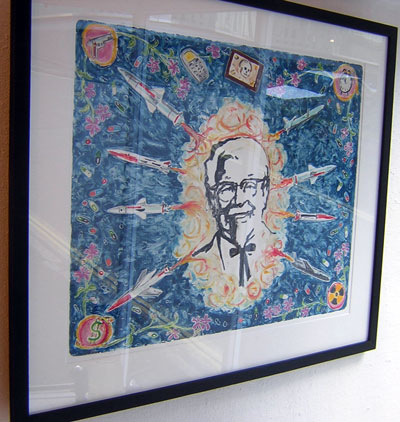 exhibition is a small part'.
The implication was that these artists are neither making populist (commercially driven) nor elitist (state-funded) art. Instead they are doing something else, somewhere in-between.
The group's work is varied in style, medium and technique. The media used include those of modern craft-based art practice, including studio ceramics, sculpture using recycled materials, painting on canvas, print-making and textile-based work. The emotional content is a strong element in the work art and in some, but not all, of the artists there is a strong sense of the postmodern in the re-use and recycling/ appropriation of familiar cultural iconography, scrap material and bricolage. This is consistent with the group's common interest in the creative spontaneity found in outsider art. Another common ground is that all the pieces are hand-made by the artists themselves.

In Ian Dunlop's vibrantly coloured monoprints (above right), familiar archetypes of American corporate hegemony in apocalyptic mandalas are displayed like the magical iconography found on banknotes and other Masonic stationary. The black outline of the Colonel Sanders logo leers out of a pall of smoke at the centre of one picture . A cluster of cruise missiles rocket out across a turbulent seascape with a flotsam of pharmaceutical capsules and red flowers. At the four corners are a hand gun, an alarm clock showing five minutes to twelve, a dollar symbol, and a radiation hazard sign.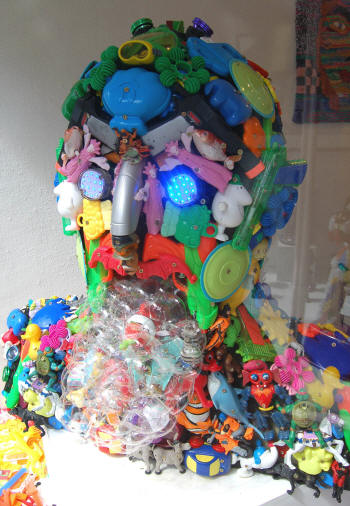 At the centre of another monoprint is the logo of the Playboy bunny, surrounded by handguns, sub-machine guns and nudie models. The rabbit is a pre-Christian fertility symbol appropriated by a major corporation to promote commercialised sex. Here the bunny occupies the picture surface like a Beast from Revelation. In Playboy magazine, nudie images are mechanically reproduced, highly glossified photoshopped airbrushwork. Here they're a hand-drawn one-off, drawn on a perspex sheet in printing inks then rolled under an etching press onto high rag content art paper. In rhinestone-cowboy colours, their outlines sink into the thick paper, degraded from the hyper-real.
A softer version of Americana inspired English pop artists in the 1950s to imagine an escape from the gloom of the British establishment, embracing the new vibe of individualised consumer culture and rock'n'roll. As we enter the 21st century, these symbols no longer mean the glamour of "America" but instead imply a globalised totality of some sort of Armageddon.

Lisa Stewart's pieces are around eight or ten inches high and look like they could be miniature figures made for a stop-frame animation based on a William Burroughs dystopia. Gnarled new age travellers and Mugwumps. Barnums' mermaids dredged from fishermen's nets. Genetically manipulated Morgawrs. Amphibian cryptids with screw-lock caribinier earrings. Thin grey camel foetuses, evacuated from the Drenched Lands. Banana Billy and the small time Vegetable People. Under dead crab eyes, limestone flesh creeps through. These boys have been rebuilt. The broken image of Man moves frame by frame and cell by cell. Species of carnivorous molluscs on the road to Damascus, the human virus in miniature Doc Martens.

A giant head covered in a multitude of plastic toys, rays guns, with a built in bubble machine that blows bubbles out of its mouth (above left). A big daft dog, wet fur represented by umpteen different shaped nylon brushes screwed down to its plywood skeleton, the whole thing standing on two purple washbowls. Robert Bradford's assemblage sculptures conjure up riffs on Giuseppe Arcimboldo's 16th century allegorical figures, but now the heads and figures are rendered in three dimensions with polychromatic plastic toys salvaged from the early - morning delirium of car boot sales. And, as it's been a wet summer for boot sales, it looks like Robert has been raiding the pound shops and market stalls for raw material.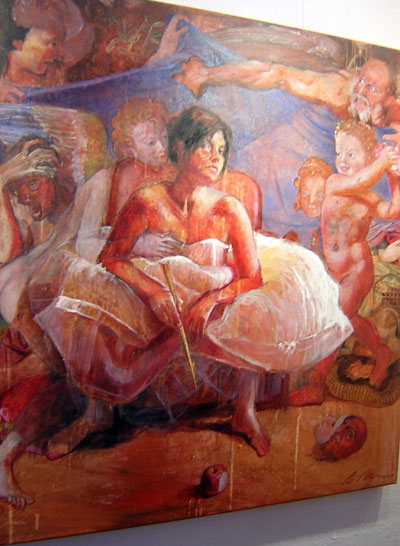 Octopus's Garden is the title of one of Robert Bradford's pieces here (as well as a painting by another artist in the show which has less obvious associations). Ringo Starr wrote the song Octopus's Garden after a brief spell of leaving the Beatles. While on holiday with his family in Sardinia he was made aware of the fact that octopuses roam the depths of the ocean, picking up stones and shiny objects for their gardens. Bradford's foraging seems a bit like that octopus behaviour. A Perspex cistern full of bubbling water, blue plastic octopus with googly eyes, blue aquarium gravel, strategically arranged observation toy telescopes offer kaleidoscope eyes' viewpoints of the frothing water. Flashbacks from pop and natural history in a lowbrow Cubist device. Oh, and there's a little yellow submarine in there too.

A woman , squatting in a white wedding dress, gazes out of the canvas studying the viewer, surrounded by renaissance trappings and holding a pointed stick (picture right). The woman's figure could be copied from a photograph, or from a studio model. It looks modern. The background figures are copied from Renaissance paintings, with characteristic anatomical distortions. Cupid fondles her right breast through her clothing, but she's ignoring this, looking sidewards out at the viewer. Perhaps the woman in the painting is not totally taken in by the theatricality of all that fake classical shite. In another painting, three people stand two facing outwards with fake smiles clutching glasses of red wine, as if at a private view. The central figure with folded arms wears a mask of white paint which drips down the canvas.

There are historical paradoxes set up in these works by Morwenna Morrison. They're anachronistic. It's impossible to see the image of Mona Lisa without a flash of associations. In postcards from Amsterdam Mona Lisa is smoking a spliff. In 1919 Duchamp gave her a moustache and a pun that implied she had a hot ass. Warhol printed her in crude multiple images, emphasising flaws in reproduction and the qualities of the image as a brand mark. Now Morrison paints a cropped version of La Gioconda, the hands are missing (Mona's hands are notoriously difficult to paint). She has surgically enhanced breasts and a face marked out for cosmetic surgery. Juxtaposed with Morrison's other remixes of renaissance conventions, the flippant humour of this piece parodies her own painterly craft, adding to the subversions of pictorial conventions used in the more serious-looking paintings (picture below left also by Morwenna Morrison).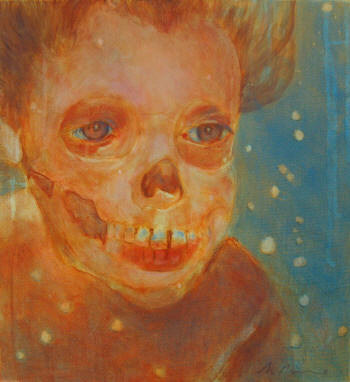 Linda Styles' small, often understated, ceramic pieces vacillate between studio pottery and mantelpiece clutter. Her fruitbowl-size bathtub is placed on the floor, easy to miss or kick over, but features a nice scratchy line drawing: an anxious woman in a bathtub, smears of brown, underwater – drowned - hands clinging to the sides.
In the front window are some other small pieces this time in slipcast earthenware glazed in cobalt blue. A collage of retro bric-a-brac, blue angelfish, cherub supporting a chalice, blue curlicues of waves, snorkling putti, bathroom trinkets, fish-shaped ornaments, soapdishes, bubble baths and toothbrush holders, the sort of thing that would make Bernard Leach spin in his grave. The scale is sort of introverted; the uniform blue glaze drowns out the form, making it appealing to the type of person who collects cobalt blue pottery. Styles' work suggest complicity rather than innocent craft-making, she points out that cobalt blue is "the colour of deep oceans, expensive because it is mined in war zones, historic because it has be used for centuries and traditionally signifies the top end of the ceramic market place".
In Jo Forsyth's Whirlygiggle Chess Set, primordial life forms replace feudal heraldries. The pieces are recognisable, but transformed into squiggly sea creatures, orange and yellow snails and worms with black heads. The board itself is tiled in coral colours of orange and yellow with wavy edges, as if it's the bottom of a swimming pool. In Sue Dove's piece gestural drawings are woven into rugs, facial features worn like doormats, mugshots in cross-stitch, clothing becomes boats, boats become bathtubs, ragdoll faces smeared in oil. Are they waving or drowning?
Penny MacBeth's work (right below) seems to contain some sort of poetic narrative constructed by fragments of text: visual puns, associations of objects and painting, fabric print, textile collage, ceramic relief heads and acrylic resin bubbles. In 'Blood is Thicker Than Water', an installation of fifteen small canvases are used like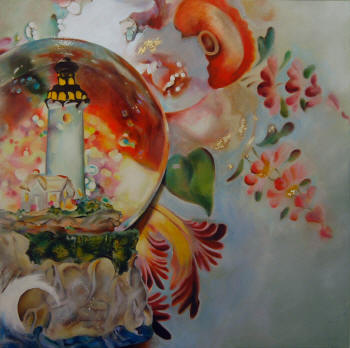 comic strip frames, with fragments of portraits, text clipped from newspapers, ransom note style, over acrylic renderings of fabric print and wallpaper patterns. Ancestral portraits traced from photos in old family albums, linked by scarlet fabric tendrils to a dressmaker's dummy wearing a white dress with images and texts on textile. Canvas as something you wear. Ancestral bonds red roots bound in red fluffy wool. Muslin skirt lit from underneath with tiny red fairylights.

Navigating dry land
In a boat full of water
Where did you hope to go
On that particular journey
Drowning in your own tears

So it goes. The pieces that make up 'Submersive Figures' occupy a submerged area that is somehow not quite art and not quite craft. Often the power of expressionistic art lies within the edit. The process of these forms of art-making are complex and involves the acquisition and practice of very particular sets of technical skills, pre-planning and a degree of intellectual sophistication to co-ordinate all the disparate activities that go into them. This level of sophistication isn't spontaneous, though it can be about spontaneity. Some of these pieces appear unfinished rather than "raw" in the sense of being primarily some sort of an emotional imprint.
The show is light on theory and has a tendency towards whimsy and stating the bleeding obvious, which somehow makes it enjoyable. My main criticism would be; it doesn't go far enough, there's not enough of it, it needs to be more excessive. I get the feeling that there may be something more profound going on at a submerged level. I sense a disturbing undercurrent which is to do with the specific socio-economic circumstances and historical background of art made in Cornwall. Hopefully this will emerge in a more monstrous form in forthcoming shows by the group.
Nigel Ayers 20/8/08