The Figure
Hilton Young Fine Art 8th March - 5th April 2008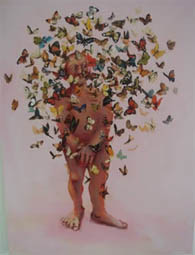 Bo Hilton's desire with this latest show, was to have work that allowed a direct comparison between formal and narrative approaches to figurative art.
A good example of the latter, Nicola Bealing's fabulous paintings (right), many using the symbolism of flight, capture the eye and mind immediately on entering the gallery. 'Two Fragrant Men' speaks of a side to male friendship that is delicate and gentle. The men stand, feet large and flat, with butterflies swirling around their heads and upper bodies. Bealing's choice to depict one of them hiding his genitals suggests a comment on male identity and sexual motivations.
'Bird Boat' has two men in a boat on a night-time sea, with a swirling flock of birds above them. The fate of these men is in question: are the birds there as a distraction leading them to danger, or guiding them to the light that we can see is beyond them? In her 'Dark Rock Pool', the black background alters an otherwise typical depiction of a pleasant family outing and pushes it into a shadier zone of recovered memory.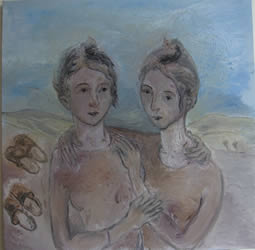 The late Partou Zia has only one piece in the show as does Richard Cook. Zia's 'In Accord' (left below) on the back wall is a touching portrait of two women, perhaps sisters, standing in front of a landscape, their two pairs of shoes carefully, almost tenderly, laid to the left. The colours of the figures merges them into the background.
Richard Cook's 'Corrina' is an intense mix of pale muted colours, brush strokes and texture. Cook and Zia were both influenced by Leon Kossoff, and Frank Auerbach, and Cook featured in the influential 'The Human Clay' show in the 80's. Cook considers himself neither a landscapist nor an abstract painter, but as an artist experiencing nature "in an ecstatic way... I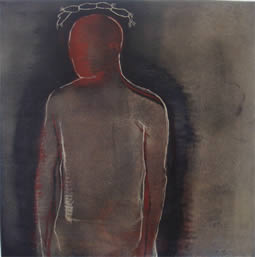 feel dissolved inside it and try to express its layers and fullness through a painterly language." His 'Corrina', however, seems to carry little ecstasy. In fact she looks pretty mixed up.
Nicola Buxton has several small bronze sculptures on plinths. 'Conductor' presents a figure sweeping down in a forward motion: almost a sacrifice to the unseen orchestra. 'Little Cellist' depicts a female cellist with bow, but no cello and one wonders as to the meaning of this non-presence.
Naomi Frears is motivated by the process of painting, and she works and re-works the image. In this sense she occupies a middle ground between formal and narrative approaches. This is evident in 'Champion' (below) which has the most beautiful and fine stencilling upon the canvas behind the figure. In this painting the faceless form looks left with no possibility of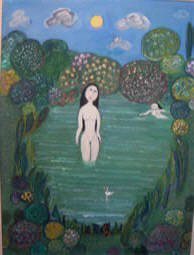 engagement; leaving the viewer in an interesting position. 'Warm South', meanwhile, is a large work which seems to comment on the modern age but with shapes and echoes of classical.
John Emanuel features in the show with 'Studio Figure', 'Seated Figure' and 'Listening to Music'. His overriding concern with abstract form is characteristic of St Ives art of the 40s, 50s and 60s and is shared to a degree by Rose Hilton, which probably reflects similar generational influences. 'Summer Figure' is a colourful piece by Hilton with a Gaia-like fecund figure. 'Catching the Bird' is her most interesting work: with a subject pulling down on a bird, speaking of a desire to be free - yet the bird in being pulled is stifled.
Dora Holzhandler is a self trained artist, influenced by Chagall and Rousseau and like Mary Jewells and Christopher Wood, interested in the primitive. She has several works present. 'Lady in the Pond' is both child-like and sophisticated. 'Lovers in Spring' contrasts with it interestingly: the springtime pair seem unmoved and plain amongst the swirl of colours.
Linda Cleary
Hilton Young's next exhibition is 'Don't Look Now' by Cathy Watkins with Gareth Edwards, Henrietta Dubrey and Clare Wardman featured upstairs.