Brian Sewell at the Acorn: a personal view
George Care
Brian Sewell's talk at the Acorn Theatre, Penzance took place only a week ago (23rd February, 2007) but already seems to have acquired a mythic quality - having even reached the national newspapers http://news.independent.co.uk/uk/this_britain/article2311313.ece.
The event itself was very well attended - indeed the Acorn was totally packed with the contemporary gentry of Penwith and beyond. Sewell mounted the platform gingerly and sat sockless between what looked like imitation Picassos with red and yellow diamond Matisse-like borders. In fact these were banners in homage to Alfred Wallis. He looked rather frailer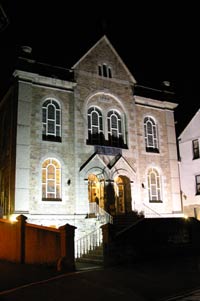 than his alter-ego impersonator, Jon Culshaw, and spent the first few minutes describing his quadruple by-pass heart operation. Apparently the anaesthetic levels were such that he could actually recall the sensation of a freezing-cold hand grasping into the centre of his chest. He then described the effect on the resulting stitches of an unprovoked attack which took place on the London Underground - a punch directly into this area that was still highly vulnerable - with such a devastating effect that he had to return to hospital for further attention. He went on to describe to the hushed audience how, more recently, he was punched in the eye and how the bruise curiously moved down his neck and ended up in a subdued form over his left nipple.
The pace of delivery and the changes of mood were well suited to engage the audience although a few left within the first 15 minutes following some moderately dismissive comments on the later work of David Hockney!! Equally disenchanting, Sewell found, was breakfasting with Francis Bacon in the posh restaurants of Kensington that became a scatological affair –the deliberate consumption of beans by Bacon resulting in a devastating flatulence visited upon all and sundry.
The atmosphere changed once again as Sewell talked of his experiences in Eastern Turkey looking at Christian Churches near the tense border close to the Kurds. Whilst he was talking about the beauty of these places it became clear that the art which Brian Sewell really values has this aspect of veneration, certainly reverence and on the whole is likely to be from the distant past. Indeed he was at pains to point out the tremendous line which is drawn between fine art and anything which might actually be used, like a pot which is a useful artefact and thus in a completely different category or domain. It was not part of his function as an art critic to comment on anything which might possibly be useful! Art is sui generis and its sacred purpose derives from itself alone. Nevertheless, he does talk a lot about architecture, particularly religious architecture and also his enthusiasm for the design of fast cars. Perish the thought, clearly behind Brian Sewell, there lurks a Jeremy Clarkson!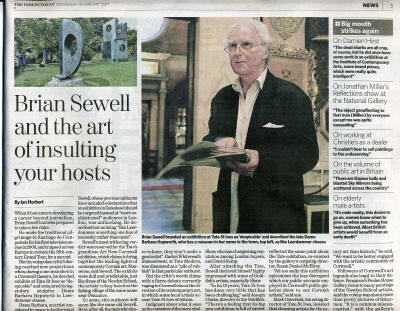 He told an intriguing story about his arrest by border guards whilst carrying detailed large scale maps of the local countryside and his subsequent escape with the assistance of the Kurds testified to both his intense enthusiasm and a foolhardy lack of concern for his own personal safety. This was touching, as was his stories about the rescue and care for a lost dog. His warmth emerges when he talks about small animals and his oral delivery shows a writer's command of narrative pace.
So for Sewell the apex of interest appears to revolve around the great figures of classical History of Art, particularly the High Renaissance, Leonardo and Raphael. These wonders from the past are contrasted with today, which is presented as dominated by the sordid politics of preferment and patronage, particularly in the London village. His battles with the Tate Gallery under Nicholas Serota have become renowned. Sewell's acerbic wit is directed at the machinations of the Arts Council and the abuse of appointed influence, and when this means that artistic talent is not just not encouraged, but truly stifled - he is justly vexed. In this context it was particularly interesting to consider his remarks on the state of education. He posed the question of the difficulty that undergraduates experience today in appreciating something like the Michelangelo ceiling of the Capella Sistina. "How can they possibly appreciate the mind set of the artist, his intimations of Glory if they are almost totally unfamiliar with the Christian background?" His students arrive with so little general knowledge about the Old and New Dispensations, that is to say the difference between the Old and New testaments. This point about the jejune banality of modern education, particularly Secondary Education is well made. A serious point, which one hopes is not overlooked in the general furore that surrounds this controversial critic.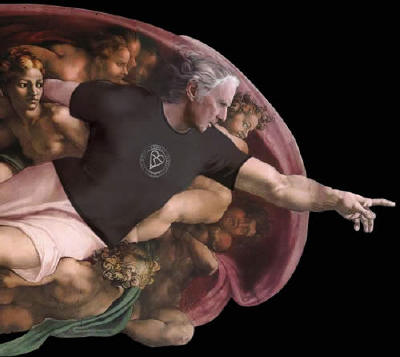 Brian Sewell, himself was educated at that famous Direct Grant School, Haberdasher Askes which was also the Alma Mater of the equally renowned self-publicist Simon Schama. Haberdashers is so famous as to have merited mention for it's excellence in Alan Bennett's "History Boys"- a much higher accolade than any praise Ofsted might proffer. Sewell then developed at the Courtauld Institute from where he graduated in 1957 to work on the sale of Old Masters at Christies. At the Courtauld he studied under the spymaster and keeper of the Queen's pictures, Anthony Blunt. (Blunt has recently received condemnation for the treason of failing to realise the value of a Caravaggio discovered in the back of Hampton Court palace). At this point it may be worth recalling that Blunt was an old school friend of the great poet Louis MacNeice. Such erudite circles would certainly have helped develop Sewell's prose style and conversation. Although he mentioned his journalism on the Evening Standard Sewell said little about writing and was not asked about this either. Essentially, it is television, a medium that one suspects he may despise, which of course has made him famous. (I cannot recall hearing him on radio).
In the second part of the evening Brian Sewell revealed that he enjoyed painting and sketching ,and despite his generally dismissive attitude towards many works and paintings, he himself had been reduced to many tears by a piece of work by Poussin which he considered had been painted just before the painter's decline. The tears occurred in an art gallery in Dresden and merited the disapprobation of the East German curator on duty. There is little doubt that Brian Sewell can, in fact, be a sensitive soul. It is just that today, popular "culture" seems to demand caustic criticism and to "dis" is considered wit. And about Cornish Art Sewell was not unprepared to upset…according to demand.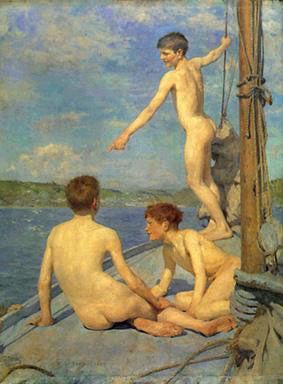 So the general disparagement flowed, delivered with wit, style and speed. Hepworth was rather boring like an Edammer cheese but in some sense she was necessary. Even Patrick Heron was much better as a writer than as an artist. He was not impressed at all by the Tate. He was much more generous about two works at the Goldfish gallery, to where he was led after virtually being hijacked in the street in Penzance. It is true that the Goldfish is an interesting gallery which exhibits paintings with a poetic and spiritual quality. About one piece of sculpture he found a Rodinesque quality, and another had uplifting wings. At times a wish to be polite did shine through to render this customary controversialist more amenable. He was interesting on the way in which sculpture has become particularly popular in the offices of bright young men in the city- there is no way that paintings can be attached to the walls. He mentioned that the manner in which Saatchi collected, and a little later dispersed much of what he had previously bought, which can prove somewhat teasing and disturbing to artists- he is a patron who might change his mind with consequent effects upon reputations and values.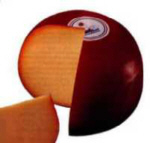 Can we take all of this very seriously? No I don't really think we are supposed to - despite the fact that there may have been a certain Celtic tendency to take offence easily, amongst some factions of the audience. The Newlyn School was referred to as being devoted to "men in beards and sou'westers". He was kinder about Henry Scott Tuke (picture above right), whose work he appears to have collected himself. He had been a little critical –"really an historian" - about the Director of the National Gallery, Charles Saumerez-Smith, such an obviously nice man. Essentially this was an entertaining evening and Brian Sewell had distinguished himself as a performance artist. He had not failed to entertain, not a bad achievement for a shy man who, like his little dogs, had a bark that is worse than his bite!
George Care 9th March 2007
Brian Sewell was for many years art-writer at the Evening Standard
Sewell as God courtesy of www.briansewell.co.uk: an amusing camp tribute site
What is you view of Brian Sewell - is he just a personality or does what he say and write matter? And who was it who hijacked him in Penzance? Why not comment on the forum