Cornwall: New Voices
Kate Jago
Galvanised by the Tate St Ives show, Art Now Cornwall, which signally failed to recognise the resource and quality of artwork being produced across the county, various groups of artists have gathered to present innovative exhibitions of work with ambitions well beyond Cornwall.
As her parting gesture, then Artistic Director of Tate St Ives, Susan Daniel-McElroy, led the curation of the show which belatedly recognised its limited scope and ambition. Unintentionally underlining the status of the Tate as an 'ivory tower' within the county, Art Now Cornwall importantly instigated an indignant realisation among the resident artistic community that many aspire to the national profile which an exhibition like this confers.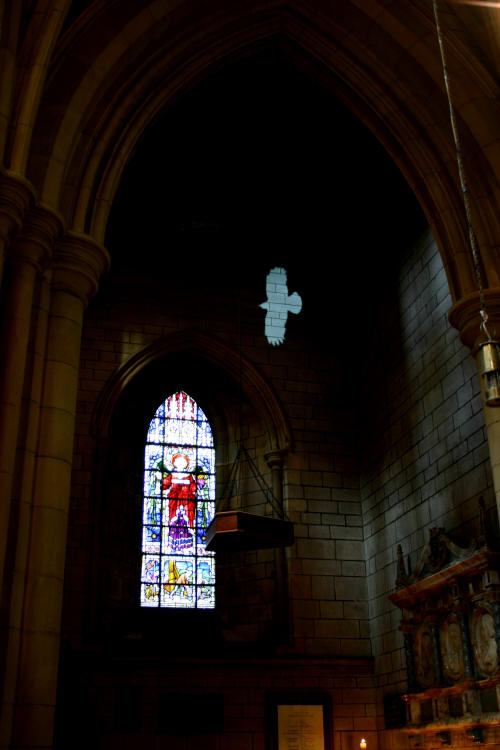 Articulating the outcry, and contributing to the ensuing debate, Cornwall's online hub artcornwall.org stimulated a series of conversations which have led in vibrant new directions. Editor and installation artist Rupert White recently brought together an exhibition of new work by 8 artists reflecting on the theme of climate change (picture right). The exhibition aimed to bring the natural world into the spiritual contemplative space of Truro Cathedral, a pivotal location in the heart of Cornwall. Themes from the show were developed further in companion pieces exhibited at Vitreous Contemporary Art in Truro.
Such gallery support has been a vital element of the renewed energy among Cornish artists. Their focus has been joined by the dynamism of gallerists with vision and ambition, who are showing a new enthusiasm for investing in their artists. Joseph Clarke, Director of Goldfish Contemporary Art in Penzance, was the first gallerist to question Tate's exhibition with his own Art Now Cornwall? show in which he extended an open invitation to nominate work for inclusion in the developing Cornish canon.
'There is a tremendous feeling that at the moment it is ok to move on. Of course there are those with investment in the heritage that want to hold us to that legacy, and those making a living from the tourist art market. But of most interest and importance to me is a growing camp of serious artists who have something genuine to say. They are prepared to find their own voice, without the guard of irony. I am struck by the integrity and emotional honesty of their work which continues to take priority over financial gratification. This is a refreshing antidote to an artworld preoccupied with financial validation. I so often witness work made in Cornwall which has a timeless quality. In this day and age of remote-controlled transience and nihilism, people are in need of art with meaning and vulnerability. I see a real opportunity for Cornwall to re-establish its voice, a voice of contrast in an international arena, and an opportunity for artists to be emotionally vulnerable in this way. After all art is about reminding ourselves about what we choose not to see, removing the masks to enable us to live in a more fulfilled way in our own skins.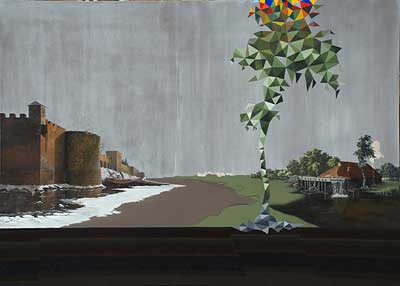 And its not just gallerists who sense the opportunity. Artist Jesse Leroy Smith, fresh from his show at the Royal Academy, has recently curated an ambitious exhibition, REVOLVER with fellow artist Volker Stox in the old car showroom in Penzance, now the PZ Gallery. In a 6 week show this artist-led project has put great emphasis on including artists at all stages of their careers and JLS explained. 'To have recent graduates showing with more established artists is unusual. But their energy is enormous: they're a real powerhouse, and PZ is such a big space that we can afford to remove commercial restraints and develop a much more flexible programme.'
Their series of talks and workshops is based around a revolving, accessible programme where the emphasis is on providing a hotbed of talent in one venue. By profiling emerging work alongside more established artists the project effectively showcases a broad source of creativity that commercial galleries cant afford. And capitalising on the social networks of an artist-led project, the curators have found it easy to bring artists together from different disciplines, creating a collaborative dimension with real energy.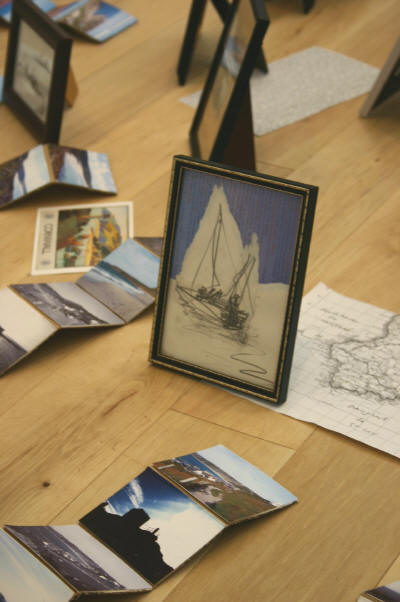 Having generated such enthusiasm, the ambition doesn't stop there, in a wider agenda, the project's organisers know there is a bigger picture. 'We're concerned about the contemporary profile of Cornwall, that isn't seen as provincial. Art Now Cornwall kickstarted this: it definitely raised the bar and got everyone talking and focussed. We need to keep the momentum, to develop similar shows nationally, and even internationally'.
Meanwhile developments at Newlyn have been a useful dynamic to the fizzing scene in Penzance, with a programme that reaffirms its links with the close artistic community. For their autumn show, LINEAGE at the newly refurbished gallery, the NSA is showcasing an exhibition of new work by 24 artists who were invited to respond to the original Newlyn School in a way that suits their own practice. Richard Ballinger (also in the PZ show) walked the coastal path from St Ives to Penzance and displays 112 frames of sketches, notes and emphemera from his research and walks, marking the opening of the gallery 112 years ago (picture right). Other contributing artists include Alessandra Ausenda (below), Nicola Bealing, Rupert White, Kurt Jackson, Daphne McClure and Peter Webster in a vibrant showcase also on display at Penlee House gallery & Museum and in the public realm.
The county's impressive University College Falmouth open their £7m state-of-the-art photography and digital media studios this year. With further initiatives for a Design Innovation Lab to foster innovation through collaboration with business, the College is fast developing a significant global reputation in many fields, platforming their student work through innovative initiatives. The dynamism and vision of Principal Alan Livingston as he straddles enormous opportunities for European funding encompasses great potential for cross fertilisation in Cornwall's creative communities. His ambition and evident pride in UCF's enviably developing profile is tangible as he gathers many leading specialists to the county.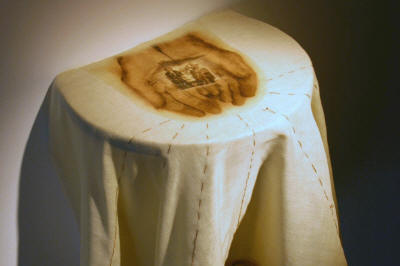 At the other side of the peninsula, Tate St Ives have recruited the prodigiously talented Martin Clark as their new Artistic Director. With his international focus and iconoclasm it will be fascinating to watch this rising star at such a time of great potential in Cornwall. And Salt Gallery in Hayle are excited about news of the recently approved Wave Hub technology. The multi-million pound investment is not only exciting in terms of the local economy but also for the association with leading the market for developing technology of renewable energy.
And so the pieces of Cornwall's fractured identity begin to pull together. Building on the undoubted powerhouse of its artistic legacy, but moving now into a new era of creative articulacy a crystallisation, a new dynamic with great potential across the community.
pictures: Rupert White (Second Nature), James Pimperton (Revolver), Richard Ballinger (Lineage), Alessandra Ausenda (Lineage)
Kate Jago is editor of 'PROOF' magazine. Article first appeared in 'PROOF' Autumn/Winter 07.
The next edition of 'PROOF' is due in February. More info from proof@portfoliofive.co.uk