Ben Nicholson, Julian Stallabrass and the Pastoral
Ben Nicholson was a key figure in the modern movement in art in Britain. His father William Nicholson was a celebrated painter and his work was sober, restrained and of its time. Ben kicked against the academicism of his father's work by embracing Cubism. Responding to the primitive influence of African art in Picasso's work, like many artists of the time he also became interested in naïve art as part of a search for authenticity and as a reaction to the conventions of Edwardian salon painting.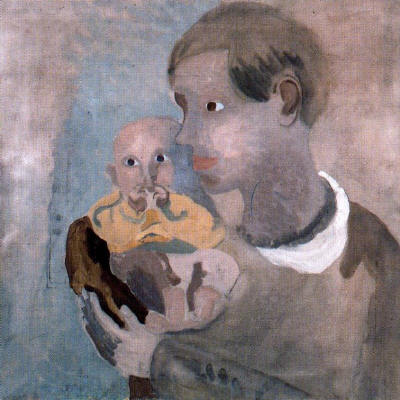 Jeremy Lewison, in his monograph on Ben Nicholson describes how such approaches were espoused by Clive Bell in his seminal book 'Art', first published in 1914, which was reprinted in England seven times.
In the 20s Nicholson joined and became influential chairman of the Seven & Five society, a group in London that included Ivon Hitchens, Nicholson's first wife Winifred Dacre (portrait by Nicholson right), David Jones the poet and painter, and Christopher Wood. For several years Nicholson, accompanied at various times by other members of the society, sought out remote parts of the country, particularly Cumbria, in order to paint rustic scenes: a subject fitting his quest for a form of authentic and anti-metropolitan art. These paintings were subsequently exhibited in London. This approach common to many of the Seven & Five artists is described by Charles Harrison (in English art and modernism) as being:
'a grotesque and attenuated reflection of the Romantic notion, for which the writings of Jean Jacques Rousseau are the locus classicus, that there is a vigour and an ethical value in innocence and this is dissipated by technical sophistication'.
It was towards the end of this phase of his career, in 1928, that Nicholson came to Cornwall, and whilst staying in Pill Creek near Truro, travelled to St Ives and discovered the paintings of Alfred Wallis (below left). Their unique use of materials in particular captivated him, and of course their primitivism which was unaffected by convention or taste. There was a sense that he and Christopher Wood had discovered was Britain's own Douanier Rousseau: a real, true and authentic voice, unspoilt by training or civilisation.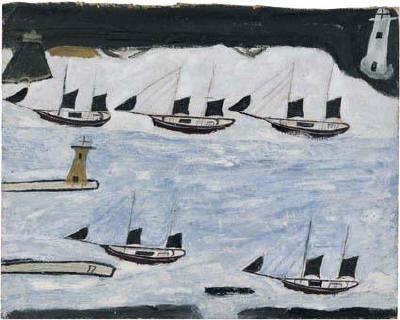 This encounter is now rightly considered the founding myth of St Ives modernism, and the presence of Wallis was important to many if not all the artists that worked there subsequently. Bernard Leach, for example, was inspired by traditional crafts, and hand thrown medieval ceramics in developing his practice as a potter. He, like Nicholson, was engaged in a quest to recapture something that many modernists felt had been lost during the process of industrialisation that occurred during the 18th and 19th centuries.
Together they erected a grave in Barnoon cemetery near Tate St Ives for Wallis (below right) when he died in Madron workhouse in 1942. The tiles designed by Bernard Leach featured an image of a lighthouse: the symbolism perhaps suggesting that, for the modernists, Wallis had represented a light guiding them away from the rocks of inauthenticity.
After meeting Wallace, Nicholson own art became less obviously naïve. Perhaps he considered that his work had become an affectation: that he was adopting the look of naïve art, without actually being the genuine article. This freed him up to work in a much more abstract way in the 30s with his new wife Barbara Hepworth, and he went on to create the works for which he is most remembered: the white reliefs, before moving to Cornwall to live during the war.
Nicholson's story is fascinating as it gives us some important clues as to what it was about St Ives and Cornwall that attracted modernist artists to it in the first half of the 20th century. It also helps us understand the ways in which the artistic relations of urban and rural, metropolitan and primitive might have changed in the intervening years.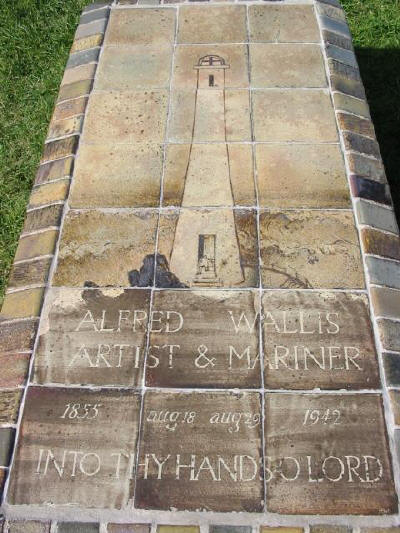 In fact artist colonies sprang up all over the world in the first part of the 20th century: St Ives one of them having become established some years before Nicholson visited. It is generally accepted that they all reflected a taste amongst urban art-buyers for art depicting the landscape - and country scenes of various kinds.
In the sense already referred to by Charles Harrison, there was a Romantic fantasy that country life was simpler, more honest, and more virtuous than an urban or cosmopolitan life, and that the landscape embodied certain timeless values.
This was also exemplified in the art of the Newlyn School, which exploited a pact between the subject (simple honest fisherfolk), and patrons in London (especially at the Royal Academy). This pact was cemented by the artist acting as intermediary between town and country, or between metropolitan and rural. This pact comprised the 'pastoral': a genre in which art depicting the countryside or rural lifestyles was presented to art collectors in cities.
In the case of St Ives, any such 'pact' became rather more diffused than this, especially after WW2, and the boundaries between subject, artist and audience less well defined. Indeed by the middle of the last century they were breaking down, and landscape-inspired art was increasingly viewed with suspicion – such that by the sixties, landscape elements were becoming a stick with which St Ives art was beaten by American critics and London critics alike. For example it was the one feature that was most vehemently opposed by the artists that took part in the influential 'Situations' exhibition of 1960.
Moving to more recent times, Julian Stallabrass invokes a new concept; the 'urban pastoral' in his book High Art Lite, a book about UK art in the 90s. He suggests that the yBa's were the first generation of British artists to unanimously reject interest in the landscape and rurality as romantic, clichéd and sentimental.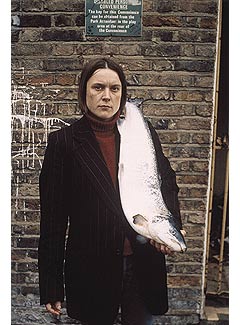 Relating his arguments to the work of Sarah Lucas amongst others (below left and right*), Stallabrass suggests that urban artists in the 90s replaced the rural with an urban pastoral – i.e. they were more interested in making art out of the seedy underbelly of urban life. He gives the following rather off-hand and brutal explanation:
'The reasons why the rural idyll is no longer an attractive option for the culturally sophisticated are obvious enough: the industrialisation of agriculture and, as a result, the greatly reduced numbers of people who actually work on the land and the greatly changed nature of that work; the corruption of the simplicity of rural life by modern incursions, particularly suburban housing, major roads and out-of-town superstores; the packaging and marketing of what charms are left by the heritage industry.
Its hard to invest any pastoral fantasy either in such a landscape or the people who inhabit it – who when they enter cosmopolitan consciousness at all, appear as a bunch of cramped and conservative pursuers of foxes and obstructers of footpaths, many of whom, in any case are probably commuters'
This issue deserves a much more considered discussion. However, we can say with some confidence that the pact that constituted the original rural pastoral has broken down, because of changes both in land-use, and probably in the class structure of the West, both alluded to in the quote above.
Stallabrass is suggesting that for many the landscape is no longer a receptacle containing timeless truths or higher values, and, similarly, it is also no longer tenable to think of the people who live in rural parts of the country (like Wallis) as somehow unspoilt by civilisation.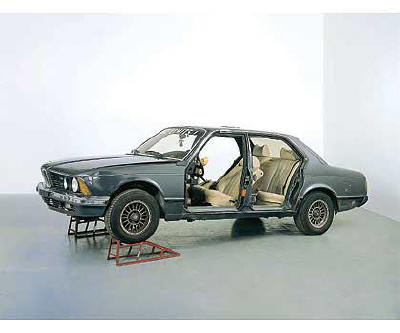 Thus instead artists in cities seem to have found new ways of making art about cities for viewers and critics in cities (?the culturally sophisticated).
But where does that leave artists and an art-public who do not live in cities?
Post-war post-industrial advertising and media has created a more visually literate populace, and innovations like the Turner prize have contributed to a great awareness and appreciation for contemporary art amongst large numbers of people, such that interest is no longer confined to cities as it may have been once upon a time.
Whilst the incursions of the 21st century described by Stallabrass have left their mark on the landscape and on rural lifestyles, these are things that are potentially interesting in themselves. This together with increased environmental awareness means there are many important aspects about living in a rural part of the UK that are worth recording and reflecting on as artists. There should also be a large audience out of cities for contemporary art sympathetic to such a sensibility: a sensibility that is continually misunderstood and misrepresented by art critics, like Stallabrass, who are based in London.
*The picture of Sarah Lucas above was taken on Highbury Hill, one of the most affluent streets in North London: Lucas obviously chose to be photographed against an isolated symbol of degradation: the wall of a disused public convenience.