Documenta 12: leitmotifs and bottle tops
Megan Wakefield
Documenta is a show of international art, that since 1955, has taken place in Kassel in Germany every five years. Megan Wakefield reflects on her trip there in 2007.
Being a bit of a miser, I don't buy much in gallery shops, preferring to rake up free leaflets and trawl the internet for information after the event. So souvenirs of my trip to Documenta 12 were reduced to the catalogue-lite, a few postcards (this was a holiday after all) and a spider-web badge inspired by Hito Steyerl's film on Japanese rope bondage.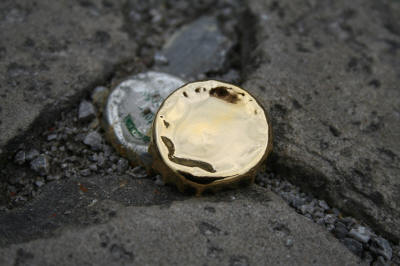 My magpie eye was arrested at the checkout however, by a metallic sparkle. Bottle tops for sale, but no ordinary trash these. They were "Crown Caps", beer bottle caps with a pin stuck on the back to transform them into marketable brooches: complete with authentic dent as if they had just been ripped off a doppelbock and spat in the rain sodden patch of poppies in front of the shop. (The field was also an installation, by Sanja Ivekovic. Red poppies were mixed with the odd Afghan opium variety and blasted twice a day by recordings of revolutionary songs from a sinister cluster of painted statuettes on a nearby rooftop.)
The bottle tops were accompanied by a sheet of typed text:
"The crown cap" it declared "is persistent…it becomes an invisible guiding system through a city. Especially in the year off the documenta, many of these crown caps will line the ways and point to the direction that people and visitors will take through the city…"
Were they suggesting that the typical Documenta visitor was a beer-swilling peasant who would leave a trail of litter in his wake? The tipple of choice so far seemed to be Milchkaffee and this sort of clientele would rather die than be seen littering an art fair. Never fear, we were not to lose out through our failure to appreciate an important cultural signifier:
"One of these crown caps was freed of its anonymity for the documenta 12; it was cast and gilded. It will be given back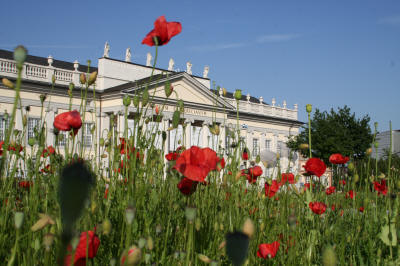 to the visitors of the show, who also become part of the guiding system, consciously or unconsciously, through their visit. But because of the crown cap, which has now become an ornament…the idea of the exhibition is carried out into the world, spanning a dense network based on the found object from Kassel."
I never did see anyone wearing one. Rather than sporting mementos of Documenta, the rather serious looking audience seemed exhausted by the whole affair. Maybe it was the effort of dodging the monsoon rainstorms, or the sheer vastness of the 'Aue-Pavilion' but art punters were flaked out all over the generously scattered banquettes. The pavilion was an enormous polyurethane greenhouse that amplified the sound of the rain to a frightening degree. It contained a large portion of Documenta, the rest being in historical piles; Museum Fridericanum, Neue Galerie and a few outposts, including the castle of antiquities, Schloss Wilhelmshohe, all a tram ride away.
In the Aue-Pavilion the softness of the seating was in inverse proportion to the degree of intellectual effort demanded from the viewer/participant. Shocking, but stunning photos of the Niger Delta by George Osodi = no seat at all; long boring video of a group of musicians having a sailing lesson by Johanna Billing = wooden benches; documentary evidence of 13-year-long participatory project by Ricardo Basbaum, entitled 'New Basis for Personality' merited an entire cage full of mattresses, like one of those play areas where people deposit their kids in Asda.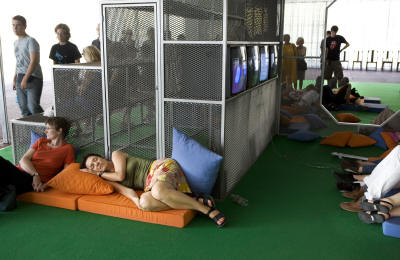 To be honest I felt like lying down when I tried to make sense of the curatorial reasoning of Roger Buergel and his wife Ruth Noack. This was outlined in a set of three of 'leitmotifs' and expanded upon in three 200 page "Documenta Magazines" (anything but light); 'Is modernism our antiquity'? they began. So far so comprehensible, is this why there are John McCracken Minimalist objects and Poul Gernes target paintings amongst the documents?
'What is bare life?' Eh? Was this referring to the starkness of first-person exposure; Spanish male prostitutes interviewed by Dias and Riedweg, David Goldblatt's black & white photographs of South African commuters, Nedko Solakov's confessional drawings about fear?
Finally 'What is to be done?' This is about education. I know because someone told me it's the theme of the show. According to Roger Buergel:
"The global complex of cultural translation that seems to be somehow embedded in art and its mediation sets the stage for a potentially all-inclusive public debate."
The stage set for potential debate was symbolised for me again by the seating arrangements at Documenta. As a performative work, artist Ai Weiwei had invited 1001 Chinese citizens to visit the city of Kassel, a cultural exchange he named 'Fairytale' in homage to sons of Kassel, The Brothers Grimm. I did not discover the outcome of this experiment and found records of its enactment hard to come by. Instead Ai had restored 1001 wooden antique chairs from the Quing dynasty. These were arranged in optimistic circular clusters at points around the Pavilion as if their presence would spark off the hoped for exchange amongst visitors.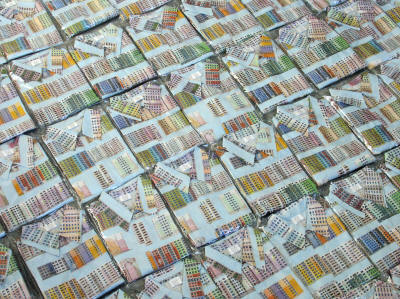 Czech artist, Katerina Seda took a more subtle approach to the promotion of dialogue. Her "Action" (Every Dog A Different Master) was an intervention into the everyday life of her home, Brno-Lisen. As a child, travelling on the bus from Brno Lisen into the more recently-built, Nova Lisen, Seda had noticed how people stopped greeting one another and indeed her, as if she had become invisible. Growing up she rationalised this as social atomisation, but never quite accepted it and as an artist she decided to use this invisibility to attempt to affect a "paradigm shift" in the network of social relationships of her town.
Seda printed a rather nice shirt, sporting an image of the multi-coloured 1970s housing project. She grouped all addresses for Brno Lisen and Nova Lisen into pairs and mailed the shirt from one address to the other (marking the sender as the Brno Lisen household, rather than herself). She then observed the resulting interactions. The work was displayed as a simple series; a framed photograph, a short lucid narrative in the form of history of intention and outcome, a town plan showing the dense network of postal links and an example of the shirt package itself. I warmed to the humble scale and the links to Seda's personal history. She had avoided commentary or exposure while the mechanism of the work was in progress.
In the catalogue introduction curators Buergel and Noack stated that Documenta 12 is "An exhibition without form". To attempt an overarching educational approach, linking works with dramatically divergent political and cultural themes, seemed ambitious at best. I retained interesting mental snapshots, but works that affected me in a more complex way were rare. Like Seda's narrative, they followed an individual thread through the experience of the collective, competing with my persistent memory of unsold bottle tops and empty antique chairs....
Top to bottom: Crown Caps, 2007 © VIER5 Photo: Julia Fuchs
Mohnfeld /Poppy Field, 2007 Photo: Julia Zimmermann /documenta GmbH
Would you like to participate in an artistic experience? 1994–2007 © Ricardo Basbaum, photo: Julia Zimmermann / documenta GmbH
For Every Dog A Different Master, 2007 © Kateřina Šedá
This link will take you to the documenta website http://www.documenta12.de/geschichte0.html?&L=1. What is your experience of the big international art fairs? Why not respond on the forum?
This piece is also published in 'POST' the UCF MA journal. Contact majournal@falmouth.ac.uk