Dorset is a very beautiful county rightly treasured for its breathtakingly beautiful landscape. A bit like Cornwall in fact.
It is a very scattered county with market towns and villages linked by rolling English countryside and long straight roman roads. You measure distance in time in this landscape as you make your way across-country through picturesque hamlets, past farms and along winding narrow roads.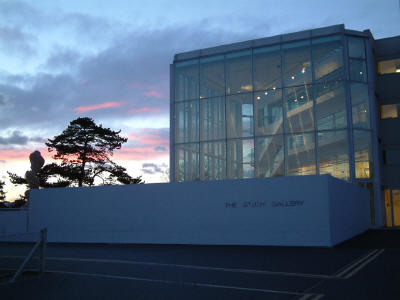 Such meandering progress is well suited to the increasingly large biennial open studio event organised by Dorset Art Weeks, currently reinventing itself as Dorset Visual Arts. Unselected, the event attracts a wide range amateur and professional artists thereby raising the level of interest in the arts locally and what is on offer often has an affinity with the tourist-based art and craft outlets in Cornwall. It was felt by many that Dorset Art Weeks had become unwieldy and now, as DVA, it is exploring ways to extend its range with a series of small selected exhibitions to complement the larger event. Finding places for curated shows though, may be more problematic.
Looking in from the outside, Cornwall seems to be well served with exhibiting venues that appear to be well-funded and feed the cultural life of the county, and in the case of Tate St Ives, the country and beyond as well. It may be a case of the grass always looks greener on the other side! There are artist-led initiatives like the Salt Gallery in Hayle with its exciting and thoughtful gathering up of serious artists; commercial spaces such as Lemon Street Gallery in Truro which shows high quality work in its generous, sympathetic rooms; Goldfish in Penzance which is already, in its infancy, developing a very particular characteristic, showing edgy work which is outside, in more than one sense, of the received perception of what Cornish art is about. From the point of view of artists and viewers this is all good stuff. In Dorset things seem different. There is a significant lack of good quality venues where artists can show their work and the situation is deteriorating fast.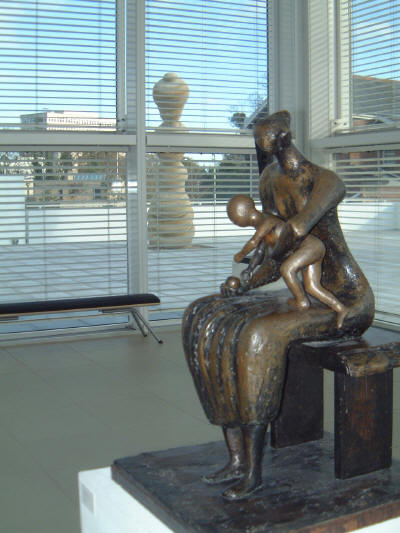 The arts scene in Dorset exists mainly because of the dedication and vision of individuals who give huge amounts of time for very little financial reward, often leaving them with little energy for their own practice.
If you live in the East of the County, where there is a concentration of large towns, Bournemouth and Poole, the venue of choice is The Study Gallery of Modern Art in Poole (above) run by Jem Main, who had the vision for the gallery and the energy to develop the ideas and support necessary to achieve the design and construction of the building, which was funded by a £1.8 million lottery award. Designed by architect Richard Horden the building is a spectacular combination of glass and steel on four storeys looking out over Poole Harbour. It is akin to the feel of curved open space at Tate St Ives, with its views over Porthmeor Beach. Scaling the stairs to the upper floors looking out onto the twelve metre high glass atrium, flooded with light, is like being on a vast ocean going liner. The interlinked spaces offer intimacy and grandeur allowing it to accommodate a wide range of work.
Sited on the Campus of Bournemouth and Poole College it houses the college's collection of mid-twentieth century art, which includes work by Henry Moore (Mother and child with apple above), Barbara Hepworth, and Bridget Riley. It hosts a strong programme of exhibitions, currently 'Artist Muse' - an eclectic mix of works which address that complex relationship - by Sarah Lucas, Lee Millar, Mona Hatoum, the Chapman Brothers and others. It also takes a strong lead in education; organising seminars, encouraging new work and emerging artists, initiating projects, serving college students and local people and nurturing the talents and cultural inheritance of the future with its activities for young people.
The Study Gallery is an urban building for the 21st century and according to the director, "our way forward in terms of funding is probably through diversification, extending the programme so it embraces design and architecture and their relationship with new and alternative technologies and issues related to globalisation." Without overlooking social and cultural values, he sees the necessity of building bridges with its two sister academic institutions Bournemouth University and Arts Institute Bournemouth in order to streamline their activities, and rationalise access to their collections thereby capitalising on available funding.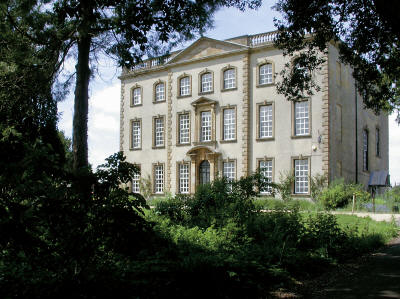 At the other end of the county just inside the Somerset border is Sherborne House (left), an 18th century Grade One listed building home to a rare mural by Sir James Thornhill. It could not be more different. Sherborne House Arts programme includes Open exhibitions, projects and big name shows, currently 'Evolution', an exhibition of the work of Wilhelmina Barns-Graham. A year-long Colour and Chemistry project in 2006 consisted of seminars, a rolling series of high quality exhibitions and bursaries awarded to three artists to work to the project with the whole culminating in an exhibition which simulated the three artist's working studios alongside the results of their year-long investigations. (see below: Balint Bolygo with 'Pulse' made for the Future Palette Exhibition).
It was also the intended home of the Elisabeth Frink Archive, and a Frink sculpture garden, however Sherborne House has just suffered a terminal blow. Its closure is imminent because the owners of the building, Dorset County Council, have just voted to sell the house.
The news has opened up a wider debate on visual arts provision in the South West, an issue that the Arts Council accepts that they need to address. Sherborne House Arts Director, Amanda Wallwork says: "Arts organisations are crying out for decent venues to present their activities, and artists need good gallery spaces that can operate on a national level and raise their profile. We need to interact with the rest of the country and not look constantly inwards. Quality venues are needed to accommodate these ambitions. Sherborne House could have been a flagship project, really putting Dorset on the arts map. This issue needs to be looked at again before it's too late and an incredible opportunity is lost."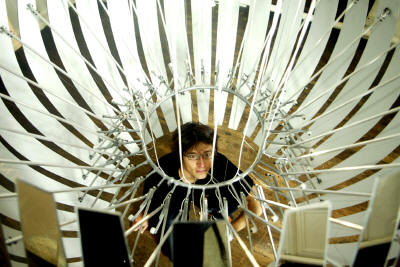 Another quite different space, housed in the intimacy of a domestic setting is TRACE, an artist led non-profit making initiative run by Director, artist Sian Bonnell, from her home in Weymouth. Begun in 1999 it was set up to promote projects and events that combine new visual work, writing and sound and as Sian points out, "for the last seven years TRACE has been the only organisation in the entire South West dedicated primarily to Photography. We also mentor photographers nationally and are regularly invited to take part in international photography festivals such as Rhubarb-Rhubarb in Birmingham and Fotofest, Houston, Texas". TRACE also commissions multiples from photographers, works from other artists and publishes books. Since 2002, regular artists talks and seminars, often led by high profile curators from institutions like the V & A the Photographers' Gallery in London and Ffotogallery in Cardiff, have accompanied exhibitions or book launches. (see below: view of the exhibition of work by Carol Robertson to coincide with the TRACE published book of her work, Dark City Light City with text by Michèle Roberts). Having recently completed a fellowship at Arts Institute Bournemouth, Bonnell has just taken up a teaching post at Falmouth College of Art. So it looks as if TRACE will be moving south and Dorset's loss will be Cornwall's gain.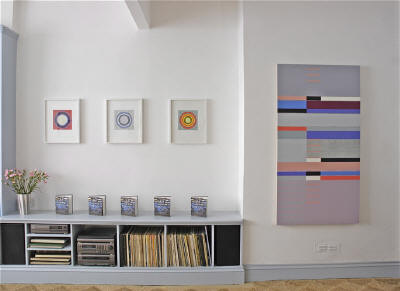 Weaving through the fabric of these dispersed spaces is the arts magazine 'Evolver', which covers an area from Taunton and Exeter in the west, up to Bristol and Marlborough in the north, and across to Salisbury and Bournemouth in the east. Unfunded, it is distributed free by its editor Simon Barber, and relies on advertising and sponsors for its survival. It provides a vital bi-monthly guide to what is on and showcases some of the best talent in visual and performance art in the region. In an extension of its magazine role Evolver published Fifty Wessex Artists in 2006, which features interviews, images and studio portraits of selected artists from Evolver's catchment area.
The practice of art can be a lonely activity and the existence of The Study Gallery, Sherborne House, TRACE, and Evolver which offer exhibition spaces, support and debate, stimulating exhibitions and social interaction, are vitally important. The arts scene is Dorset is clearly in a state of flux. However it has been and will continue to be vibrant, exciting and challenging because, despite all the obstacles; where there are committed passionate arts practitioners and providers there will always be a way to make art, to look at art and to be involved with it.
Links
thankyou to Denis Roberts (photo)