Depicting children: reflections on Jesse Leroy Smith at Goldfish Fine Art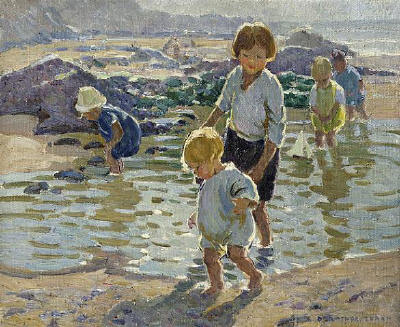 Some artists treat children like flower-arrangements: presuming them to be possessed of a simple and unproblematic beauty that can be portrayed in a straight-forward way. The smaltzy chocolate box images of Dorothea Sharp, who is famous for painting children by the sea-shore (often in Cornwall where she lived during the 1940s), is an example (right).
Most would agree that such bland and sentimental depictions do both art and children a disservice. They are so far from the reality of childhood that they are barely recognisable, and seem to inhabit a largely fictitious Enid Blyton world. Children are far more interesting beings than these one-dimensional idylls would suggest. They are not passive objects, and our relationship with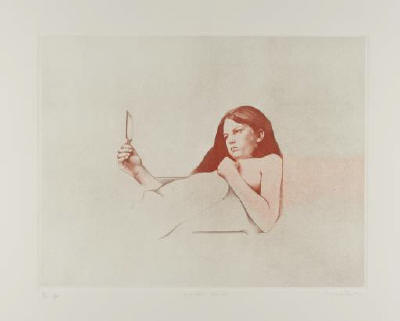 them, and the way we see them is complex on many levels.
Depicting children in a way that goes beyond kitsch is a tricky business, however. Because they are dependent on adults, and not yet fully formed or knowledgeable about the world, using them as subjects for serious art undoubtedly risks exploiting them. Is it right to assume that they have consented to be painted, or if they have consented, did they understand what they were consenting to?
We are most conscious of this thorny issue if child models are used in a way that is explicit or sexualised in any way. The Cornish painter Graham Ovenden, living near Bodmin and one of the Brotherhood of Ruralists, is (in)famous for his shameless images of children in states of undress. Many are – remarkably - in the Tate collection (left).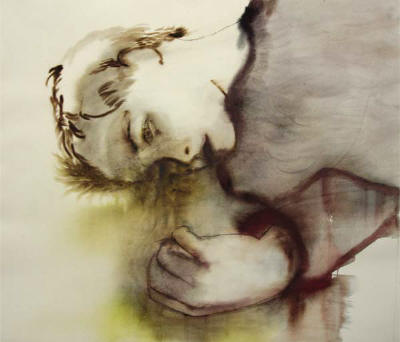 Of course the gaze of a painter is generally different to that of a parent, (though arguably both gazes are a form of love or caring). Parents of young toddlers will know that being watchful or vigilant of a child's safety is probably one of the most onerous responsibilities that comes with parenthood. In fact there is a huge literature on the role of the gaze at this early stage of development. The psychoanalyst Donald Winnicott for example, emphasised the importance of the infant seeing him or herself reflected back to them in the emotions expressed on their mothers face.
The contemporary Cornish painter, Jesse Leroy Smith, explores some of these issues whilst simultaneously steering between both bland platitudes and frank exploitation (lower 3 images).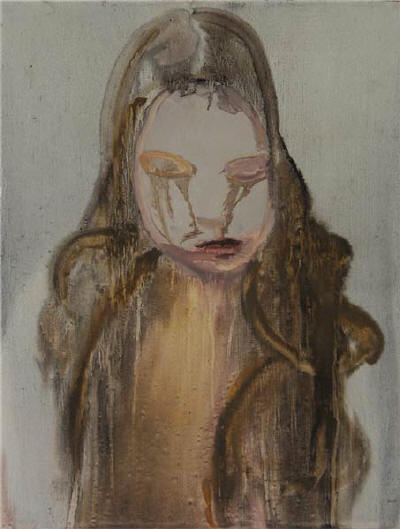 His work is most commonly derived from studies of his own children. They often appear involved in role-playing games which evoke the symbolism of the feral child (eg dressed up as animals, or playing with bows and arrows). This is an established and recognised theme in literature particularly (eg Lord of the Flies, Peter Pan), and it is linked to modernism through the figure of Jean-Jacques Rousseau (Emile).
His most recent paintings, on show at Goldfish Fine Art, are executed on a large scale using powdery oil colours. Rubbed and worn in places, they look like distempered frescoes. As well as children, they are populated by subjects who appear somewhat older. These figures are still sexually ambiguous, and have pale or golden translucent complexions and big eyes, like characters from computer games or manga comics.
Ghostly and ethereal, and painted behind veils of translucent turpentine, they appear narcissistic and uncertain, as if they are entering into the period marking the gradual transition from childhood to adulthood.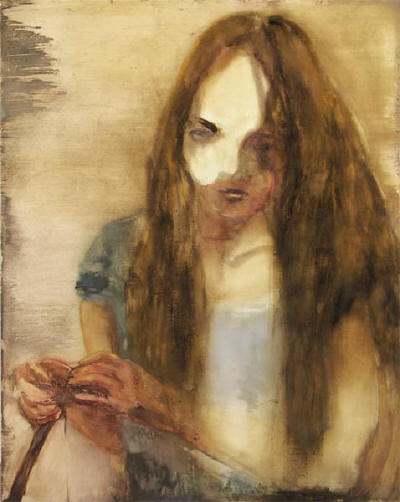 The adolescent has become an increasingly important element in contemporary art (eg Rineke Dijkstra, Muntean/Rosenblum) probably because of the pervading presence of youth culture, which affects all of us in so many ways. Products are marketed with a youth market in mind because most adults aspire to be youthful. Some even seem to live in an extended adolescence, thanks to plastic surgery and an obsession with looking young. Conversely, children are expected to both achieve more at school, and cope with pressures to become sexualised at an earlier age.
In fairness to Dorothea Sharp and her generation of artists, adolescence and youth culture is to a large extent peculiar to our post-modern age. Indeed, as it becomes an ever increasingly powerful and influential force in society, the need to consider and understand its representation and commodification becomes ever more important.
Photos of all the work in the show at Goldfish are at http://www.goldfishfineart.co.uk/
The Tate website includes images by Graham Ovenden that are too controversial for artcornwall http://213.121.208.204/servlet/ArtistWorks?cgroupid=999999961&artistid=1730&page=1.
Why not give your views on these works, or of the article as a whole, on the forum?