Mid-Winter Traditions of Eastern Cornwall
Alex Langstone


The period between the Winter Solstice and Twelfth Night is an interesting one; a shared time of 'misrule' and celebration, which most of the western world join in to some degree or other. For others, Christmas is a nostalgic liminal experience from whence folk-memory looms and ghosts re-emerge, sometimes from a past remembered differently.
There is a rich cultural vein of Cornish folk traditions from this time of year, some of which are still observed. In this article I will attempt to look at some of these traditions from across Cornwall, but with an emphasis on the eastern half of the peninsula. The main themes are guizing and wassailing, and as we shall discover, they share a common folkloric thread.

Guizing
Guizing is a tradition where people dress in disguise to perform and entertain in their communities. The modern revival is best seen in Penzance on December 21st each year, where the Montol festival takes place. However, there were once many other places across Cornwall where this type of custom once prevailed. Revellers would dress in various styles. Cross-dressing, animal disguise and dressing up in gentleman's hand-me-downs was common, with the key element being the disguising of the face by either blacking up with soot or burnt cork, wearing animal masks and horns or lace veils and venetian style masks. Music was a common feature and local carols were often sung.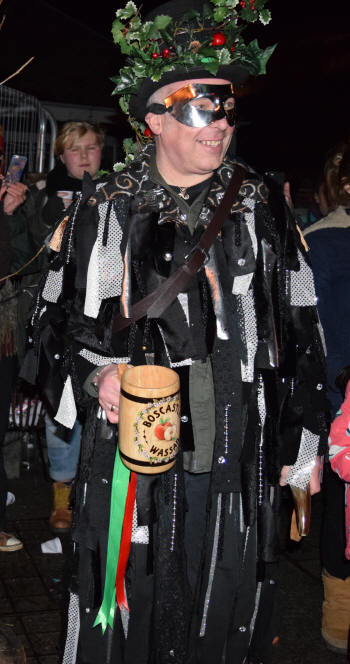 There is an interesting record from Bodmin, concerning a group of Guizers from Grogley, who used to visit Bodmin town between Christmas and the New Year. The account, from a letter to the Western Morning News, possibly Dec 1988 or Jan 1999, suggests that this tradition was active in the 1920s, and was a regular custom performed every year. The writer of the letter, Bridget Graham, from Par, suggest that the singers blackened their faces, so they would appear to be 'almost invisible', which added to the mystery, tension and excitement as they sung traditional carols in the streets around Bodmin town1.
Launceston also had guizers, and they used to visit the town's Giglet fair in the week after Christmas, where they would cause confusion and general mayhem.
At the beginning of the 20th Century, the community in Calstock would go guizing, or "darkeying", as it became known. They would dress up in funny costumes, blacken their faces with burnt cork and walk around the village playing any instrument they could muster to provide some fun in the village. They were sometimes given hot chestnuts, a drink, or maybe a potato cooked in its jacket, as a response to their activities2. Padstow continues this type of tradition today, both on Boxing Day and New Year's Day, where guizers can be seen around the town with their faces blackened, parading to an accordion and drum frenzy. Alongside the guize dance traditions were the twelfth night customs, and many people at the beginning of the nineteenth century still kept the old calendar and held their Christmas day on twelfth night. On the eve of twelfth night it was believed that the cattle in the fields and stalls would never lay down, and at midnight turned their faces to the east and fell on their knees. January 6th was a time of general feasting and merriment. Twelfth day cake was made and into it was placed a wedding-ring, a sixpence and a thimble. It was cut into as many portions as there were guests and the person who found the wedding ring in his (or her) portion would be married before the year was out. The holder of the thimble would never be married, and the one that got the sixpence would die rich. Tradition stated that twelfth day cake was a lighter style of fruit cake to that of Christmas cake3.

Curls or Folk Carols
A strong tradition linking communities across Cornwall is the folk Carol tradition. Several towns still have their own particular carols, which are sung every year. Stratton, Bude and Bodmin once had their own Carols sung each Christmas, and Padstow still has a thriving tradition.
On Bodmin Moor, the Christmas season was celebrated between neighbouring farms. On each of the twelve nights, groups of farmers and their families would walk from farm to farm, playing music and singing local folk carols. Barns would be cleared for nightly feasts and dancing4.

Wassailing
The most famous wassail in Cornwall is that of the Bodmin wassail, a traditional twelfth night visit wassail, and one of the oldest recorded wassails in Britain. The first known record of the Bodmin Wassail was in the will of Nicholas Sprey, mayor of Bodmin who died in 1624. As well as providing for his family, he also bequeathed the sum of 13s 4d for an "annual wassail cup" to promote "the continuance of love and neighbourly meetings" and to "remember all others to carry a more charitable conscience". Sprey – who was also Town Clerk and the MP for Bodmin during his career – directed that the wassail cup be taken to the mayor's house each year on the 12th day of Christmas, raising funds as it passed through the town. The custom has continued to this day5. The apple wassail was a common feature in the winter celebrations in East Cornwall and this is still celebrated in various places including St Mabyn, Cotehele, and most recently in Boscastle, where a community event has recently been revived to celebrate guizing and wassailing in true Cornish style6.

Another midwinter tradition possibly linked to the wassailing and guizing traditions was that of the Cornish Bunch. A common custom was once performed in the farmhouses across Cornwall where two withy hoops were fastened together at right angles. These were covered with holly and ivy, with a red candle placed at the base and an apple secured to hang down above it. These were hung from the ceiling on Winter Solstice eve, where just before midnight, the red candle was very carefully lit. Then those assembled would form a ring underneath the bunch and perform a dance to welcome the rebirth of the sun7.
1. Western Morning News press cutting (possibly 1998). Padstow Museum Darkey Day archive.
2. The Calstock Darkeys by Patrick Coleman. Padstow Museum Darkey Day archive.
3. Cornish Feasts and Folklore by Margaret Courtney.
4. Old Cornwall Vol 3. No 4. 1938.
5. http://www.bodminwassail.uk/about.
6. Boscastle Wassail by Alex Langstone, published in Boscastle Blowhole, No.101. Spring 2018.
7. Old Christmas Anthology. Federation of Old Cornwall Societies.

For further details of the Boscastle Old Christmas event, please see cornishfolklore.co.uk
Alex Langstone is editor of 'Lien Gwerin – A Journal of Cornish Folklore' and author of 'From Granite to Sea' a book about the folklore of Bodmin Moor and Eastern Cornwall.