Bait: wozzon!?
Rupert White
'Bait' is a film about Cornwall. Although set in the present day - such that eg radio debates on Brexit can be heard on the soundtrack - it has a timeless quality thanks to its B&W film stock, 16mm aspect ratio, and post-synced sound, all of which are evocative of a much older cinema; like 50's art films, Pathé newsreels or early silent film.
Shot on an old clockwork Bolex, using techniques tested out in its 2015 predecessor 'Bronco's House', 'Bait' was also hand-processed by director Mark Jenkin in his studio in Newlyn School of Art; something which gives it yet more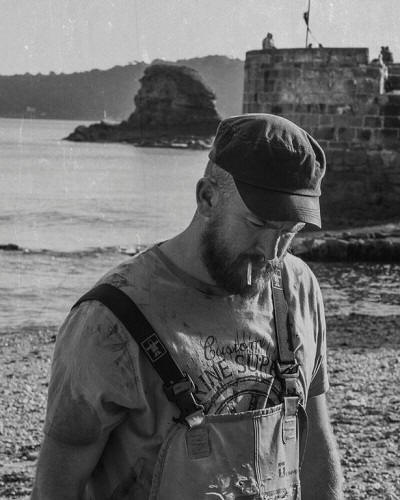 graininess, texture and visual interest. Use of such esoteric methods might sound contrived, like they might get in the way, but in Bait they most certainly don't. Instead they add to the film's fascination and uniqueness, and give it a powerful haunting quality.
Leaving its immediate visual impact aside, Bait also works as a compelling and tightly choreographed drama. Sparse in dialogue, the story is told using a lot of close-ups, which creates claustrophobia and intensity, punctured intermittently by moments of real humour; lines delivered using the Cornish dialect, which, over the years has proven a great vehicle for comedy. Fittingly Martin, the main character (pictured right), is played by Ed Rowe, known by most in Cornwall as 'Kernow King', a standup comedian who supplies the role with a Cornish accent that is both warm and authentic.
Martin is a struggling fisherman who has been forced to sell his family home, a picturesque cottage on the harbourside, to second home-owners, Tim and Sandra from London. Interestingly Paul Bradshaw in The Guardian describes him as 'aggressively threatening', but to my mind Martin is the opposite: a likeable guy, who is kind, patient and gentle, and he provides laugh-out-loud moments when, in posh Cornish, he delivers his verdict on the cottage makeover to its new owners: 'You've got a porthole: very nautical', and to his brother Steven: 'it's been "modernised". So many ropes and chains it looks like a sex-dungeon'.
He now lives in a modest estate house some distance from the sea, and resents having to pay for parking nearer the harbour, where he has a shed and freezer for storing fish. The parking situation creates the first moment of real conflict in the film, when his battered truck is clamped after he leaves it outside the cottage in a place now reserved for the incomers. The tension that builds is very 'Straw Dogs', but the first act of violence is perpetrated on Martin's behalf by a feisty young barmaid called Wenna who head-butts Tim, shortly after Martin calls him, with pinpoint accuracy, 'a prancing Lycra cunt'.
Wenna herself has some good lines. Referring to Katie, the second home-owners' teenaged daughter, Wenna says: 'she's so posh I thought she was speaking German'. In fact Posh Katie is having a holiday romance with Martin's Cornish nephew Neil (both pictured below), which turns into another source of conflict, and culminates in a scuffle on the quayside in which Neil falls with a sickening thud and cracks his head open. A large pool of blood seeps out from underneath him, and the assumption is that he has died. The ending is ambiguous, but the second homeowners are nowhere to be seen, and Martin is reunited on the family fishing boat with his brother Steven.
The form and content of Bait therefore work in harmony. Interestingly director Mark Jenkin is a fan of Derek Jarman, who often used Super-8 because he considered the genre of the home movie important as a form of amateur documentary, and this is part of what Bait offers so convincingly. Jenkin makes a virtue of using a local film-crew and many non-professional actors (eg local artists Jesse Leroy Smith and Richard Ballinger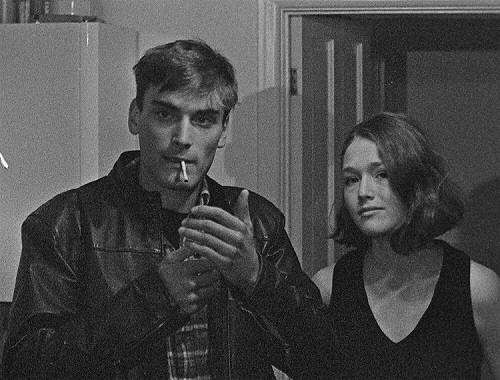 were in Bronco's House; Stacey Guthrie is the landlady in Bait). The film seems to embrace its DIY aesthetic, and there is a real sense that it has been made with the local community here in Cornwall, to the extent that Cornish viewers can enjoy spotting their friends in the cast or in the credits, as I did as I watched it. There is something moving and profound about this aspect of the film, which allows it to transcend mere story-telling. It is also in this way that Bait achieves its disarming level of honesty and realism.
Such local community theatre or art, even if it's very good, rarely captures the imagination of a wider audience, as Bait seems to be now, however. Already Jenkin's film has garnered praise from Karen McClusky in Empire Magazine, Laura Snape in the Guardian, Tanya Gold in The Telegraph, Francine Stock on Radio 4, and Dawn French on Twitter. Mark Kermode, who has strong links to Cornwall and who clearly understands many of the film's nuances, has in the last few days also raved about it, calling it 'a modern masterpiece' and 'the defining British film of the year, and perhaps the decade'. It is currently also showing at the ICA and a couple of cinemas in London, and Time Out has said it has 'all the hallmarks of a cult classic'.
In recent decades second home-owners have taken the heart from the traditional communities of St Ives and Padstow, and similar processes of change are undoubtedly affecting most of the other fishing villages in Cornwall. But perhaps, apart from its obvious artistic virtues, another reason why Bait is prompting such interest outside the Duchy is the fact that it also speaks to even bigger problems, particularly the fracture in British politics and society, and the fact that the liberal metropolitan elite don't seem able to understand the issues that exist in other hard-pressed communities outside the metropolis.
1.9.19