Kent's Balti Celtic
Rupert White on 'The Incredible Balti Celtic Carpet Ride' by Alan M. Kent.
"Today, after more than a century of electric technology, we have extended our central nervous system in a global embrace, abolishing both space and time as far as our planet is concerned".

Marshall McLuhan's 'Global Village' - neatly summed up in this quote from his book 'Understanding Media' (1964) - has been criticised for its one-sided optimism and naiveté. However, when the term first appeared in the early 1960's, the use of the 'village' metaphor to describe a condensed, or contracted, world moving away from the written word, but ever more tightly connected by electronic communications, was clearly attractive.

Alan M. Kent, whose writing over many years has been consistently centred on ideas of Cornwall and Cornish identity, has chosen to set his most recent play, 'The Incredible Balti Celtic Carpet Ride' three years after McLuhan's book, in the Cornwall of the 'Summer of Love'. At the time, The Beatles, because of their international popularity were riding the wave of globalisation that, as McLuhan had described, was occurring in this post-colonial period. They were yet to visit their ashram in India (that was the following year - 1968), but they were already in full psychedelic mode, and in the late summer, travelled down in a bus to Newquay to shoot footage for their strange, surreal excursion: 'Magical Mystery Tour', a largely improvised film that includes the frankly absurd 'I am the Walrus'.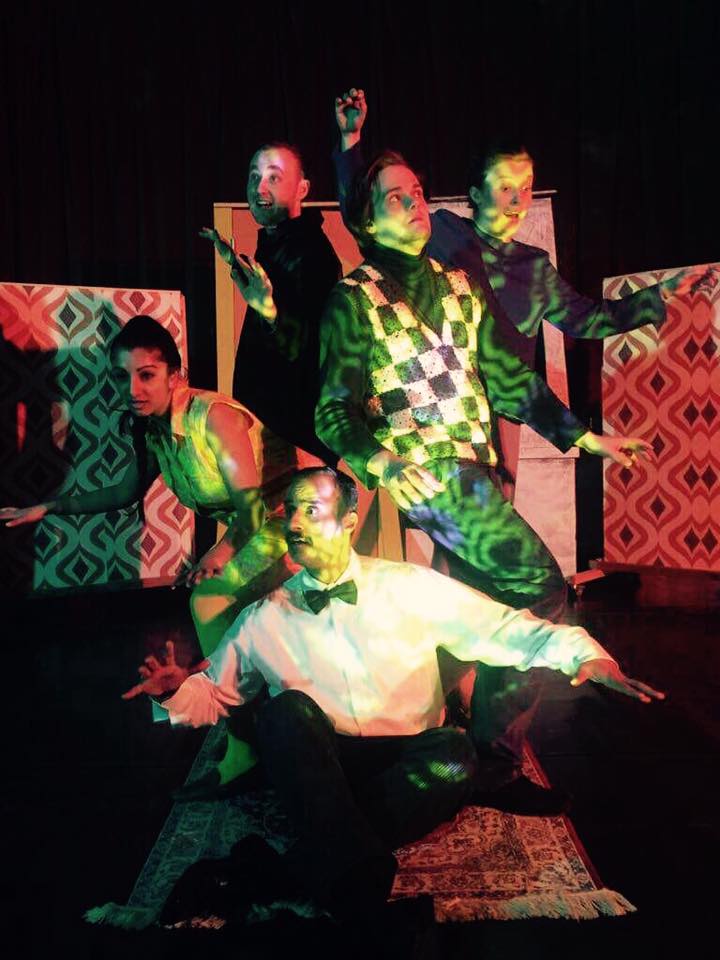 Fizz, one of the central characters in Kent's lively play, is an aspiring beatnik musician living in Newquay, and in an early scene we see him visiting the celebrated Folk Cottage folk club in nearby Mitchell with his girlfriend Bindu. Bindu is the attractive teenage daughter of Sandeep, an Indian immigrant and proud owner of the first Balti house in Cornwall. His restaurant, with its large sculpture of Ganesh, is the central location in the play, and the fact of its existence the premise for subtle, and not so subtle, discussions about culture and identity.
Here Alan Kent's voice as a hybridising postmodern playwright comes through strongly, with references to D.H. Lawrence and Rabindranath Tagore mixed up with light-hearted nods towards 70s sitcoms like 'Mind Your Language'. It's novel and refreshing to see these themes revisited in the context of twentieth century Cornwall and familiar racial stereotypes are given a few surprising, and heart-warming, twists. Cornwall is not usually thought of as a place of cultural diversity, and it can be argued that, as a consequence, Cornish identity has become entrenched and stultified, and even more prone to caricature than Indian. Monotonously fixed in 'Poldark-time', with its tin-mines and period costumes, more nuanced and diverse representations that situate Cornwall in a bigger, post-modern 'global village' are very welcome, and long overdue.

In a way the characters in 'Balti Celtic Carpet Ride' precisely enact McLuhan's rose-tinted vision: with the Indians and the Cornish of both generations initially brought together - against the odds - by their love of The Beatles. Later they all get to meet the Fab Four in Newquay, before being united in the penultimate scene: the titular carpet ride itself which (spoiler alert) is actually an LSD trip. During the trip (pictured above) Sandeep the restaurant owner, bathed in psychedelic coloured light, leads his new Cornish friends over the countries of the middle East, and on to India and his home-town of Lucknow, which they observe in all its glory from the air.

The happy harmony between the Indians and the Cornish does not last however, and differences emerge a few weeks after they've 'come down' from the carpet ride, as they sit huddled together watching the final cut of 'The Magical Mystery Tour' broadcast, as it was, on TV as part of the BBC Christmas schedules. In a neat twist, the fracture grows along intergenerational not interracial lines, however, with the older generation - both Cornish and Indian - disliking the film, albeit for different reasons.
This merest hint of difference and alienation is shortlived, and the play ends with the seemingly inevitable, though tongue-in-cheek, expression of a harmonious multicultural Cornwall: Sandeep announces his intention to make the best curry pasty in Western Europe.
9/4/18
Directed by Iga Drzymkowska, and featuring Alan Suri, Kara-Dee Rai, Michael Tonkin-Jones, Max Webb and Bryher Flanders, 'The Incredible Balti Celtic Carpet Ride' tours Cornwall until the end of April.