Bas Jan Ader, Falmouth and the Miraculous
Rupert White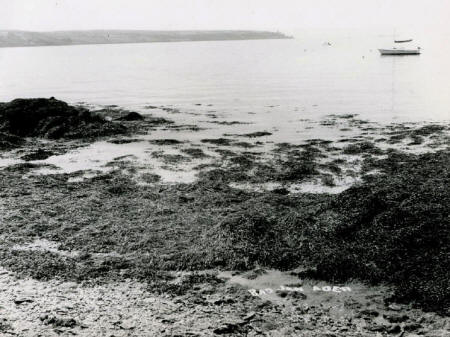 In the early 90's I was back living near Falmouth in Cornwall, having had nearly a decade away at University in London.
I was making art, showing at the Penwith and Wills Lane Galleries in St Ives, and meeting Cornish artists of a similar age, including Andy Whall and Andy Hughes. Andy Hughes had just had a year as the first artist in residence at Tate St Ives, which had opened in 1993, and partly through him and partly through the next artist in residence, Phil Mawdsley, I got to know Mike Tooby the first curator. Mike was a very approachable chap, and was supportive of our commitment to making what we sometimes referred to as 'post-modern' art. We weren't being disingenuous or ironic in using the term: given the context of St Ives there was no better word for art that was not modernism of the type St Ives is famous for.
These were pre-internet years and very few people in the UK had a computer. But Andy and Andy recognised that there was a need to give a voice to new art from Cornwall, and they started a magazine which they called START, to which I contributed a few articles. They also organised performance art events. I remember, for example, one at The New Millennium Gallery, as it was known then.
During this period I had become interested in Fluxus and conceptual art, particularly the work of more playful conceptual artists like William Wegman and John Baldessari. In 1994 I also discovered Bas Jan Ader, thanks to an article that I 'd read in Frieze which at the time was still a low-circulation UK artzine.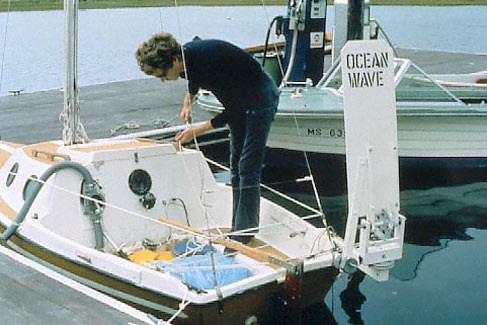 Ader was not particularly well known, but a number of younger British artists - second-wave yBa's like Tacita Dean and Georgina Starr - were championing his work, responding I think to its honesty and obvious humanity.
A Dutch artist based in the States, Ader had, in the late 60's, made some very emotionally resonant artworks, in a way that few other conceptual artists had. He had a short career, however, and was lost at sea in 1975 following an attempted transatlantic crossing as part of a work called 'In Search of the Miraculous'. It's such a poetic title, and one that already implies a doomed, futile endeavour. Indeed Ader's boat, 'Ocean Wave', was so tiny (picture above) he must have known he wouldn't manage to reach dry land safely. It had been his stated intention to reach Cornwall and dock in Falmouth, however, and he'd actually managed to get quite close before he disappeared.
In response to the story of the Dutch artist, I made my own tribute to him at low tide on the nearest beach to my house (top right). I had come to realise that this beach faces the stretch of water (Carrick Roads) that Ader's tiny craft would have sailed into had he survived the crossing. I still like this work as I think it conveys a little of the extraordinary fragility and fallibility of Bas Jan Ader's own.
Last year (2015) James Hankey made a piece commissioned by Field Notes' for 'The Wanderers': a parallel programme to an exhibition of Bas Jan Ader-related works at the Newlyn Gallery. Whether or not it was his
intention, it certainly captured much of the essence of Ader's art. Again it has fragility and fallability, but, as a performance - an attempt to walk on water or to appear to walk on water using a semi-submerged raft - it has an absurd, ridiculous quality that is also true to the spirit of Bas Jan Ader.
Hankey's performance 'Still Walking: A Drifting Pursuit' (right - also see 'webprojects') in Falmouth Bay didn't go without a hitch. In fact the whole thing turned into a bit of an ordeal. In the photos taken that day we see a tiny figure apparently standing dwarfed by a huge expanse of water. Hankey looks calm enough from a distance - not much more than a spot on the horizon - but he must have experienced an increasing sense of panic, as over a number of hours the raft started to fall apart, and he was sent about two miles out to sea by a spring tide and an offshore wind, in the end having to to be rescued by a rescue boat.
He was so much at the mercy of the weather and elements, that what could be construed as bad planning or even failure ultimately became very much part of the work.
14/4/16