Ben Cook: surf art and the semiotics of surfing
Alex Wade
Ben Cook is on exuberant form. The Gloucestershire-born artist has just arrived home after a morning's surfing at one of his favourite beaches, Godrevy in West Penwith. What with the lighthouse which inspired Virginia Woolf's modernist classic To The Lighthouse standing proudly opposite the pristine beach, and good, uncrowded early Sunday morning surf, no wonder Cook – a dedicated surfer - is beaming.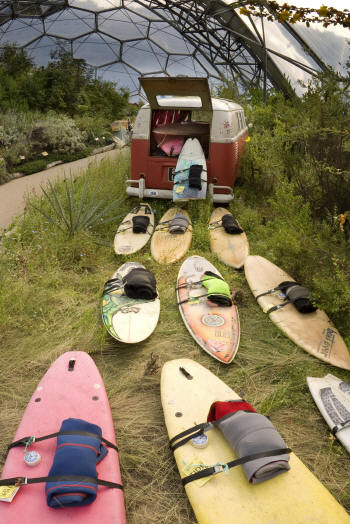 "It was good," he says simply, "Really good. Nice chest high waves and clean. With the sun out, too. What more could you want?"
If you're a surfer, you'll agree that the vision Cook conjures is almost as good as it gets. And even if you're not a surfer, it's easy to empathise with the sense of joie de vivre that comes so readily from his oceanic endeavours. The enjoyment of good waves in crystal clear water under immaculate sunny skies, in Cornwall, in summer – what, indeed, could be better? For Cook, though, there is more to surfing than pure physicality and immersion in the moment. As he says, "I'm interested in the semiotics of surfing – of what it means in popular culture, and in bringing its language into an existing artistic tradition." Put another way, you might say that surfing permeates Cook's recent work as thoroughly as salt water courses through a sea-dog's veins.
Visitors to Penzance's highly-regarded Cornwall Contemporary Gallery will, this September, be able to see the remarkable way in which Cook's art has co-opted surfing and its paraphernalia. The show, entitled 'Eden Works', is a reprise of Cook's acclaimed summer installation at the Eden Project, in which, among other exhibits, the artist remade Joseph Beuys's seminal artwork 'The Pack 1969'. Shown in the Californian section of the Mediterranean biome, Cook's work moved Beuys's language into early 21st century surfing. While Beuys was notoriously preoccupied with politics, with 'The Pack 1969' exploring the concept of human survival in the face of technological failure, Cook's focus was twofold: "I wanted to look at surfing's uneasy relationship with the environment," he explains, "but also try to embed surfing in the aesthetic of classic modernist landscape art."
Cook, who moved to the village of St Hillary, near Goldsithney, in 2003, has ably succeeded in his aims. Albeit that Beuys is a clear influence, Cook's paintings and sculptures have an originality and freshness which transcends surfing. His 'Bellyboard Landscapes', for example, may have been inspired by black and white pictures in old newspapers showing women in one-piece bathing suits riding wooden bellyboards, but to encounter their metamorphosis into smooth, circular forms, varnished with UV resin, is to witness art which is at once sculptural and redolent of the Cornish landscape. In other words – you don't need to surf to get it.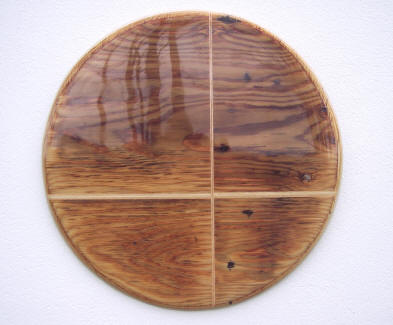 If you do surf, however, you will immediately be fascinated by how Cook has explored one of the sport's enduring problems – the absence, for all the cliché and genuine feel-good factor entailed by involvement in the sea, of much by way of eco-friendliness. As life-long Sennen Cove surfer, poet and Peninsula Medical School academic Professor Alan Bleakley has put it, on the subject of the array of toxic materials used to create surfboards, "Surfing is a sport which has always worked against itself." Cook calls this "the toxic paradox" and his work, especially the 'Landscape Paintings', alludes to it at every turn.
"These are wall-based works made from new eco-surfboard foams, resins, hemp cloths and balsa wood," explains Cook. "I want to question the current consumer-led fashion for, and insistence on, a pure white surfboard blank. Surfers are close to nature, they're dependent on it and immersed in it, and they ought to be the first people to question prevailing technology. They should also be the first people to adopt new sustainable materials."
For his Eden show, thanks to an Arts Council England South West award, Cook was able to work with Homeblown, a surfboard factory in Portreath, to experiment with the Biofoam they are developing to make surfboards. Cook used mainly waste foams and wooden stringers, and collaborated with the technicians to produce custom-made 'canvases.' Some of them were given rounded (railed) edges by a surfboard shaper, sprayed black and fiberglassed using different types of cloth, and the new Eco-Comp UV-L resin being developed by Sustainable Composites, another Portreath-based company. On several pieces Cook has 'drawn' on them with surf wax, which is normally used to provide grip on a surfboard. The polished surfaces reflect the environment in which they are placed, for as Cook says: "My work is an exploration of the local landscape using materials from surfing. After all, surfing is everywhere in Cornwall, especially in West Penwith."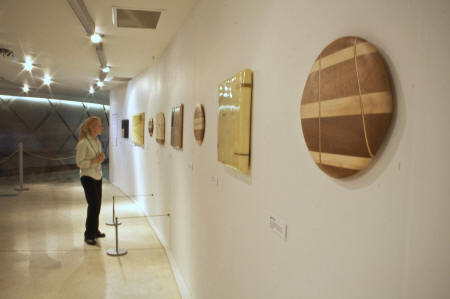 Cook, 41, was brought up mainly in Yorkshire. He took a B.A in Fine Art at the University of Sunderland and then moved to Manchester ("back in its 'Madchester' days", he says with a smile). It was in his early twenties that Cook first experienced surfing. "I was 22 and a friend had just returned from a spell in Australia during which he'd learnt to bodyboard. He told me we ought to try it and we went off to the Gower Peninsual one weekend. I'd never done anything like it. It had a major effect on me."
Before long, Cook was eager to stand up and surf rather than ride waves on a bodyboard (when the surfer lies prone on his chest). His background as a skateboarder helped him make the transition, and soon Cook and his partner Julie were embarking on surf trips to Cornwall whenever they could. Meanwhile, Cook was building up a portfolio as an artist, exhibiting regularly in the North West, London and at the Phoenix Gallery in Exeter. He also showed at the Museum of Non-Conformist Art in St Petersburg, Russia, as well as in galleries in New York, Spain and France. Eventually – and to the amazement of some of his friends – Cornwall beckoned.
"Quite a few of our friends thought that Julie and I were mad to move all the way down here," he says. "They questioned the wisdom of starting afresh, in a new county, in our mid-to-late thirties." But Cook had no doubts. With Julie and the couple's son, Radley, they fell in love with the first house they saw – one formerly owned by retired opera singer Benjamin Luxon. They returned to Manchester, put their house on the market and made the move within six months. "We haven't looked back since," says Cook, who adds that he now suffers acutely from 'the Cornish condition': "I don't want to go anywhere. Everything here is so beautiful that I find it difficult to summon the motivation to leave West Penwith, let alone cross the county line."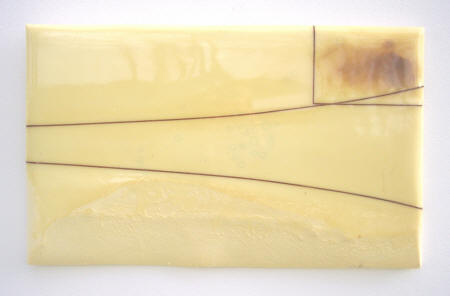 Needless to say, Cook does venture beyond Cornwall – most recently to London as part of an international art exhibition called 'The Happening' - and continued success as an artist is likely to mean that he will have to find a way to suspend his form of 'the Cornish condition' from time to time. The answer, of course, is obvious. "As soon as I return home, just about the first thing I do is get into the sea. I get very itchy if I haven't had a surf for a few days but it's fantastic to be able to get in the ocean after you've been somewhere like London."
Cook's local break is Perranuthnoe, though one of his surfing highlights came at nearby Praa Sands. "I got there early one morning and there was such a thick sea mist that I couldn't see the waves," he says. "But I could hear them, and paddled out. Once in the line up [the place beyond the white water, where surfers wait for waves] I had a few good rides, but couldn't see the shore or, for that matter, anyone else. Then, gradually, the mist cleared. I was catching waves and riding them as the sun gradually burnt through the haze. Suddenly the land, the coastline, came into view. Surfing gives you these wonderful moments of perception, of seeing things differently precisely because you're in the sea, looking in at the shore."
One of Cook's works features the nose of a surfboard as a centerpiece against a black, chalkboard backdrop. A horizontal stringer has been added to the nose to create a cross. It draws the viewer's gaze, but then, as you continue to stare, faint white lines appear with the words: 'I must not confuse surfing with religion.' Ben Cook might well be in danger of doing just that - but to the contemporary art world's gain.
Ben Cook's 'Eden Works' shows at Cornwall Contemporary, 1 Parade Street, Penzance, from 18 September to 7 October. See www.cornwallcontemporary.com, Tel. 01736 874749. See also www.bencookartist.co.uk.
Article appeared first in Cornwall Today, September 2008