Brenda Wootton: Cornish Legend
Gloria Knight gives a personal account of the life and work of the singer and broadcaster, Brenda Wootton.
Take a look at the career and body of work of Cornish folk singer, Brenda Wootton, and the word 'legend' best describes her celebrated status across the Celtic nations, extending as far as Cornish people travelled and settled across the globe. Brenda died in 1994, yet she still maintains relevance and reverence as the standard bearer of Cornish music, and this has been revived by the release of a remarkable new CD.
Who was Brenda Wootton? She was born into a Cornish family in the fishing port of Newlyn in 1928. At home, she basked in the warmth of a wonderful childhood, wrapped in a blanket of love where her early days were filled with fairy tales, family and friends. She inherited the 'gift of the gab' from her father, Angus Ellery. He was a natural born storyteller and raconteur, passing on the kind of bare-faced cheek and self-belief that provided Brenda with the confidence to stand in front of audiences from village halls to huge international festivals and concerts across the world.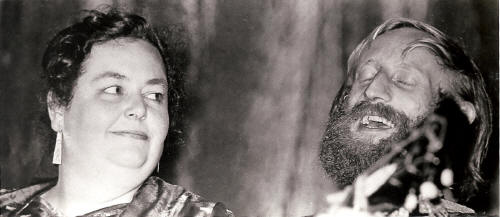 She began her on-stage career producing pantomimes in the village of Sennen. She wrote the scripts, painted the sets, sewed the costumes, directed and performed with energy and determination that as the years progressed, sometimes drove her beyond her physical strength. Her real beginning was at the Count House Folk Club at Botallack; this is where she found the sound that became recognised as the "Voice of Cornwall" for more than twenty years.
It's hard to imagine a less likely place for a folk club; flourishing in the heart of the tin mining country of West Penwith. In the mid '60s, the Count House became an eccentric venue that drew singers from far and wide. A strange place, ten miles from Penzance, beyond where the A30 ends at Land's End, out on the barren, wild moors scarred by the haunting shadows of ruined engine houses. The club was formed by Ian Todd and John Wood with John Langford and Tell Mann as the first residents. John is known locally as John the Fish and affectionately simply as 'Fish'. Initially, Brenda would go along and join in as a guest singer until she and Fish joined up as a duo (see picture above), entertaining the audience with numbers such as 'Lamorna,' 'The White Rose' and 'Little Eyes'.
In May 1967, the Count House closed its door as a folk club as Ian Todd had ambitions to open a disco (!) Brenda grabbed the opportunity and opened the legendary, Piper's Folk Club in St. Buryan Village hall. Piper's became the 'mecca' for folk music in the county and Brenda was joined by guest performers such as Mike Chapman, Mike Silver and Ralph McTell. In fact, Ralph had the first summer residency at the club (picture below right), playing for £3 a gig. Ralph wrote "the Streets of London" around this time and offered it to Fish to perform; Fish declined as he thought the song was "too sad"…a case of some you win, some you lose! I remember going to a gig during a summer holiday, sitting on a church pew and listening to acts such as Alex Atterson and Davy Graham.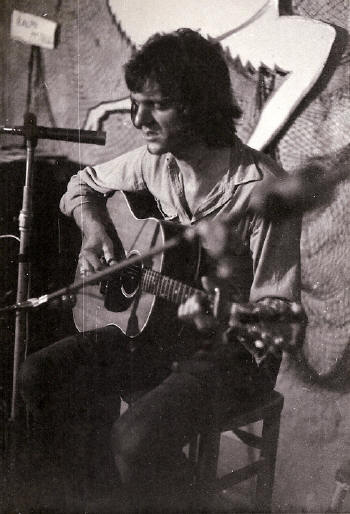 Piper's moved back to the Count House when the Cornish folk scene was at its zenith. At one point, there were sixteen folk clubs in the county, all generated by the success of Piper's. It opened six nights a week and Brenda's daughter Sue, recalled the infamous 'all-nighters'. Saturday-night gigs went back-to-back with the Sunday morning performances. The punters had to leave at midnight, which probably had something to do with Licensing Laws, stand outside for five minutes and were re-admitted for the all night sessions. Sue remembers one occasion when Ralph McTell was the resident and Noel Murphy the guest, finding a snoring Noel asleep on a trestle table with his top hat on his belly in the middle of the night.
The partnership with John the Fish lasted for six years, with their first venture out of the county being an invitation from Alex Atterson to play at the Norwich Folk Festival. With success came ambition, and soon they were touring the UK playing at clubs and festivals; Brenda could not only sing but drew on her maturity and theatrical experience, sensing how to handle a crowd and give them what they wanted. In 1971, she and Fish performed at the first L'Orient Inter-Celtique Festival in Brittany. This was the first step of the journey towards her destination as an international performer. Fish had the commitment of a young family and they amicably went their separate ways. Brenda, aged 43, took a huge chance and became professional. She handed over her side of the family business, Tremaen Pottery and Craft Market in Penzance, to Sue and hit the road.
She had charisma and courage and the sheer bloody-mindedness that comes with self-belief and as her confidence and contacts grew, so did her audiences. And, as her fame spread, so did the culture, traditions and language of Cornwall. For two decades she was a 'force majeure' of Cornish folk music, relating myths and history like a Mediaeval troubadour. She was for Cornwall and the Celtic nations, what Edith Piaf was to France; behind the performances, both women, whether intentionally or coincidentally, represented their culture and national identity.
She beguiled audiences from Canada to Australia and toured extensively with great guitarists; Robert Bartlett (as Crowdy Crawn), Dik Cadbury, Al Fenn of Decameron, Pete Berryman, David Penhale, Mike Silver and Chris Newman. In one year, Brenda spent more nights in hotel beds in Germany than own at home. Pete Berryman played with Brenda many times, particularly as she began to extend her repertoire from folk to incorporate jazz. One of Brenda's last performances at the 20th Anniversary of the L'Orient Inter-celtique festival in 1991, was with Dave, where they shared the stage with the great Alain Stivell, the master of the Celtic harp.
David Penhale was Brenda's full time guitarist from 1978-81 and they toured mainland Europe; Belgium, Germany, Holland, Luxembourg, Denmark and of course, France. David recalls a fabulous gig in Luxembourg, playing to European aristocrats and diplomats. Later, they spent a month in Australia touring the copper coast where many Cornish families had settled as miners in the 19th century. They played at Pan-Celtic festivals representing Cornwall, with David playing Brenda's Martin 00018 guitar, "a beautiful instrument with a lovely tone", which was stolen when left unattended at a gig in Paris.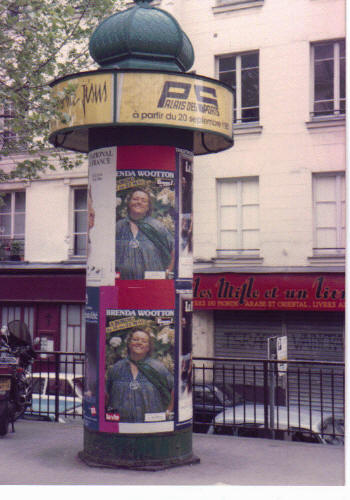 David recollects a huge gig at the Fete D'Humanite in Paris staged to celebrate the Festival for Women. Their set was tailored to suit a female perspective and included Brenda belting out, 'House of the Rising Sun'. Her set was recorded via the Rolling Stones mobile truck and by a somewhat bizarre coincidence another number Brenda performed was 'Honky Tonk Woman', which subsequently reached number two in the French charts!
Brenda's daughter, Sue's version of the evening recounts how Brenda felt out of place amongst the ardent feminists and women's rights campaigners, but in any event, Brenda sparkled. She introduced her performance describing the different roles of women – as a mother, a wife, a friend, a cook, a lover, and added triumphantly…'et ce soir- je suis une putain!' - '… and tonight, I am a whore!'.
Brenda gave and expected the best from her self and those that worked with her and eventually David chose to spend more time back in Cornwall with his young family. As Brenda's career became more hectic, she contracted different musicians such as Mike Silver and Chris Newman as she needed them. In David's words, "The road is a tough mistress". I suspect Brenda was an even tougher one; she was now in her mid 50's and still retained the stamina to keep going and her peak was yet to come.
Of all the countries in which Brenda performed, it was France that most took her to their hearts. As a nation known for embracing 'vivre la difference', the French connected with her warmth and passionate style and they loved her style of drama and theatre. She didn't conform to the stereo-typical female singer- a larger than life, middle-aged woman who sang about Cornwall, often in Cornish, mixing her set list with jazz standards and ballads. At her peak, she couldn't walk down the street without being mobbed and during tours of Paris, double-sized posters were pasted over advertising columns throughout the city and down walls of the Metro, while reporters, impatient for interviews, waited while she signed autographs. We saw this ourselves in Brittany in 1986. Richard Gendall had written what I can only described as a folk story set to music, it took the form of a musical with a traditional theme and told the tale of a bewitched girl, Anne Jeffery, who was enchanted and lured away by the 'bobel vean'. - little, magical people. It was performed at L'Orient in a massive marquee with Brenda taking dancers and musicians from Cornwall including John, my husband.
From the beginning of her career, Brenda had recorded her work and much of the content was traditional Cornish folk tunes, with titles such as 'Pasties and Cream' and 'Way Down to Lamorna' and 'Starry Gazey Pie'. These early albums were recorded on the Sentinel label and later on Stockfisch and Burlington. It was her collaboration with Richard Gendall that was an essential component to her success; he wrote some ninety songs for her, and I quote from an interview with Richard, 'She was a great performer and in many ways she changed the course of my life, although I had always written songs, she was the catalyst. She would come to me, asking if I had a song about a particular subject, and if I didn't, I'd write one'.
We received a phone call from Brenda in 1982. We had a multi-track recording studio in a derelict RAF radar bunker on the edge of Goonhilly Downs, where John, recorded and engineered local bands and choirs. John's first love, apart from me and the dog, is playing guitar, and he was known for his work recording, arranging and producing; as a musician he had a more sympathetic ' ear' to the end product. I think most of Brenda's previous albums were recorded straight to stereo without multi-tracking. John still recalls how she would arrive at the studio with reams of notes and arrangements in her basket, along with pasties and saffron buns for everyone.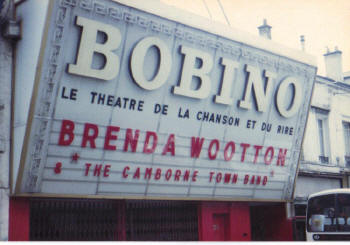 Brenda had learnt to speak fluent French, had a French agent and had signed a deal with the RCA French label and wanted to record an album for this market. Gone were the ethnic kaftans and croqueted shawls, replaced by lovely flowing dresses in beautiful fabrics… and her voice! Well, it was amazing; pure and unaffected, tender and wistful, powerful and dirty, it ranged from an earthy growl to an extraordinary upper register that could make you weep. Her maturity and delivery was amazing. She was working with some great musicians to achieve the result she wanted as the final product had to be to a standard listeners would expect from an international performer.
Brenda worked with John as engineer and co-producer and their first title was 'Lyonesse'. This was followed in 1983, with 'My Land' and later, in 1985, came, 'B comme Brenda' and then 'Tamar' in 1986. 'Tamar' has a 'coming home' yearning in the tracks, with most of the songs by Richard Gendall. One, written in Cornish, is called 'Kerra Kernow' and translates 'Most Beloved Cornwall' and the lyrics of the refrain are as follows: 'Most beloved Cornwall, that keeps my heart and the sea around me, always thee I love…You are my country and to you I return, …Cornwall, my dear motherland'. I think she knew it was time to come home. We sold the studio at around this time because of other commitments and the final recording for Brenda was laying down the tracks for an album with the working title of 'Sailing Gulls' but due to her failing health, mixing and final production was very hard on her physically and it wasn't promoted.
Brenda passed away in 1994 after a long illness and in recent years her name has faded from public memory. The vinyl albums recorded for RCA were never re-released as CD's and are no longer available in any format, and a few of the earlier titles from the 60's/70's can be found on specialist websites.
This is the point at which we fast-forward a quarter of a century! John was clearing some shelves in our office at home on which are stacked boxes of wide, multi-track Ampex professional tape. I've no idea of why they were there because he's been telling me for years that they were useless as this brand had an industry-wide reputation for being famously fragile due to the oxide shedding, and to attempt finding out what is recorded takes some quirky baking process to stabilise the oxide for a one-off chance of retrieving the content. However, in the pile were two reels of 1/4 inch stereo analogue tape, with 'Brenda abroad???' written on the boxes and whatever was on the tapes, was recorded on a different brand of tape.
Naturally, we were intrigued but even if the content could be salvaged, how could they be played? Modern studios are digital and these tapes were analogue. Fate's a fickle mistress and she smiled sweetly on us in the form of an old friend, Lionel Curnow, who had bought two of the last new professional TEAC tape recorders from this era and he was able to play the reels.
When John heard the tapes he was stunned. What he listened to was a full-length live concert. He remembered that Brenda had asked him to go to Paris to record a concert while she was touring with her trio from England, Ray Roberts on saxophone and flute, Dave Free playing bass and one of the finest acoustic guitarist in the UK, Chris Newman, plus Camborne Town Band giving full-throttle support. John hadn't been able to commit to ten days away and on her return from France, Brenda asked him to make her a cassette copy and gave him the master tapes as she had no use for them, to keep as a personal memento.
The recording is unique for two reasons, firstly, the tape were in good condition and secondly, these live tracks had never been heard since around the time they were recorded in 1984. The concert was one of a series of sell-out performances Brenda gave at the famous Bobino Theatre in Paris. She wanted to record in front of a live audience to capture the atmosphere and humour of the occasion. Imagine a hushed and dimmed auditorium, a capacity audience watching and waiting, into the spotlight stepped a larger than life woman is a flowing, silk gown; her signature silver and amethyst Celtic triskel pendant catching the light as she threw her arms wide to embrace the audience, she roared, 'je..suis..Cornaillaise!'… yes, she was Cornish, she was Brenda! At every concert she poured out her history and traditions, weaving her stories around the songs. She opened the concerts with this introduction, 'My songs are like my friends and while I sing my songs, my mind paints their portraits for you; may I introduce you to my friends'.
When the discovery of the tapes was circulated to the local media here in Cornwall, we expected a few of Brenda's followers from the 60's/70's to show an interest: we hadn't expected the overwhelming response with TV, press and radio coverage, it was if most of Cornwall and the worldwide Cornish diaspora had been waiting. We gave it a great deal of thought – OK, we had a tape of a concert of Brenda that was playable. It was too long: there were 26 tracks, with several tracks of just Camborne Town Band, plus a lot of chatting by 'Mama Brenda' in French, cajoling, bantering and flirting with the audience, who added the expected responses by joining in and laughing.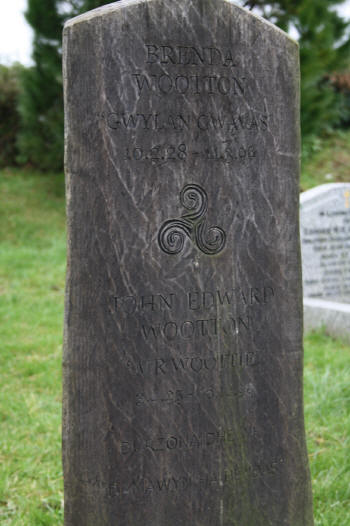 This 'up-side' was that we had a good quality recording, representing Brenda at her peak and a potential product that would be unique. As usual, she got her own way and steered by the metaphysical force that was Brenda - we decided to look at it as a project, using the skill set that we have - it would cost us, but mostly as time. John spent weeks carefully re-mastering, restoring and editing and digitising the tape for reproduction, while my role was to research Brenda's life and career towards producing a 16 page booklet as the inlay and generally getting the story behind the tapes 'out there'. We chose one of the tracks, 'All of Me' as the title for the CD because the content is quintessentially everything that was Brenda.
Some of the songs have never been recorded previously, while others are new arrangements from across her repertoire; what makes it exceptional is the live ambience, encapsulating Brenda doing what she did best, standing in front of a spellbound audience weaving her Cornish magic. Personally, one of the most rewarding aspects of this project has been the communications from around the world. From a woman in Port Angeles, in Washington, USA who heard 'Tishamingo Blues' on Youtube and preferred Brenda's version to Duke Ellington's, to a sweet old lady who was a fan in the '60s, back in the 'Pasties and Cream' days who still quotes a line to her grandchildren, 'When you taste that 'ansum crust, you could eat 'til you bust'.
Brenda was made a bard of the Cornish Gorsedd and her name was Gwylan Gwavas – Seagull of Newlyn; to the Bretons – Godmother of the Celts; to her grandsons – Damawyn; to the French, Dame de las chanson Cornouillaise – Cornwall's first lady of song. The name Brenda would have been most proud of is La Grande Cornouaillaise - the Great Cornishwoman. Brenda was the real deal, she wasn't contrived as a product to promote Cornwall or manipulated by the media. One of the tracks is 'Cornwall, the Land I Love', it includes the line, "Kindred is strong and it's where I belong", just about says it all.
'All of Me' is a triumph of 21st century technical skill, while the musical quality has stood the test of time; it's significant for Brenda's fans and, hopefully, will be discovered by whole new audience. It's not fey or obviously folksy but I defy anyone who empathises with a great singer's passion for her Celtic traditions and way of life, not feel a tingle of emotion on hearing, 'Lyonesse' and 'Pyu an Wor', or the beautiful, 'Silver Nets'…we haven't got a statue to celebrate her unique contribution to Cornwall's culture…. until then this CD will have to be a musical memorial.
The CD has been produced independently and is available in some shops but mostly sold on line from www.brendawootton.com. For enquiries call Gloria and John on 01326 280532
Thanks to Brenda's daughter, Sue Ellery, for the photographs http://www.brendawootton.eu.
Rupert White's book 'Folk in Cornwall', on the 60's folk music revival, is due out in the middle of 2013 http://www.facebook.com/FolkInCornwall