New art-spaces in Bristol
Laura Mansfield
Laura Mansfield is a writer and researcher who has lived in Bristol and undertaken curatorial projects in the city.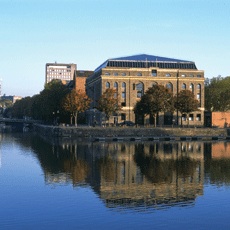 The centre of Bristol nestles around the town's harbour. Once a bustling commercial port the harbour is now populated by leisure boats, barges and day trip vessels. Standing on the edge of the harbour is Arnolfini, Bristol's contemporary arts gallery (picture right). Since its initial conception in 1961 the Arnolfini has developed a reputation as a centre of contemporary exhibitions in the South West. The building houses a cinema, lecture theatre, theatre space, black studio, resource centre and three exhibition areas. The gallery program utilises all spaces in the formation of diverse and engaging exhibitions that include programs of artist's talks, film screenings and performance events. The Arnolfini further has a progressive educational program holding artist's workshops in relation to the current exhibitions that are hugely popular with Bristol families and young adults.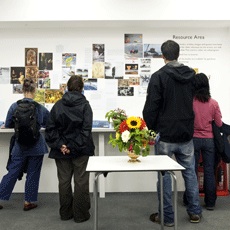 Alongside the visual arts the gallery has a strong live art, contemporary performance and dance program hosting internationally renowned artists through a variety of programs and festivals. Inbetween Time, Arnolfini's festival of international and local performance work, is an innovative and contemporary event supporting a variety of new work alongside a program of artist's talks, lectures, films and workshops. The live art department further supports new companies and artists living and working in the Bristol area under the "We Live Here" development scheme. Previous associate artists have included Deer Park, Special Guests, These Horses and Alex Bradley.
The gallery building is also home to the Arnolfini Bookshop stocking an excellent selection of art books, journals and contemporary magazines, covering visual arts, philosophy, theory and live art. The bookshop is an invaluable source for those living in Bristol, not only through the diverse range of stock but the willingness and knowledge of the staff to assist in any enquiries from new titles to classic works.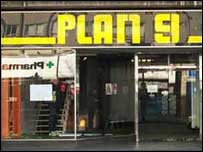 The Arnolfini is often host to a series of lectures programmed by Situations, a research and commissioning body based at the University of the West of England. Situations was devised to investigate the significance of place and context in the curating and production of contemporary art, often commissioning innovative artists' and curatorial projects outside of the traditional gallery structure. Situations is currently programming a series of curatorial residencies with the Zagreb based collective What, How and for Whom working in the Bristol and Cornwall areas until the end of the month investigating the question "What is an Organisation?".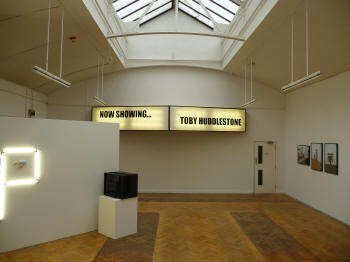 The questioning of an organisation's structure and intention is further reflected in the development of independent artists spaces growing up across the city of Bristol. The closure of the Arnolfini for redevelopment between 2000 - 2005 saw a burgeoning of independent art spaces in the city as both a response to the closure of the main gallery and a reflection of redevelopments happening across Bristol, bringing up empty spaces that were readily utilised by the arts community.
Plan 9 - an artist led organisation prominent within the city's artistic community - had its roots in the independent spaces growing alongside the Arnolfini's closure. Initially being located in an empty shop in the Broadmead area of Bristol (picture above right), Plan 9 used the space as both an exhibition venue and a site for discussions and artist's talks. The group has now moved to a new building in the centre of the city which was previously Bristol's Police Station (picture left and below). The move has enabled Plan 9 to provide studio space for artists and a residency program alongside a contemporary exhibition venue. Plan 9's gallery program and accompanying series of artist's talks and residencies focuses around a drive to investigate different modes of artistic and institutional practice. For example the current exhibition In the Beginning curated by artist Chris Barr examines the use of narrative and language within methods of artistic production.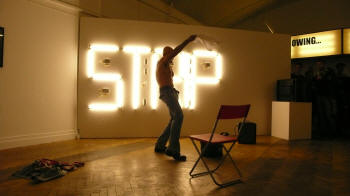 The growth of independent art spaces in Bristol was further fostered through the dynamic focus of Spike Island (pictures below left and right). Along the docks from the Arnolfini Spike Island is a former tea-packing factory housing an impressive gallery space, associates resource centre, print, sculpture and painting studios and a good value café/canteen space.
With the appointment of a new director, Lucy Byatt in 2000 Spike Island entered a rigorous program of artist's talks, and international residencies. Spike Island offered a platform and space for interaction with contemporary practitioners from both local and international arenas encouraging the local community to become more proactive in their artistic ambitions.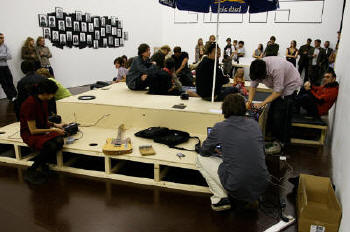 Lucy Byatt further initiated a redevelopment program that has seen a restructuring of the gallery space to include a dark studio for film screenings and three separate exhibition spaces (picture left). The redevelopment by architects Curso St John further saw a restructuring of studio spaces and the establishment of a commercial design incubator enabling young design based businesses to have an affordable workspace and professional mentoring under the Spike Design scheme. Spike Design is now renowned for its position as the largest design incubator in the South West.
The print studio has further seen developments with the appointment of its own director and the undertaking of specialist artist commissions most recently producing a Richard Long print for sale throughout the duration of his exhibition in the main gallery building. (Richard Long and Simon Sterling 4 October - 23 November, 2008, Gallery 1). The print studios are further an invaluable source for artists living in the Bristol area. With an open membership scheme individuals can use the print facilities over different periods of time depending on the needs of their practice. The print studio's further hold their own exhibitions often selling work to studio visitors.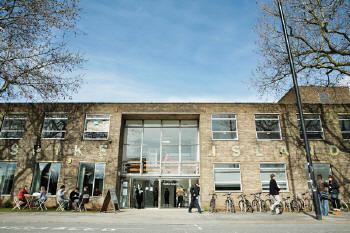 The setting up of a resource centre with computer equipment including scanning and film editing software alongside a library of artist's book and catalogues has further opened up the studio spaces to other practitioners in the city. The resource centre is also home to an Associates scheme, which enables non-studio holders to use the facilities and provides a social group which can initiate events and exhibitions from the resource centre base. The associate scheme has ample opportunity for artists to develop collaborative projects or undertake independent research. The current Associate event, Responses: three approaches to one space curated by Katherine Daley-Yates sees three artists responding consecutively to the dimensions of the gallery project space in a limited time frame. The associates scheme is an invaluable resource for recent arts graduates who decide to stay in the city and produce work, enabling feedback and discussion on their developing practice.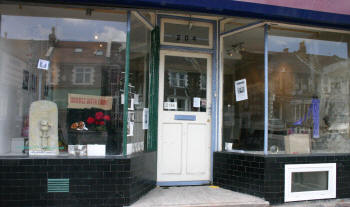 Recent graduates have also set up independent spaces in the city responding to the availability of sites in the commercial redevelopment of the Broadmead shopping area. One such notable space is 204, 204 Gloucester Road Bristol (picture left). The space is run by a collective of recent graduates, Re:play, using the shop as a site for a residency studio and the shop windows as a temporary exhibition venue. Individual artists can exhibit work in the window of the shop for a maximum of two weeks before the installation of work changes to another practitioners, creating a high turn around of exhibitions and a vibrant space of display.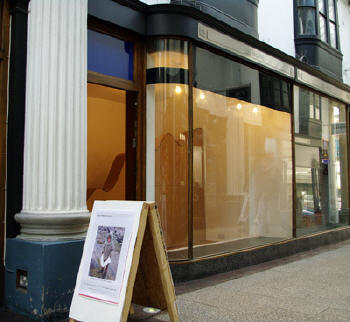 Other recent graduates Rhys Cohen and Hannah James have set up a small gallery and studio space "Rhys and Hannah Present" as a mode of collaborating and developing their individual practices (picture right). After both exhibiting in New Contemporaries 2007 they decided to develop their shared aims to initiate a platform for young and emerging Bristol based artists to show work in the city, further developing links with other emerging and established practitioners based in different areas of the UK. The recent exhibition O p e n e n d e d curated by Manchester based artist Maeve Rendle reflects one such aim. A series of exchange exhibitions o p e n e n d e d saw a selection of Manchester artists exhibit in "Rhys and Hannah Present" after Rhys and Hannah's own participation in a similar show in Manchester. The couple are setting up networks of emerging practitioners and fostering new avenues of artistic practice.
The city of Bristol is home to a multitude of different art spaces and centers of practice. It is a dynamic city with a strong arts community. With recent graduates from UWE School of Art and Design continuing to stay in the area the city is developing an ambitious edge within its arts production and an engaged community of practitioners.
Useful links
www.arnolfini.org.uk
www.plan9.org.uk
www.rhysandhannahpresent.blogspot.com
www.situations.org
www. www.openendedproject.com
www.watershed.co.uk
www.bristol.gov.uk/museums
www.cubecinema.com