Little man...small pictures...big themes...
Stephen Prince
The Tate collection is full of gems, not least of all The Sleeping Fool (1943) by Cecil Collins (1908 – 1989).
As a student in London during the mid 1970s I used to seek out this little picture at the Tate Gallery (now Tate Britain) and it was to be found, I recall, at the bottom of an undistinguished stairwell at the rear of the building, tucked away along with a few examples of British Surrealism (Cecil had been included in the 1936 "International Surrealist Exhibition" at the New Burlington Galleries, London).
Cecil (born in Plymouth) was on the staff at the Central School of Art where I spent three years as a student in the painting department and later almost five years as a technician. He was an odd little man – his clothes, possibly because of his humped back, seemed too big for his aging body – he looked rather like a kindly and softly spoken old professor, which I guess he was!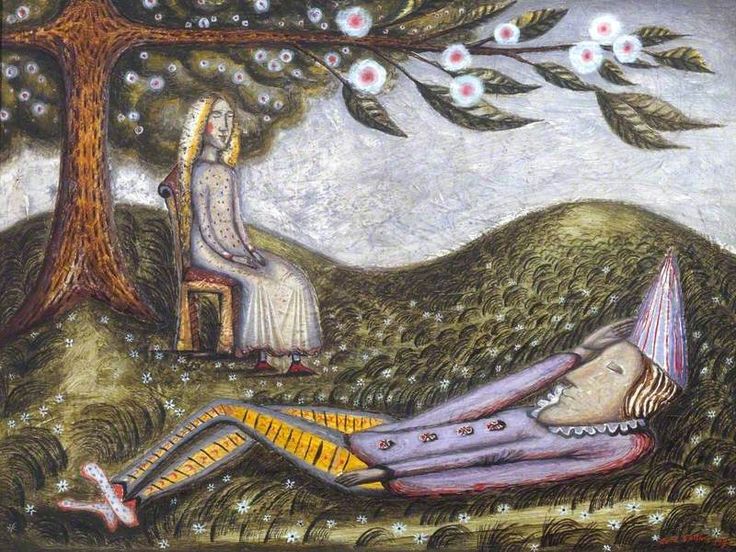 Cecil never taught me. He seemed to gather his own devotees about him by netting, it seemed to me, the more indecisive, more malleable students who might be receptive to his particular philosophy and magic. Along with one or two other members of staff who had been at the Central for many years Cecil was somewhat marginalised, if not plainly ignored, by the younger generation of art teachers within the department. Cecil just got on with his own thing!
When in 1975 it was suggested by the powers that be that Cecil should retire there was something of an outcry and a lot of influential art world folk insisted that the rules be relaxed in favour of Cecil's case and that he should be allowed to continue teaching. This he was allowed to do and when I returned to the Central to take up the available technician post I found one of my duties was to set up Cecil's life drawing room. This entailed arranging tables in a semi circle equipped with drawing implements and large sheets of paper (lots of it). All other furniture and props were removed to facilitate freedom of movement. Cecil would have both students and model moving about, movement was part of the experience along with quill pens and flowing ink. The students also drew with there eyes shut tight and often to music. All took place behind a closed door, screened for total privacy.
Rose Hilton describes taking part in the classes some time after I left the college in an article in a recent edition of the Tate etc magazine.
The influence of Cecil's teaching has evidently been long lasting. I recently saw a brochure listing an ex-student of Cecil's recreating the Collins life class experience at a spiritual retreat in Dorset.
In 2008 Cecil was included in a celebration of the legacy of William Blake Blake's Shadow: William Blake and his Artistic Legacy at the Whitworth Art Gallery, Manchester. This places Cecil in a context more suited to him than Surrealism. Cecil's own legacy is not to be doubted. The Tate owns 75 of his works all of which are fascinating, absorbing and many, just outstanding.
http://www.stephenprince.co.uk
12/10/16