Cornwall Folk
Following the release of the CD 'Oh for Summer', writer and Incredible String Band folklorist, Grahame Hood reflects on the Famous Jug Band and their links with Ralph McTell and the Folk Cottage at Mitchell.
They were named ironically, of course, though they certainly were a band, featured a jug, and for a year or so were moderately famous in the days when every town of any size in Britain had at least one folk club, not to mention every college and university.
They were Henry Bartlett, Pete Berryman, Jill Johnson and Clive Palmer. In the summer of 2000 they got together again for the first time since 1969. The CD 'Oh for Summer' is the happy result.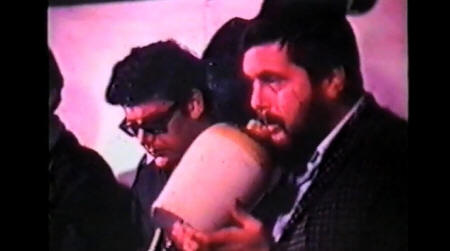 Let's start with Henry (picture right); real name Michael Bartlett, but his stature and beard inevitably led to him being nicknamed Henry VIIIth and it stuck. He came from Mitcham in Surrey, and was part of a crowd who enjoyed folk, blues and jazz music, as was his friend Ralph McTell. Henry ran a few folk clubs in the mid sixties; the Buck's Head in Mitcham and the fondly remembered Olive Tree Café in Croydon among them.
Henry loved obscure jug band and blues records and by 1965 was a member of a band called The Levee Breakers who played around the South East and even got to record a single for Parlophone. Henry sang and played the jug, which a skilled player can blow across the mouth of to produce a pleasing bass sound. It was used commonly by poor rural bands in the US in lieu of a double bass.
In the summer of 1967 Ralph (pictured below at Folk Cottage) went down to Cornwall where there was a living to be made busking and playing in pubs and at caravan sites. He rented a caravan in the country between Mitchell and Newquay. Nearby was the Folk Cottage club, which literally was an old cottage, with a snack and coffee bar downstairs and the club room upstairs. Despite its structural instability and poor sanitation (one Elsan only) it was hugely popular in the summer season, being open Monday, Tuesday, Thursday and Friday nights. Ralph invited Henry (and his jug) down for his summer holidays, which is when he met his wife-to-be, Jenny.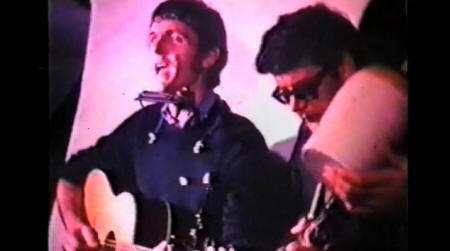 Henry had hardly returned to London when Ralph phoned to say that the organizers of the Folk Cottage wanted to give it up and would he like to take over? Henry was down in Cornwall like a shot, moving into a caravan next to the Cottage with "Whispering" Mick Bennett, percussionist, chef (specializing in pasties, soup and curried shepherd's pie) and owner of a very loud voice.
A mutual friend introduced Henry to guitarist Pete Berryman who was busking (he was playing "Hey Joe" at the time) on the beach at Newquay. Pete had played in rock bands mainly, and had even recorded a single for EMI as a member of the Shondells. In 1966 he had toured England with a folk group called the Haverim.
Invited along to the Cottage, Pete became part of The Great Western Jug Band with Henry, Mick, mandolinist Bob Strawbridge and John The Fish, a guitarist known for his work with Cornish singer Brenda Wooton, who ran another well-known club at St Buryan's near Penzance. Some of the group played on Ralph McTell's first album and a photo of Henry, Mick, John and Pete appeared on the back of Ralph's second album.
In September 1968, Henry and Jenny were married and moved to Penzance. A month or so later, Clive Palmer turned up one night at St Buryan's wearing, Jenny recalls, a coat he had made himself from old Army blankets. He moved into the caravan with Mick.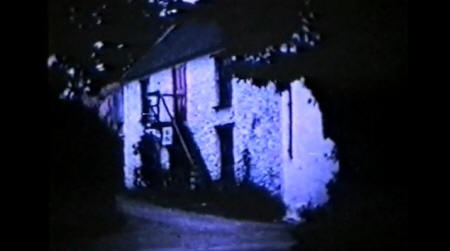 Clive was born in Edmonton, North London, the youngest son of a typewriter engineer who worked in the City, and was given his first banjo, an old Cammayer, by his elder brother. Going for a half-crown lesson every week, he learned to play in the classical finger-picking style, which was something of a dying art even then. Affected by polio, and on his way to becoming a self-confessed black sheep, "they didn't know what to do with me", he was allowed to attend Hornsey Art College at the age of fifteen, which introduced him to lot of new ideas and gave him a far better social life than most people of his age.
In summer he worked as a pavement artist in Trafalgar Square, playing his banjo at night in the folkier coffee bars of Soho. In the days of skiffle, when a banjo player was considered hot if they knew more than three chords, he was streets ahead of other players in his technique. Wizz Jones first met him around this time, and affectionately remembers Clive "maintaining an aura of mysterious aloofness". Wizz and Clive later busked together in Paris in the summer of 1959 and 1960.
Around 1962 he found himself in Edinburgh, and began working with a local musician called Robin Williamson. As Robin and Clive, they made a modest living in the folk clubs of Scotland and the North East of England, making their first recordings in 1963 for a compilation album called "Edinburgh Folk Festival Vol 1", on which they performed an instrumental ragtime banjo/guitar duet called "Jazzbo's Holiday".
Eventually adding a rhythm guitarist by the name of Mike Heron, they became the Incredible String Band and recorded their first album in 1966. Almost as soon as the album was released, the group split, with Robin going to live in Morocco and Clive fulfilling a long-held ambition to travel to India.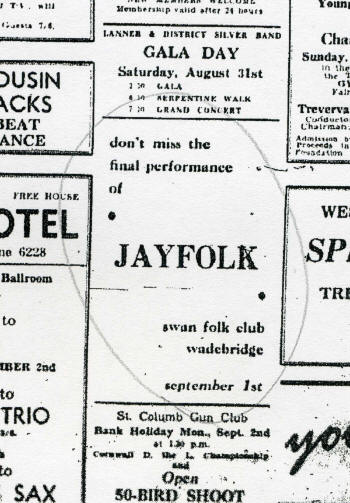 Robin returned to the UK when his money ran out and rejoined Mike to reform the String Band, going on to make some of the most remarkable music of their time until their eventual demise in 1974.
Clive was back in the UK by October 1967 at least; the Folk page of the Melody Maker advertising his appearance at Les Cousins on Friday 19th. "Very fine banjo player. Come early to obtain seats". He also played as a duo with Wizz Jones for a while around this time.
Pete, Clive and Henry formed a trio, and tongues in collective cheeks, called themselves the Famous Jug Band. Taking a break from rehearsing one night they visited the Wadebridge Folk Club to play a few songs. Jayfolk from Truro were playing and all concerned were very impressed with their 18-year-old singer.
Jill Johnson had formed the group at the age of 14 (all long hair and beads) with her twin sisters and her best friend and they had been playing hotels, folk clubs and festivals since. The FJB asked Jill if she would be interested in working with them, and with rehearsals going well, had to ask her father if she would be allowed to go on a tour in the early part of 1969. He agreed.
(The feelings of Jill's fiancé, one Roger Meddows-Taylor, a dental student in London, are not recorded. He should worry. He ended up as the drummer in Queen.)
While on tour, Wizz Jones rang to suggest they paid a visit to Pierre Tubbs, "Head of creative services" for United Artists/Liberty records, who had recently signed Wizz on the recommendation of Roy Harper. Invited to Pierre's office, the FJB ran through a few songs and Mr.Tubbs had to admit he was impressed. "I loved Jill's voice. That's why I signed the buggers!"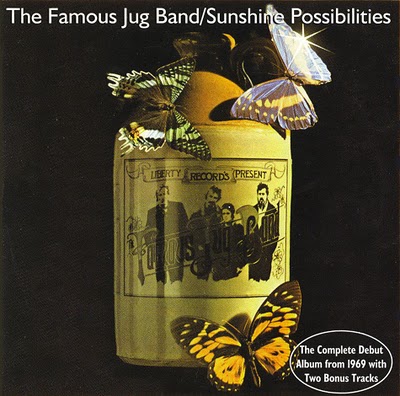 "Sunshine Possibilities" was recorded in a maximum of two days and released in July, preceded by a single "The Only Friend I Own"/"A Leaf Must Fall" in May. It is a very varied, but highly enjoyable album, with tracks ranging from a solo guitar workout through a mildly amusing barber-shop quartet number to "A Leaf Must Fall", an outstanding ballad by Clive, sung beautifully by Jill.
The jug band sound is at its best on "Only Friend I Own", a song by Pete in the good old "lost my girl but still got my guitar " vein, and the joyful "Saro Jane" which features a great jug solo by Henry!
Exactly where, when and why Clive left, no one remembers for sure. Jill vaguely recalls him staying behind after a gig at and not turning up for the next one. Jenny is pretty certain this must have been about July, as she was heavily pregnant with their first child, who was born in August, and that was the only time she ever went on tour with them. They certainly played the Cambridge Folk Festival, in the first week of August, as a trio.
Wizz Jones nearly joined them at this point, but again memories are vague. He definitely remembers rehearsing. Henry thinks they may have done a couple of gigs together at the Folk Cottage, and one reference source suggests Wizz did two radio broadcasts with them. In May and June!
Clive returned to Cornwall and formed a band called The Stockroom Five with Mick Bennett, John Bidwell and Tim Wellard, playing old-time country music by the likes of Uncle Dave Macon. They evolved into the Temple Creatures whose music was much more ethereal, with many Eastern influences. In 1971 Clive formed C.O.B.(Clive's Original Band) with Mick and John, who went on to make two albums, both of which are now very rare.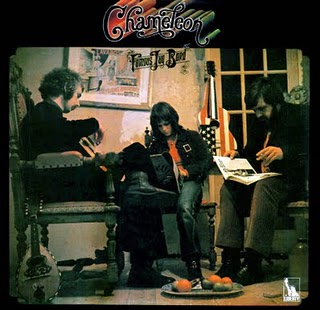 The FJB continued as a trio. Clive's absence meant that both Pete and Jill had to take a larger share of the lead vocal duties, but they both rose to the challenge. The first album had only sold moderately, but Liberty were happy for the band to record a second one, especially as recording costs were likely to be low. They also advanced them the money for a Transit van and a new Simms-Watt PA system, though the band did have to take a Liberty Records publicity board with them to every gig.
The FJB also had a sponsorship deal with The Cornish Mead Company and gave out small promotional samples in miniature jugs emblazoned with the band's logo.
The Jug Band's second album "Chameleon" was issued in 1970. Many of the songs were by Pete and his songwriting had improved immeasurably since "Sunshine". The basic sound was simply three voices, a guitar, and a jug, with only a few overdubs (percussion and electric guitar) added. Perhaps surprisingly, it worked. Some of the material was extremely ambitious, notably "Golden Years" with its subtle use of electric guitar and time changes. The final track "Chameleon" which ran into Michael Chapman's song "Rabbit Hills" was lovely.
The touring continued and the band acquired a new manager, who suggested that they base themselves in London. They nearly split up at the end of the summer, Pete intending to form a band with guitarist John James. Instead the FJB decided to carry on and invite John to join them.
After only two gigs it became obvious it was not going to work and John left. They placed an advert in Melody Maker for new musicians (Pete at one time talking of electrifying the band and even adding drums and a horn section) and were joined by a Hammond organist by the name of Tim Rice (not the famous lyricist). Jill began to find the schedule too stressful and started to become ill. The band split when she left in April 1971. "Pete drove me down to Cornwall, dropped me off at my parent's house - and then left! I didn't hear from anyone for 25 years!"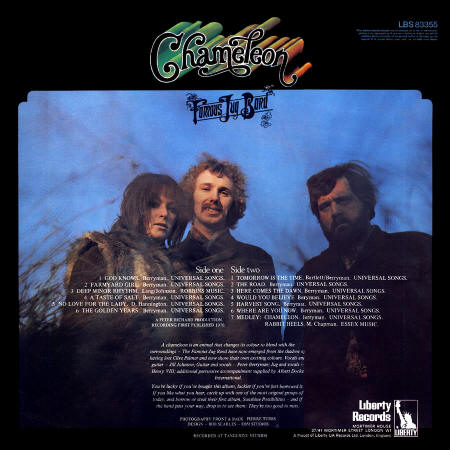 Jill recovered and eventually moved to California, latterly teaching business computer applications at a college. She returned to Britain for a holiday in 1994, and met up with Henry again.
Henry had stayed on in London and played with various other musicians, as well as running clubs. In 1974 C.O.B. split up and Henry joined Clive and guitarist Chris Newman to form a band to play the dates C.O.B. were still contracted to do. When Clive married the same year, Henry was best man. Henry got involved in the antiques trade, eventually moving down to Dorset. He met up with Pete again in 1989 at a Cornish reunion gig organized by Ralph McTell.
Since leaving the FJB, Pete had carved out a solo career, particularly in Europe, and played in many combinations with musicians such as John James, Julie Felix and Brenda Wooton. He had recorded with Clive in the mid-seventies and in 1994.
Clive himself had returned to live in Cornwall, doing occasional gigs, and recording several cassette-only albums while working for the local council. He eventually took early retirement and moved to Brittany.
By the mid-nineties interest in the Incredible String Band and their offshoots was growing, helped by CD reissues of their earlier albums and a fanzine called "Be Glad". I was involved with the magazine from the first issue, to which I contributed a piece on Clive, concentrating on his time with C.O.B. In early 1997, I got in touch with Henry about doing an article on the history of the FJB and visited him twice at his home in Ibberton, Dorset. He had recently made contact with Jill again, and they had started writing songs together (by post, and later, internet). The article appeared in the summer 1997 issue of 'Be Glad', and led to Clive making contact with Henry.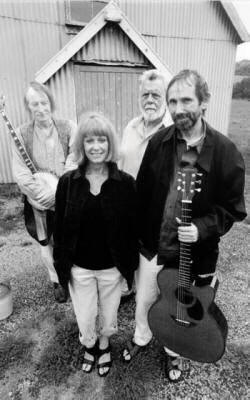 Things were stirring in the Incredibles camp. Robin and Mike had got back together for two gigs and in 1999 Robin and Clive released an album called "At The Pure Fountain" and did a short tour to promote it.
1999 also saw the CD reissue of "Sunshine Possibilities", with two extra tracks from "Chameleon" added. On the penultimate day of the 20th century, Robin, Mike and Clive played a one-off gig in Edinburgh. This set the stage for a proper ISB reunion tour in August 2000 with the original trio joined by Robin's wife Bina and keyboard player Lawson Dando.
All of this meant that Clive was spending more time in the UK than he had done for a long time and the possibility of an FJB reunion became a real one. Pierre Tubbs was approached and happily agreed to produce a new recording, and a date was finally found when Jill could come to the UK, Clive was here to work with the Incredibles and Pete could find a gap in his gigging and teaching schedule.
An ex-BBC engineer with his own mobile studio was found living only a few miles from Ibberton, and in summer 2000, 18 basic tracks were laid down in the Village Hall. Fortunately it didn't rain, this being made of corrugated iron, though the odd farm animal noise had to be removed from the tape. The basic tracks were completed in less than two days, with extra parts being added later in studios in London, Cornwall and California.
'O for summer'. The title track is classic Clive, with his voice and banjo sounding like dusk falling. Lovely guitar from Pete and harmonies from Jill. And the jug. A reminder that the FJB were really rather special.
Grahame Hood July 2001.
The top three images are from a film made by the Newquay Film Society in 1968. Grahame's Empty Pocket Blues is available through Amazon. See also interviews section of artcornwall.org