Settlements
David Spero
Introduction
'Settlements' is an ongoing photographic record of self-built homes and structures in a number of low-impact land-based communities in Britain that wish to explore ways of living on the land in an ecologically sustainable way. Their aim is to be at least partially self-sufficient. They use renewable energy sources, grow food, and recycle and locally source building materials. These photographs chart the evolution of these communities through their homes, communal spaces and infrastructure.
Planning conflicts surrounding these structures raise questions about planning values and judgments, the privileged gaze, aesthetic elitism and who is allowed access to live and work on the land.  The communities have been slowly challenging and shaping changes in judgments on planning laws and its application at a local level.
Photographs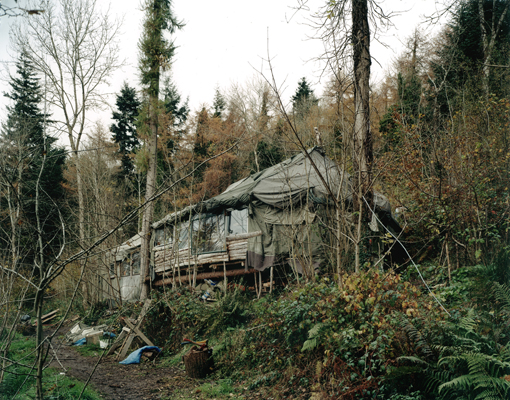 'The Longhouse'  communal space and new kitchen, Steward Community Woodland, Devon, November 2004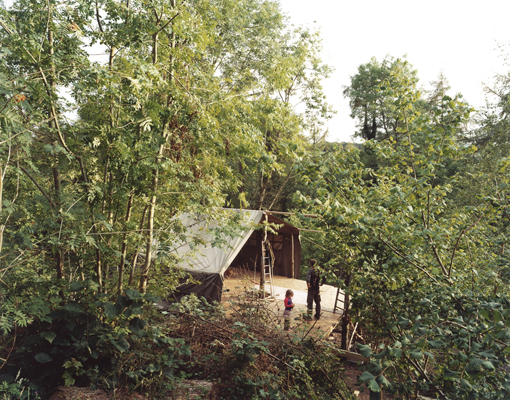 John, Sonya, Daisy, Marley & Asher's, Steward Community Woodland, Devon, August 2004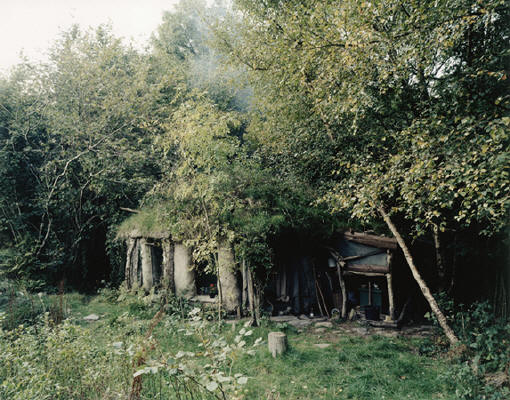 Brigyn's, Tir Ysbrydol (Spirit Land), Pembrokeshire, October 2004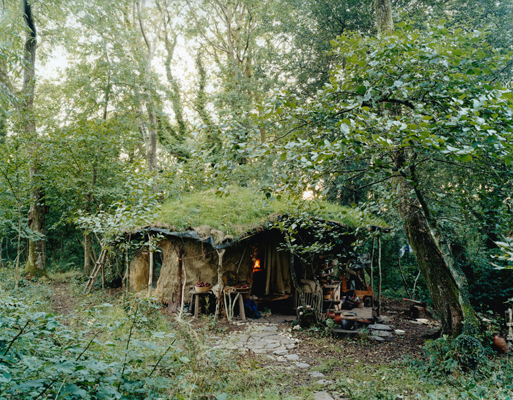 Emma and John's, Tir Ysbrydol (Spirit Land),Brithdir Mawr,  Pembrokeshire, October 2004.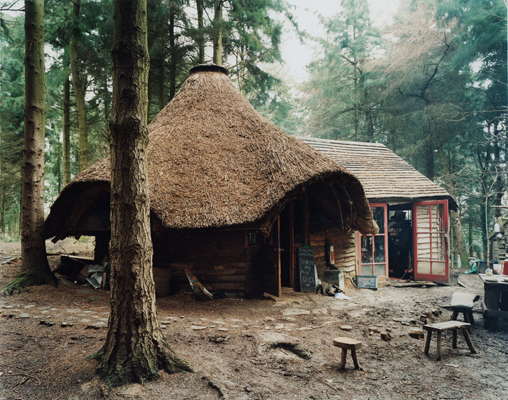 Communal round house and kitchen, Tinkers Bubble, Somerset, February 2006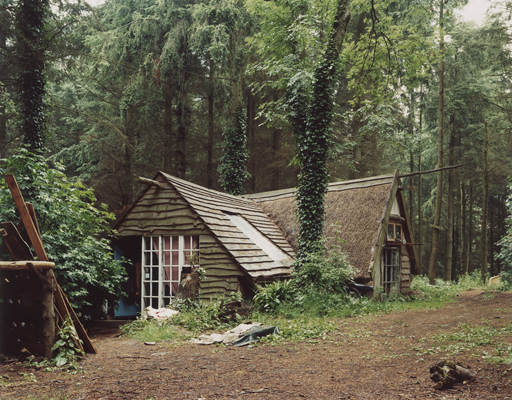 Mary and Joe's, Tinkers Bubble, Somerset, June 2004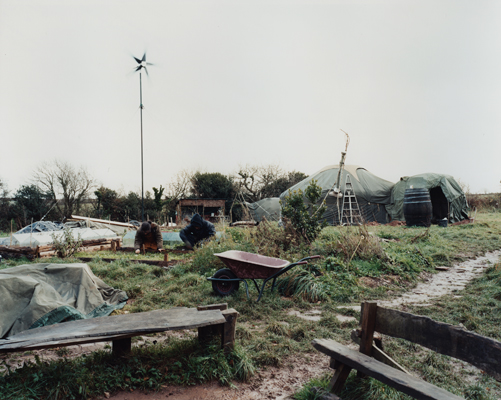 Josh's garden and new communal yurt, Land Matters, Devon, November 2008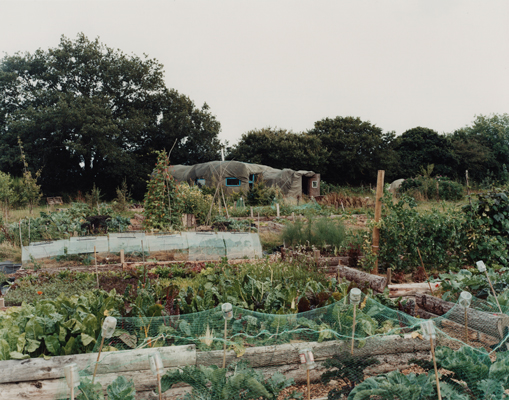 Robin and Annie's and communal garden, Land Matters, July 2009
All prints are 604mm x 750mm
Community history and notes
Steward Community Woodland – founded in 2000 as a co-operative based on permaculture and vegan principles, combining woodland conservation management techniques with sustainable living. Granted five years' temporary planning permission in 2002 after two appeals, and renewed in 2009 following a further appeal.  Currently 12 adults and 9 children. Electrical energy is sourced from solar cells and a water turbine.  Coppiced wood is used for cooking and heating. Income is derived from the woodland, running courses and local environmental, community and care work. Children are home-educated and organic food is grown.
Tinker's Bubble - founded in 1994 on a smallholding with the objective of creating sustainable livelihoods with minimal environmental impact. In January 1999 it finally received 5 years temporary planning consent, renewed in 2004. Consisting of 43 acres of conifer plantation, orchards and gardens, with around 10 adults and 4 children. Solar and wind electricity sources. Steam powered saw mill. Coppiced wood is burnt for heating and cooking.  Water is pumped from a spring and a shire horse is used for logging and field work. No fossil fuel engines are used on the land. Income is from organic market farming, greenwood crafts and value added product derived from the land.
Brithdir Mawr - founded in 1994 on a former 165 acre farm and home to a mixture of projects aiming at ecological sustainability. Tir Ysbrydol fought demolition orders from Pembrokeshire Coast National Park after being discovered from the air in1998. The park where persuaded to defer their threat of a demolition order after they introduced a new policy on Low Impact Developments in July 2006 . Tir Ysbrydol along with other projects at Brithdir then applied for planning permission to become the first legal low impact settlement in Wales. After a refusal in 2007 and several deferrals they where finally granted three-year temporary permission in September 2008.
Landmatters - founded in 2006 on a 42 acre holding as a co-operative to manage the land based on permaculture principles as well as to provide an educational resource to the wider community. Landmatters applied for temporary planning permission in 2006 and was eventually granted three years temporary permission in 2008 after an appeal. Currently 9 adults and 5 children. Electrical energy is sourced from solar cells and wind turbines. Coppiced wood is burned for heating. Organic food is grown and income is from market gardening, educational courses and local work in the green economy.