Polperro - Cornwall's Forgotten Art Centre
David Tovey
Even at late as 1925, Polperro drew the comment, "Surely there cannot be another place of such quaint rarity - medieval charm set in a gem of Cornwall's most rugged rock scenery - unique and inimitable."¹ Accordingly, the picturesqueness of its setting, as well as the quaintness of many of its individual features, has always attracted scores of artists, leading to comments that it was "the haunt of half the artists of Britain" or that, due to the number of times it had been painted and photographed, it must be "one of the best known villages in the world". However, its history as an art centre has never been researched previously, so that there is no awareness of how it developed or of the range of artists who worked there or of the quality or importance, from both artistic and socio-historical angles, of the paintings produced. My own interest in the subject was aroused by the number of depictions of the village passing through the salerooms by renowned foreign artists. St Ives is normally considered the Cornish destination of choice for international artists interested in marine painting. Accordingly, what was it that drew so many artists of different nationalities to Polperro, leading The Bystander to comment in 1911 that the village, which was hard to beat for "strong-smelling picturesqueness", was, as a result, during the summer months, "invaded by long-haired artists, mostly foreign".² It is this international aspect of the village's artistic heritage which is of the most interest, but let me start by summarising briefly how Polperro developed as an art centre, as it was very different to the other Cornish colonies.
Set in a deep, narrow valley on the south-coast of Cornwall between Looe and Fowey, Polperro was for most of the nineteenth century an isolated community that was very difficult to get to, and the completion of the main railway line in 1859 made no difference whatsoever. The choice facing an artist was to go by boat along a rocky dangerous coast, with the entrance into the harbour being very narrow, or to endure a slow, uncomfortable, hilly, ride from Devonport in a horse 'bus. Accordingly, in the 1860s and 1870s, the majority of artists who made it to Polperro had some sort of Plymouth connection. This changed, though, in the 1880s, largely due to the success of a romantic novel, Adam and Eve, written by Louisa Parr, which drew on Polperro's smuggling past and championed its scenic attractions. Amongst the increased flow of tourists were some artists of stature and Polperro subjects were quite regular features of Royal Academy shows that decade. Indeed, in 1888, Mouat Loudan's Fish Sale, Polperro (on loan to Royal Cornwall Museum, Truro - B&W image above) and Sir William Llewellyn's 'Twixt Night and Day (Dunedin Art Gallery, New Zealand - below left) were two of the most acclaimed works in the show. Several other well-regarded paintings were also sent to the Academy that decade by a pair of art student friends, Herbert Butler (1861-1931) and Charles Boutwood (1860-1937), who had first visited in 1884 and had gone on to marry two Polperro sisters. Butler settled in the village in 1900, set up a School of Painting and lived there for the rest of his life and so is a key figure in Polperro's story. Initially, he painted oils of the fisherfolk, for which his father-in-law, Captain John Pond, often modelled, but is best known for his watercolours of all aspects of Polperro's harbours and streets. Boutwood also retired there, having had a successful career in Chicago.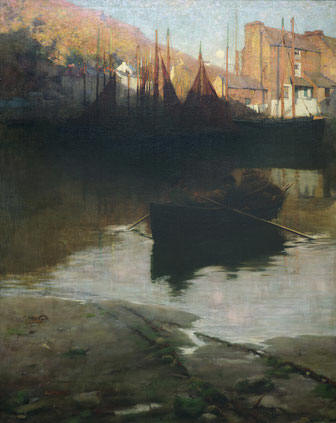 By the end of the 1880s, it looked as if Polperro might join Newlyn, St Ives and Falmouth as an artists' colony, but it did not happen. In my view, this will be principally because the encircling hills that were so much part of Polperro's attractiveness during the summer months, impacted on the hours of daylight in winter, so that there are properties in the village that do not see the sun from October to March. Whilst Butler, for one, championed twilight, dusk and night as great times to capture atmospheric effects in Polperro, most artists will have seen the restricted light as a serious disadvantage. Furthermore, being a narrow valley, it will have been difficult for artists to have secured housing away from the noise and smells of the fishing industry - Polperro often being referred to in those days as 'Pol-stink'! Such issues were not aided by a poor water supply and inadequate sewage and refuse disposal facilities, so that, effectively, the River Pol, which runs through the village, and the harbour were used for these purposes. This led to one American artist, quietly sketching close by a breakwater one morning in 1913, having a pail of night slops thrown over him by a local, who had not seen him there.
However, in addition to Butler, there were a number of artists who worked in the village for a few years, such as Frank Heath (who later settled in Lamorna) and John Park (who later settled in St Ives - thumbnail on index page), whilst the Scot, John Robertson Reid (1851-1926), was a regular visitor from 1901 until his death, so that there are numerous depictions by him of the seemingly idyllic existence of Polperro fisherfolk and their children in British Public Collections. However, there were always scores of British artist summer visitors as well.
The fascinating foreign dimension to Polperro's story seems to have started in earnest in 1894, when Paris atelier master, Auguste Delécluse (1855-1928), brought over a party of thirty female art students, who spent some three months in the village that summer. Delécluse had gained an excellent reputation as a tutor, particularly amongst English speaking female artists in Paris, and this was the second of his summer art classes to visit England. In a letter to Edward Ertz (1862-1954), an American artist, who was teaching watercolour painting at the atelier at that time, Delécluse enthused about Polperro:- "Here we are settled at last in this lovely fishing village, which is so picturesque, with its narrow winding streets, paved with cobble stones and closed in on either side by old fashioned irregular houses and queer picturesque steps. The harbour is very quaint and has mostly old houses over-hanging the water at high tide and at low tide the numerous fishing craft lying about make a most artistic effect. Polperro harbour is unique and there is a rushing little stream running into it which comes down the Coombe and at Crumplehorn the rock-bedded stream is bordered by lovely mere. But the most beautiful part of Polperro is the high cliffs, which enclose the village on both sides and shelter it from the sea. An artist need not go out of his way to find material for his brush and pencil as everything is near at hand - there are pictures at every turn. It is simply magnificent in every way and someone wishing for models will find the Polperro children superb and the Cornish fisherman a splendid type of manhood, picturesque and courteous to strangers. I am enchanted with Polperro and highly pleased to have come all the way from France to establish my summer class here."³
Delécluse himself exhibited a painting of Polperro at the Paris Salon in 1895 and other depictions of it at the Salon and in London exhibitions reveal the identity of some of his students. Ertz himself decided to visit Polperro in 1900, with one of his students, Ethel Horsfall (1871-1919), an English girl, and they decided during their stay to get married and settle in Polperro. They stayed for four years, and set up their own painting school, which attracted artists that Ertz had taught in Paris, such as the American, Ada Lathrop. However, Polperro's reputation in America was made principally by Henry Bayley Snell (1858-1943), who was Head of the Philadelphia School of Design for Women from 1899 to 1943. Having been brought up in Saltash, he first brought across his summer class in 1903 and, as two of his Polperro paintings won him a silver medal at the St Louis World Exposition in 1904, he returned again for visits of varying lengths most summers until 1914. Both he and his wife and fellow artist, Florence Francis Snell (1849-1946), exhibited paintings of Polperro widely and successfully and, as he was President of the New York Water Color Club and Florence was on the jury, the catalogues of that society's annual exhibitions, held each December, reveal many of the students who joined them on their European sketching tours. Quite a few of these went on to become distinguished artists in their own right - for instance, Jane Peterson (1876-1965), considered one of America's most innovative female artists, Isabel Branson Cartwright (1885-1966), one of the leading figures in the all women exhibition group, the Philadelphia Ten, and Harry Neyland (1877-1958), who specialised in the whaling ships of New Bedford, Massachusetts. In addition, depictions of Polperro are some of the highlights of the careers of lesser known artists, such as Lizbeth Hunter (1868-1947) and Lilian Montague (1868-1946). This publicity led to other distinguished American artists visiting Polperro, including Thomas Moran (1837-1926), now hailed as "the Dean of American Painters", who came in 1906, Elmer Schofield (1867-1944), one of the leading figures in the development of American Impressionism, who painting in the village in each of the years 1912-4 and George Macrum (1878-1970), whose painting of dilapidated Polperro roofs was hung at the National Academy, New York in 1914.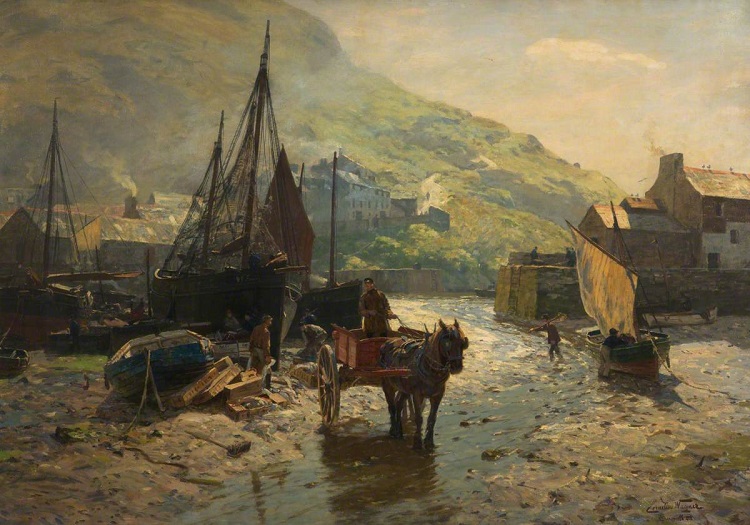 Polperro's reputation also spread across Europe, for the German, Claus Bergen (1885-1964), visited in each of the years 1908-1913, making his initial reputation in his home country, with his atmospheric depictions of Polperro, albeit he used considerable artistic licence in the way that he put together its numerous picturesque features. Fellow German, Cornelius Wagner (1870-1956), had his one success at the Royal Academy in 1910 with 'Low Tide Work, Polperro' (above), which he then gave to Gallery Oldham. Polperro was also visited frequently in the years 1909-1932 by Hendrik Jan Wolter (1873-1952), one of the few Dutch artists to embrace Impressionism, and, like Bergen and Schofield, he captured the two harbours at Polperro packed with fishing boats at the zenith of the fishing industry there, when two pilchard factories were in operation. These factories were an integral feature of the harbourscape for some fifty years and so appear in numerous paintings of the village - the factory run by the Dunn family of Mevagissey, with its green windows and doors, in the Inner Harbour, and that run by the Teglio family of Genoa, which, after 1910, had a distinctive red roof, in the Outer Harbour.
This is merely the story until 1914, but the 1930's can probably be described as the heyday of art in Polperro, for every year that decade, there were several depictions of the village hung at the Royal Academy and a whole range of solo shows around the country devoted in whole or part to paintings of Polperro. By this juncture, its fishing industry was in trouble and an American, visiting in 1931, commented that "there are signs that the village will succumb to the lure of the tourist and spend the rest of her days being blatantly picturesque". However, she concluded, "At the moment - and may it be a long one - Polperro is an enchanted village, struck silent between two eras. Old ways have gone, indeed, but the shell of them still stands, perfect to the last detail, ready to crumble at a touch. She is the lost Atlantis, deep sunk in the greenness of unnoticed history."⁴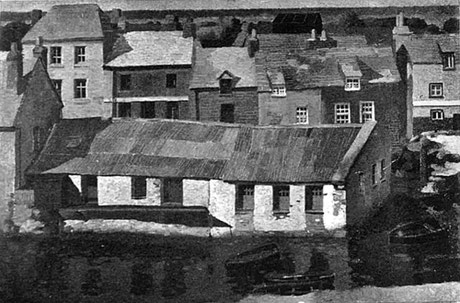 In addition to further Americans, the village was also being visited by Australians and New Zealanders, and it is interesting that many visitors now chose Polperro as their sole Cornish painting destination, not bothering with the more well-known colonies in West Penwith. One of the most celebrated visitors was Teng-Hiok Chiu (1903-1972 - right), now hailed as the first Chinese modernist painter, but then painting in a western style, reflecting his art training in America and London, where he had won the Turner Gold medal in 1929 and sold a work to H.M. The Queen. His solo show at the Fine Art Society in 1930 was full of Polperro paintings and further depictions of the village were included in his second show there in 1936 and in London exhibitions that decade.
Finally, for some nine months in 1939-1940, Polperro was home to the Austrian Expressionist artist, Oskar Kokoschka (1886-1980 - below), ten of whose Polperro works are held in the collections of the Tate Gallery, the Courtauld Institute and the Fitzwilliam Museum, Cambridge. Having fled from Austria to Czechoslovakia and then to England, to escape from the Nazis, who labelled him a degenerate artist fit for summary execution, Kokoschka, albeit reduced to penury and far away from wealthy patrons, enjoyed the genuineness of life in Polperro, but it was difficult for him not to be agitated about his situation, particularly as fears of a Nazi invasion of England rose. Accordingly, there is a good deal of symbolism in his Polperro scenes, which always have stormy skies and restless brushwork.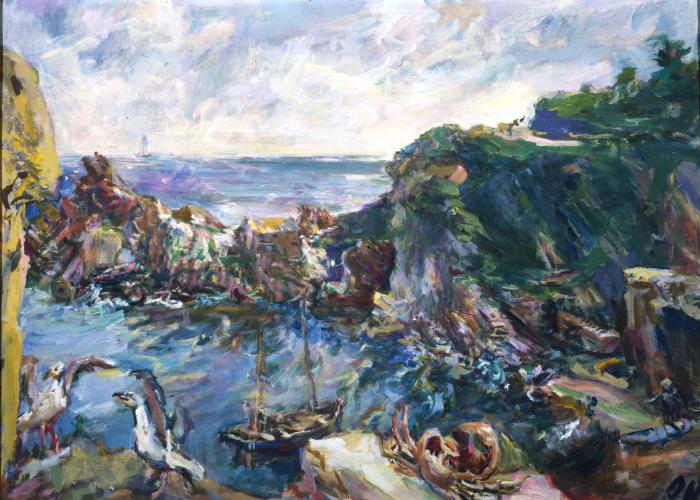 Finally, in the 1950s, it can be contended that an art colony had become established in Polperro - John Betjeman commented in the Shell Guide (1956) that this was evidenced by the plethora of orange curtains on display! The names of such residents - Jack Merriott, Stuart Armfield, Frederick and Anyon Cook, Frederick Roberts Johnson, Alice Boyes, Tom Morton - may not be from the first rank, but nonetheless they have interesting stories and have left a fascinating pictorial record of a village that has managed, unlike most Cornish resorts, to remain relatively unspoilt so that there are still remnants of that "medieval charm set in a gem of Cornwall's most rugged rock scenery". However, even Polperrovians are blissfully unaware of its extraordinary artistic heritage.
¹Western Morning News, 12/8/1925 at p.3.
²The Bystander, 12/4/1911, at p.78-9.
³Quoted and translated in a letter from Edward Ertz to Western Morning News, 19/4/1904 at p.7.
⁴Dorothy Sheffey Baldwin, Polperro, A Remnant of Old Cornwall, The Baltimore Sun, 24/5/1931, at pp.10-11.

For more information and links to David Tovey's new books on Polperro visit https://www.stivesart.info/