Denis Mitchell's 'Trewarveneth'
Malcolm Hill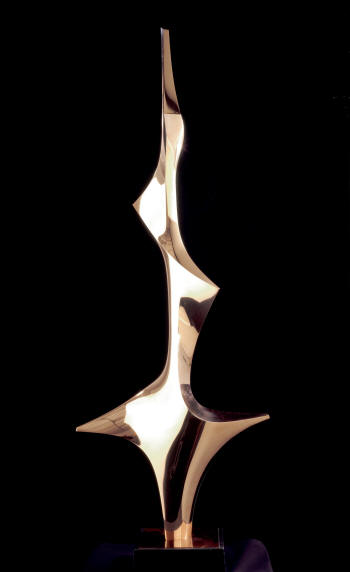 Denis Mitchell was born in Middlesex, lived most of his life in St Ives and Newlyn but spent his first eighteen years in Swansea and Mumbles. In these formative years, one place that awakened his interest in art was the Glynn Vivian Art Gallery in Swansea, to which he made frequent visits. He also attended evening classes in painting at the Swansea School of Art. He never forgot his ties with Wales, returning throughout his life to holiday in Swansea and Gower.
The Glynn Vivian has held two memorable solo exhibitions of his work – a retrospective in 1979 and an exhibition in 1994. Hence it is fitting that Trewarveneth should be a part of the Permanent Collection here, having been purchased in 1993 by means of grants from the Art Fund, the Victoria and Albert Museum and a donation from the Friends.
The work itself – named after his studio in Newlyn – was made at the end of a sixty year career spent briefly as a painter and then as a sculptor. It was an extraordinary achievement to consider that this work and about ten other substantial works were made between 1990 and 1992 when the sculptor was seventy nine years old. All were shown for the first time at his 80th Birthday Retrospective Exhibition at the Penwith Gallery, St Ives on 30th June 1992.Trewarveneth, together with the other new works were exhibited alongside examples from his whole sixty year output. It was a superb show, a moving occasion, and Trewarveneth was seen by many as the piece which topped-off a long and successful career – a perfect 'swansong'.
Denis Mitchell was a consummate craftsman, at ease skilfully and elegantly carving wood, stone, marble and slate. However his finest work is considered to be his work in bronze. His bronze pieces when returned from the foundry, having been made by a crude sand-casting technique, required a large amount of finishing. He relished this laborious but rewarding workload, 'directly carving' the bronze using chisels and files, ultimately rubbing down and polishing to achieve the finest of polished surfaces. Achieving the final shape and finish being critical to the success of the piece. He made this comment on the subject in the 1950's during his period as chief assistant to Barbara Hepworth at Trewyn. "I learnt that even on a very large scale carving, less than a hair's breadth rubbed off with emery paper could alter the whole sculpture". Some pieces were fully polished and others a combination of polished and patinated surfaces and textures reminiscent of the landscape of West Cornwall – a constant source of inspiration which he responded to in his work.
Trewarveneth is a large bronze, 58inches x 28inches in size, mounted on a base of copper and Delabole slate. Its form consists of a single, dynamic, twisting upward thrust with its inherent concave and convex surfaces reflecting the light on its polished surface. The overall effect being a constant, yet ever-changing shape reminiscent of life's movement and growth. This was a favourite theme of the artist and one he returned to many times and it seems fitting that he has reaffirmed this in one of his last works.
Denis Mitchell died in March 1993 after a long illness and will be remembered for his vast output of superb work, the quality of which I don't think has been fully appreciated. I am pleased that one of his finest achievements is in the collection of a gallery and a city he was particularly fond of.