Glasgow, Julian Schnabel and 25 years of Transmission Gallery
Rupert White
No history of recent Scottish art would be complete without mention of two galleries in the centre of the Glasgow. One, The Modern Institute, has a roster of established and emerging Scottish artists including Jim Lambie, Martin Boyce, Simon Starling, Toby Paterson and Cathy Wilkes, and has been located in an atmospheric red-brick tenement building near the main railway station for more than ten years. A very elderly doorman-come-security guard, gives directions in a soft Glaswegian accent up to the gallery situated on the first floor, the main space of which is about 20ft square with two other smaller rooms adjacent.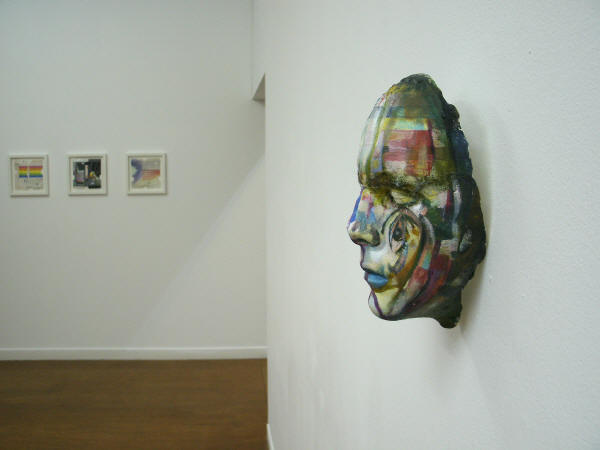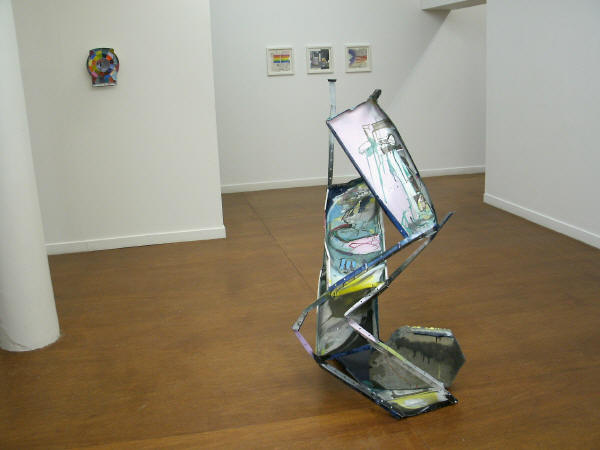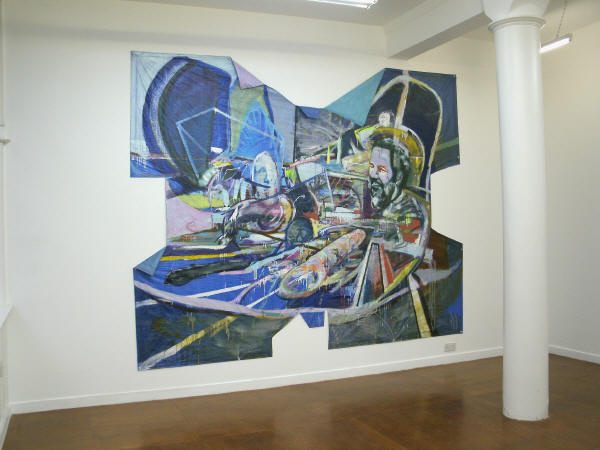 Alex Dordoy, showing there during October 2009, is a painter who graduated recently from Glasgow School of Art. He is not coy about acknowledging his influences. 'Be Just, Just, or just be...' is an exuberant and unkempt painting on plastic tarpaulin featuring a portrait of Julian Schnabel (pictures above X3). He's smiling, as if approving of the work of an acolyte or disciple. Schnabel famously painted on plates, as well as fur and other unlikely supports. Dordoy prefers to use discarded video cases or broken computers. At times, in fact, he seems to be carrying out a luddite act of revenge on technology that is fast becoming obsolete. It is strange that video cassette has already been superseded, and is already capable of evoking feelings of nostalgia. Smaller fetishistic works like Forever for Nothing and New Voodoo (Do You) also make up part of the mix. The former is a plaster-cast face painted with psychedelic colours, the latter a furry painted animal-like form hugging the wall.
Following the Clyde eastwards are two newer commercial galleries. Like the Modern Institute, the impressive Mary Mary also occupies a couple of first-floor rooms, and is currently showing Torsten Lauschmann, a Glaswegian artist originally from Germany. Lauschmann also has a fascination with retro-technology, particularly where it relates to photography, but on the whole his response is more considered and affectionate. The standout work is probably the smallest and most mysterious. 'He's got the whole world in his hand' comprises a laptop impaled with a biro. Although its screen is shattered and useless, its amplifier emits the evocative and otherworldly sound of tuvan throat-singing.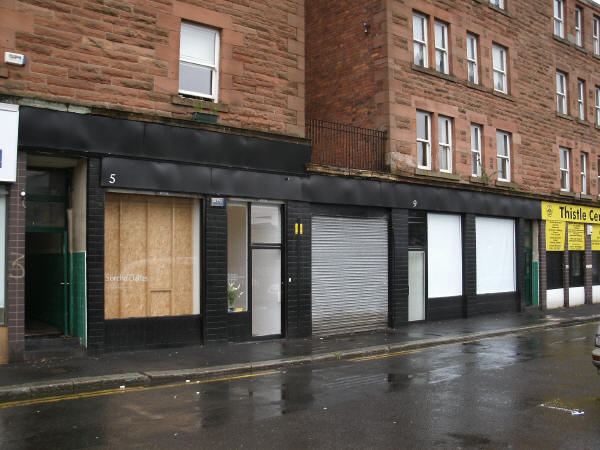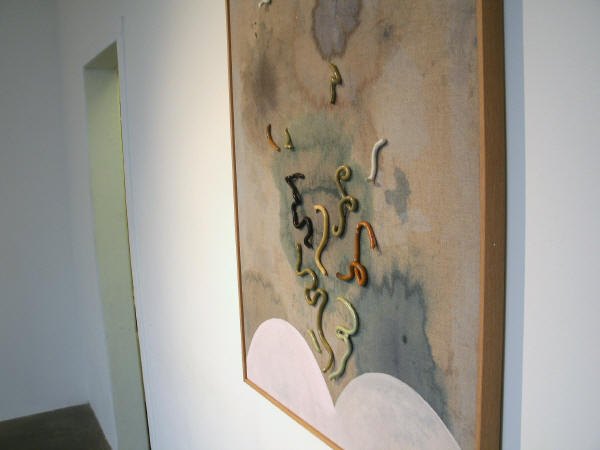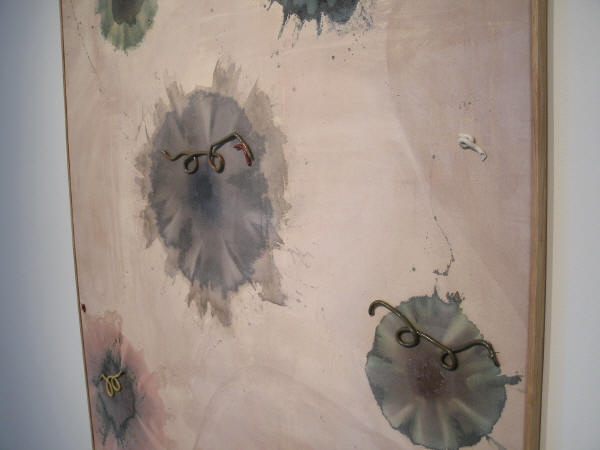 Further east again is Sorcha Dallas, another commercial gallery of increasing influence currently showing the painter Charlie Hammond (pictures x3 above), in two small, adjacent gallery spaces. His works are abstract and less assertive than Dordoy's, and they have an endearingly quirky quality. Two of them reference Kenneth Noland in using acrylic-stained canvas, but in both cases highly glazed ceramic coils enliven the surface and, in looking like oil paint, tease our perceptions.
The other gallery of indubitable important historically, is Transmission Gallery: one of the most famous, if not the most famous artist-run space in the UK. Transmission is 25 years old this year, and it has recently moved back into its former space at 28, King Street: two or three minute's walk from Sorcha Dallas. This is the less wealthy end of the City Centre, and, as well as other galleries, Transmission has tattoo parlours, vintage clothing shops and hydroponics suppliers as neighbours.
Marking the 25th anniversary is a large group show that combines the 'aspirations of a group of artists who have previously shown at the gallery alongside younger or international artists who will show for the first time'. The show feels generous, informal and busy. There's a nonchalance and lightness of touch that is familiar to many artist-led spaces and typical too of earlier Transmission shows.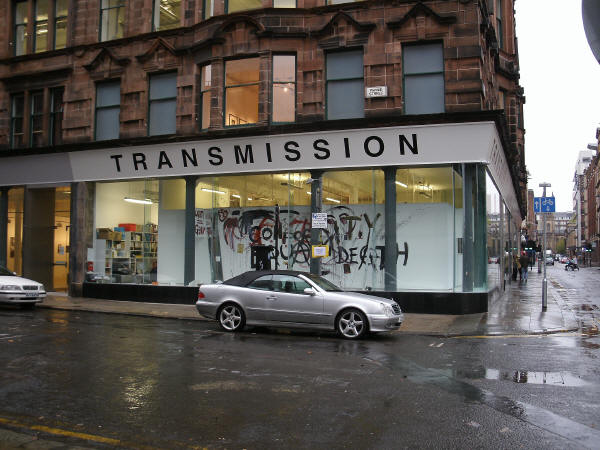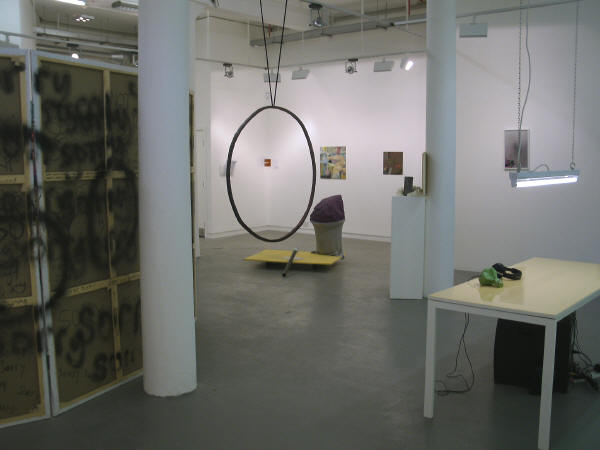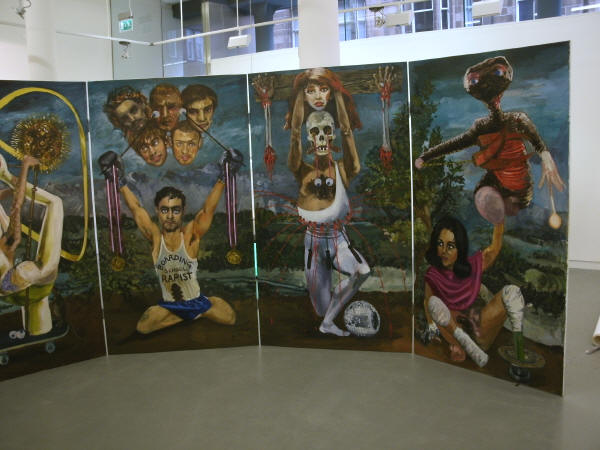 Dawn Mellor's paintings, seen recently at Spacex in Exeter, are compelling and repelling in equal measure. Here five panels featuring the likes of Woody Allen, ET, Elizabeth Taylor, and the singer Kate Bush - all depicted with varying degrees of disfigurement and disease - are arranged in a grotesque parody of religious paintings from the Renaissance. It's hard to decide whether behind the initial impact they offer anything much of lasting value, or even whether they should.
Sarah Tripp's works hidden in several corners of the gallery are more subtle, and reward close inspection. Printed simply on A4, they are a kind of confessional text-heavy conceptual art, applied using a range of different narrative styles.
Indian classical music percolates the upstairs gallery and helps create a mellow, exotic vibe. It turns out to be emanating from a video hidden behind a peephole, itself hidden behind a photograph. This is 'Fried Sweat' by Mika Rottenburg. Also conspicuous in the space is Michael Stumpf's 'Harder, Louder, Heavier (small waterfall)', an abstract sculpture structured around a hoop that hangs from the ceiling.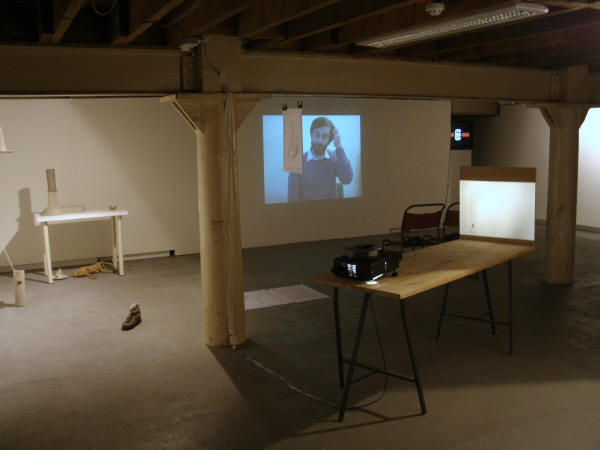 Downstairs, there is something captivating about the narratives accompanying Steven Sutcliffe's two works. One is a short story told by a male voice that drifts across the space. It begins: 'A policeman is walking from London to Glasgow. His handkerchief is wet with tears. As he walks he cries 'I dont want to be cremated when I die, I want to be buried under the M1...'
Other notable works downstairs include Kate Davis' parody of Barbara Kruger's posters from the 80s here recreated as a drawing, and Anna McCarthy's Bored Rebel in Oberpfaffenhofen, a video work depicting the artist-rebel as vain, powerless and ineffectual.
29/10/09