Harness
Seamus Moran
'Harness', armour for a bird by artist Seamus Moran will go on display in the Tower of London on 4th March as part of the Royal armouries 'Inspired by' programme which promotes artworks which have been inspired by the armouries. As well as the Tower, it will also be shown at Fort Nelson and Leeds Castle in 2018.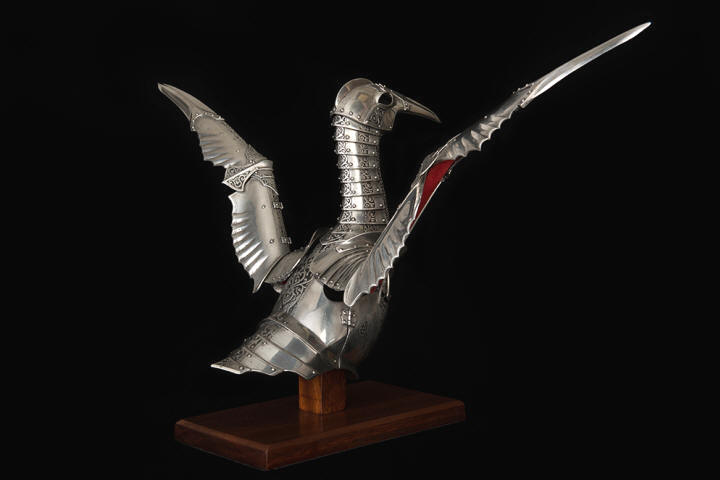 The inspiration for 'Harness' goes back a long way into my childhood. As a young boy I was very much into armour and my first visit to the Royal Armouries at the Tower was in 1972 as a 9 year old. I was astounded by the collection and the incredible craftsmanship and ingenuity of the exhibits. I had a lot of books on armour by then and was quite knowledgeable about all the different styles & periods, so it was great to see so many of the "greatest hits" actually there in front of me. I have visited many times since then as well as other collections around the country.
The idea for Harness came about after a visit to the Tower with my wife back in the 90's. We had been talking about the amazing detail and beautiful decoration which adorned these essentially violent objects and the slightly disturbing aspects of the smaller suits made to fit children. Sometime after this the idea of making armour for a bird just popped into my head. As an artist I saw it as a metaphor for everything which we as humans might burden ourselves with as we struggle through life. Debt, careers, self-image, addiction, religion, wars, failed relationships etc. Some of which are things we take on willingly, some of which are forced onto us, but all of them weigh us down and stop us from realising our potential. Most people live their whole lives in some kind of harness. A bird weighed down in armour, unable to fly and forced to fight; I thought it was a good image. There are also other connotations, the "sport" of cock-fighting for instance which has a certain period relevance to the piece, and the whole idea of display which is associated with birds. It all seemed to fit into place quite convincingly.
I decided fairly early on to avoid a "fantasy" look. I'm always picking up on films which have the wrong armour for the period, or badly mixed up styles and I wanted my piece to pass the "geek test". I wanted something which would look authentic and my aim was to have it displayed among the genuine armour at the Tower without it looking too much out of place. Everything about it had to look the part. I eventually settled on a half armour in a late 16th century Italian style. I thought that the peascod breastplate looked more birdlike and the etched banded decoration suited the display element I was after. It had to look like it was the most natural thing in the world for a bird to wear armour.
My other criteria was that I wanted the armour to be empty, like those on display in the Tower. They are not usually displayed over mannequins, and I didn't want a bird inside my piece either. I invite the viewer to imagine the feathers sticking out, the eyes staring from the helmet, the sound of it all when the wings were flapped etc. I also wanted it empty because the bird is gone, finally flown away, and the armour no longer needed and consigned to history."
Harness is 66 cm wide, 35 cm deep and 30 cm high. It is cast in pewter with stainless steel mail and textile inserts. The original sculpt was in clay from which a silicone mould was taken. Out of this mould was cast a resin master which was then refined and worked to the present level of detail. It is significantly different from the original clay model as I changed my mind many times as I was making it. The master was cut into 10 pieces and the final set of moulds made. From these I cast all of the necessary pieces, fettled and polished them before reassembling them and adding the mail & trim.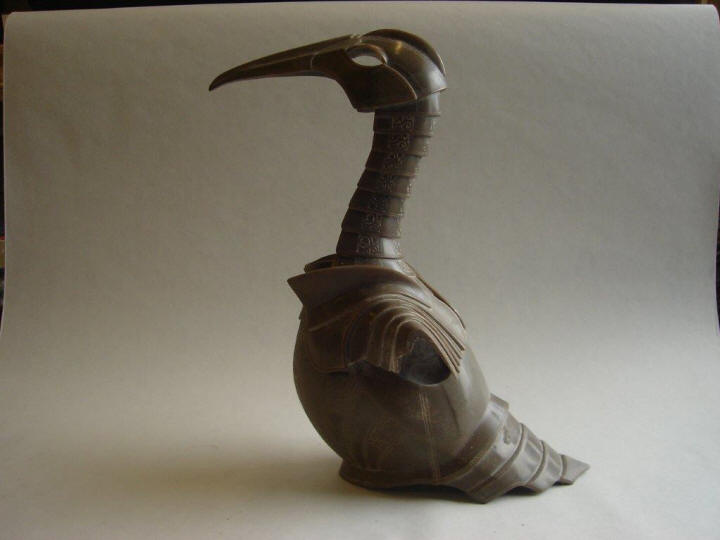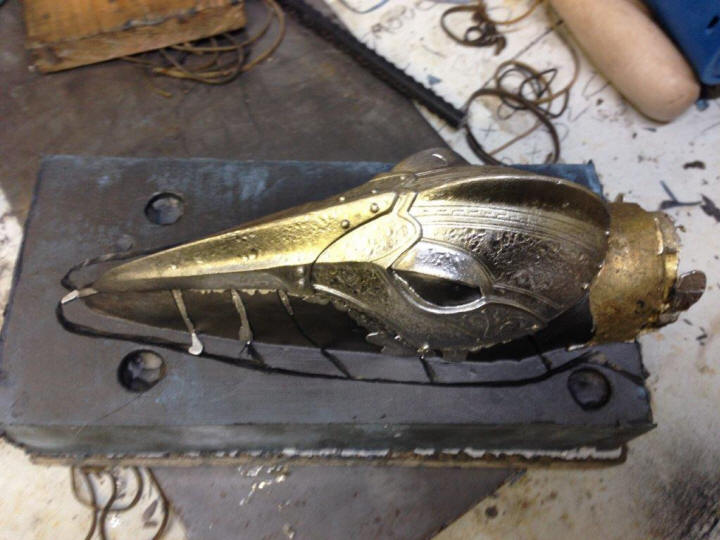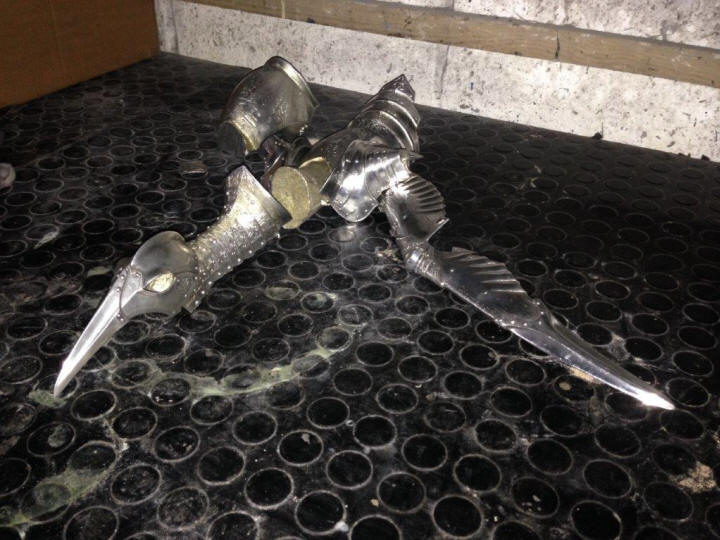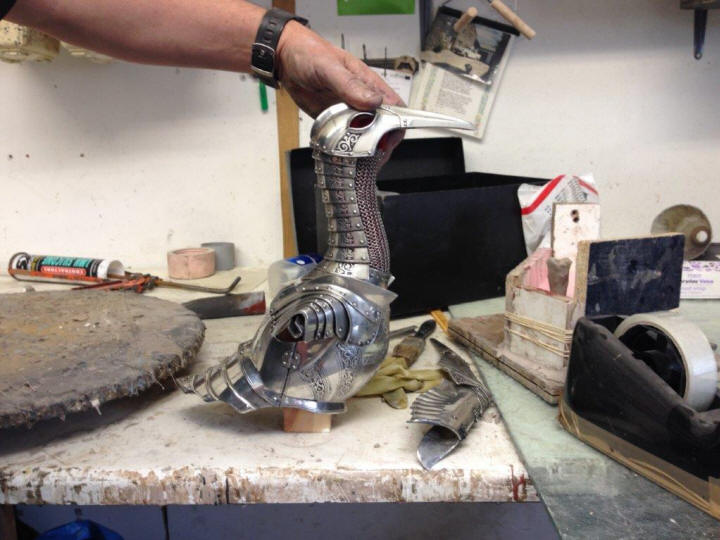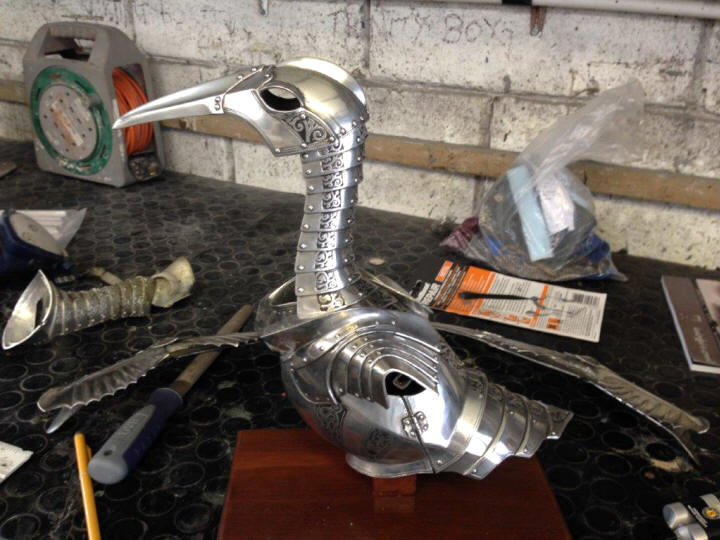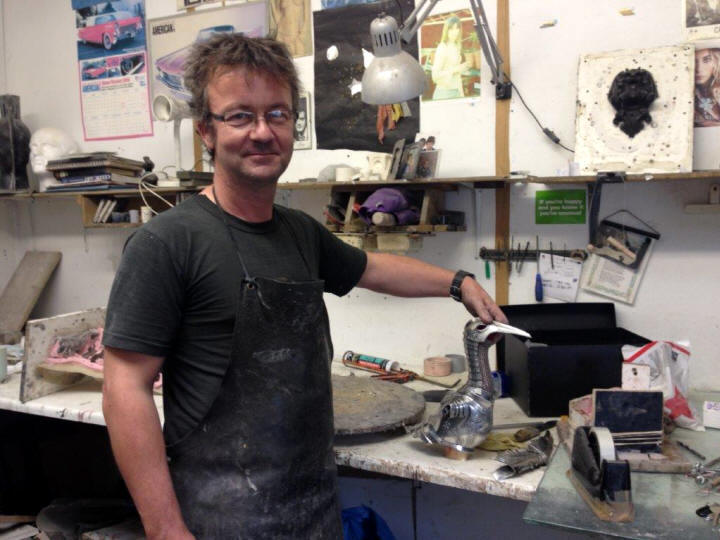 The full schedule for the exhibition is as follows:
· Tower of London: start March – End June 2017
· Fort Nelson: start August – End November 2017
· Leeds: Start January – April 2018
Harness made its first public appearance at the 2014 Passion for Freedom festival in London where it was awarded first prize."
Seamus Moran MRBS www.seamusmoran.com