Taking stock of Ithell Colquhoun
Richard Shillitoe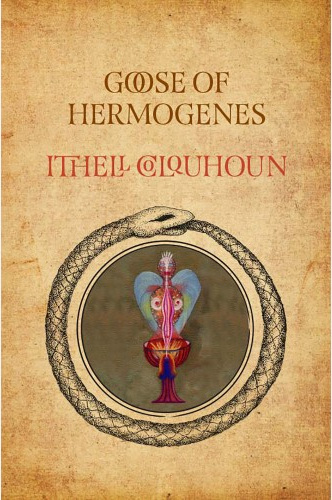 Those who have the current edition of Colquhoun's first novel, Goose of Hermogenes – a paperback with a distressing tendency to shed its pages as a deciduous tree sheds leaves – will be pleased to hear that it is being republished this month, and this time in a hard-back edition. It has a new introduction, Colquhoun's own suite of illustrations that have not been published with the text before, and a previously unprinted chapter that will set you reeling (picture right).
Inspired by dreams, surrealism, and spiritualities ranging from Wicca to Roman Catholicism, Goose of Hermogenes has attracted an admiring readership since it was first published in 1961. Using the alchemical quest as its underlying organising principle, the heroine passes through stages of change and transformation just as an alchemist's raw materials are processed and refined. The text is full of oddities, dislocations and apparent non-sequiturs. When these occur, if you are expecting a rational and coherent narrative, you may struggle to keep up: it is best to suspend your rational faculties and allow the author's rich allusive text to lead you on. You may miss more of the subtleties but, paradoxically, you will understand it better.
It is astonishing to think that only a short while ago Colquhoun languished in almost total obscurity, unknown outside of Cornwall except to the small number of occultists and art historians interested in mid twentieth century developments in esotericism or surrealism. Even among those communities, although her importance was recognised, her true merits were concealed: her books were largely out of print (and phenomenally expensive on the second-hand market); her artworks mostly in storage and her written archives difficult to access. Publication of unknown writings or reproduction of her paintings was hampered by confusion over her labyrinthine copyright arrangements. She can't possibly have wanted her intellectual property rights to be split six ways – can she? But they are.
It was not possible to establish her worth as a creative force when so much of the primary material was simply out of reach. However, things are rapidly changing. In the past two years there has been a small but significant exhibition of her artworks at Penlee House, Penzance, and some major works included in an exhibition at the Irish Museum of Modern Art, Dublin. Currently, over ten paintings from private and public collections are on show at the Virginia Woolf exhibition at Tate St Ives: one even provides the stunning cover image for the catalogue. The exhibition moves to Chichester in May and Cambridge in October.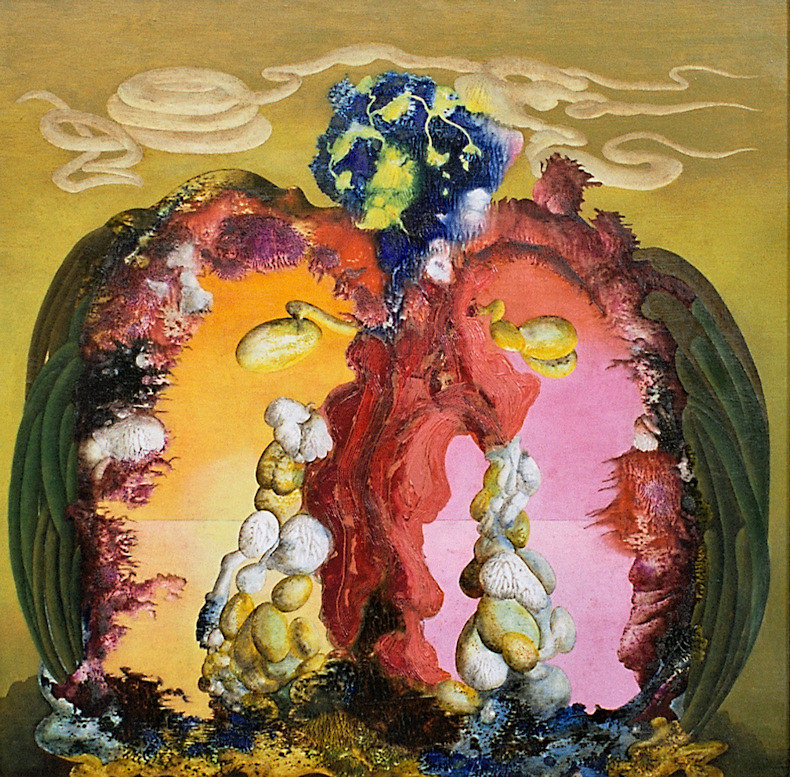 Hummadruz, a large group exhibition at Newlyn Art Gallery will open on 3rd March and features Colquhoun's undoubted masterpiece Dance of the Nine Opals (1942) as well as some original drawings for The Living Stones, a dream diary and some 'little magazines' containing her work.
An exhibition at Nottingham Contemporary, curated by Linder Stirling, opens in March and will contain works, including the masterpiece of decalcomania, Gorgon (1946) (above). Further ahead and further afield, Colquhoun is to play a significant role in Fantastic Women, an examination of the role played by women in the surrealist movement, to be held at the Schirn Kunsthalle in Frankfurt in 2019.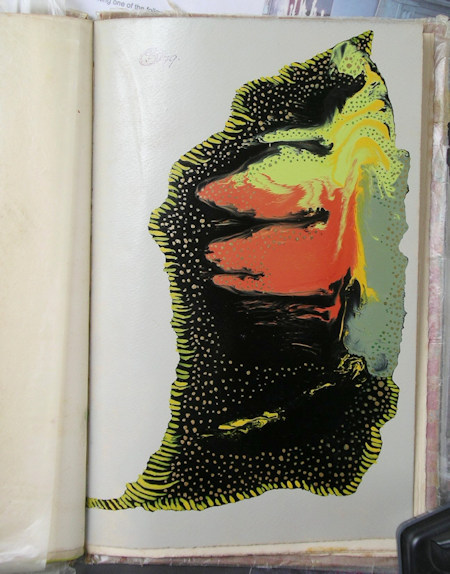 Just as an artist needs to be exhibited, so too an author needs to be read. Her previously unpublished novel I Saw Water has now been published and her mystical travelogues The Living Stones, Cornwall and The Crying of the Wind, Ireland are available in affordable editions. The long delayed Decad of Intelligence has finally appeared, published by Fulgur Press. The edition is a sumptuous one, and makes a strange contrast with Colquhoun's tatty, nondescript notebook which contain the original paintings (picture left)
A new edition of her Tarot cards is due shortly, also from Fulgur. Next year should see an illustrated volume of selected shorter writings, Medea's Charms. When that happens, the full range of her work will be readily available to the reading public. On top of this, she is to be the focal point of an academic conference in Plymouth in March 2018.
All that is needed now is a full retrospective exhibition …
Goose of Hermogenes is published by Peter Owen, Publishers.
Richard Shillitoe is author of 'Ithell Colquhoun: Magician Born of Nature', and webmaster of www.ithellcolquhoun.co.uk