The Sailing Surgeon
Zelonie Moyle on 19th century painter J.G. Moyle
Dr Richard Moyle was thrown from his horse-drawn gig in Penzance just after he left his home. He died in 1855, aged 71 years. His son, Dr John Grenfell Moyle (pictured below), also relied on a gig to make his house calls, but it was a gig of a different kind: namely the three-manned boat that ferried him around from island to island within the Isles of Scilly, some 28 miles from the mainland.
J. G. Moyle was born in Penzance in 1817 and as a teenager he was commended for a painting he contributed to the inaugural Falmouth Polytechnic exhibition (1834).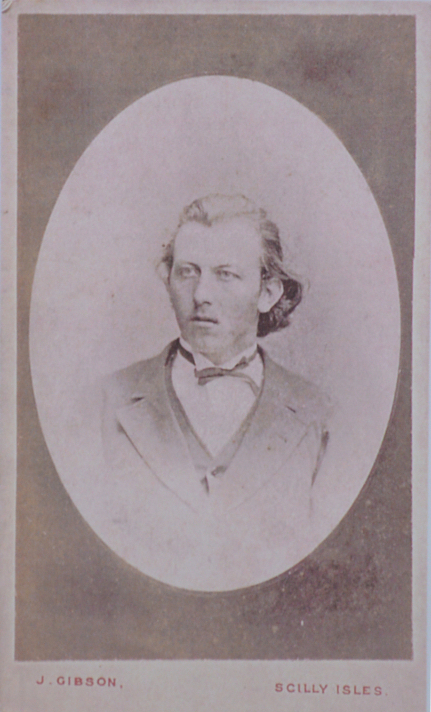 After his medical training at University College, London, he made two voyages to Bombay as surgeon of a ship. Then in 1849 he began his medical career in the Isles of Scilly, becoming the only doctor for the islands. He set out from Penzance in the sailing packet 'Lyonesse', leaving there at 9.00am and arriving at Crow Sound twelve hours later. The same journey today takes a fraction of the time.

Scilly was a busy shipping port in those days and the doctor's work would also take him to the shipping on the Roadstead. The weather would have been treacherous at times, esp-ecially in winter, but he made a rule that if the gigs from any of the islands would come, he was always ready to help.

Moyle married a Scillonian, Eliza James Nance, daughter of Honor and James Nance of St Martin's, and had a large family of seven daughters and two sons.

Medical operations at the time would have been starkly different to the present day. The doctor's own son would later recall the time when he was needed to help his father while treating a broken leg by sitting on the patient's chest and arms. Sometimes he would be sent to Mr Dorrien-Smith's lime pit to get a bucket of 'quenched lime'. The doctor used the lime for the base of cough and other medicines that he would have to make for his patients.

Amazingly, he also found time for the creation of many wonderful oil paintings and drawings. Queen Victoria, Prince Albert and their courtiers were gloriously depicted in oils, departing from St. Michael's Mount in 1846 (below). The Royal party were on a Channel cruise and were anchored in Mount's Bay for two days, aboard the vessels Victoria & Albert, Fairy, Black Eagle and The Garland. On landing at St Michael's Mount there was an inspection of the castle. Queen Victoria wore a muslin dress, a light scarf, a straw bonnet with a vermillion feather and held in her hand a small but exquisite parasol. The Prince wore a black dress coat,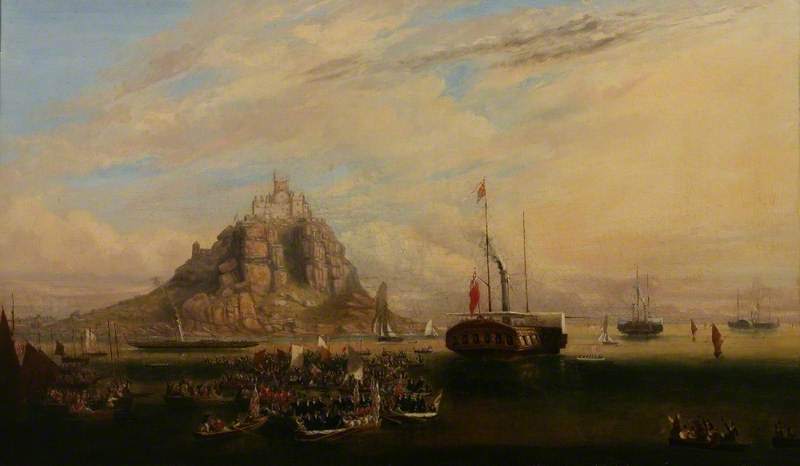 grey pantaloons, a black vest and a light figured neckerchief. To mark the occasion, the Queen's footprint was pressed in the form of a brass plaque, engraved with her initials V.R., which can be seen to this day on the first step. Moyle's depiction of the party was created for a competition, winning him first prize. Afterwards, he gave it anonymously to Penzance Council.
In another painting Sir Cloudesley Shovell of the famous shipwreck 'The Association' of 1707 was captured in oils, wading ashore at Porthellick. Indeed it is only by luck that this painting survived. It was one of the pictures retrieved by the doctor's own grandson Trevellick, from a house fire at Rocky Hill much later in 1932.
The doctor gave various lectures at the Scilly Institute. One such lecture was on the subject of water - its chemistry and wonder. There was a large audience and more than a hundred people were unable to get tickets, which were sold on the same day.
During the spring and summer of 1857 Moyle befriended - and became a companion and travel guide to - Mary Ann Evans and her husband George Lewes who had several months staying on the islands. Lewes was already an established writer and philosopher, and in his 'Sea-side Studies' he describes Moyle as 'rubicund' and 'pleasant'. Within a couple of years Evans became much more widely renowned as the novelist George Elliot.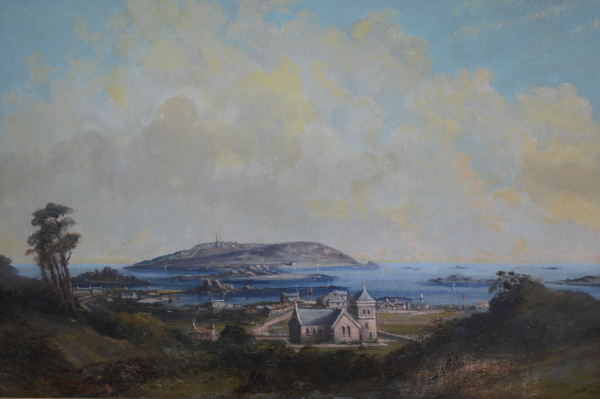 In May 1876 the Cornish Telegraph recorded the fact that Mr. Moyle, surgeon, St. Mary's, Isles of Scilly, had created a talented and truthful painting, 'The Burial of the Dead'. The subject of this piece came from the wreck of the Schiller in 1875, and it was purchased by Messrs. Hines and Hornsby, fish merchants of Lowestoft. The painting was to be on view at the auction rooms, Causewayhead. It had taken twelve months to complete and was for sale tor 200 guineas.

Later in life, even when in his seventies. Moyle remained the only doctor on the islands. He could be seen at the helm of his boat in the wildest of weather, attired in a pilot's jacket and large boots and carrying his medical instruments and medicines in his pocket.

There were a large number of medics in the family. John Grenfell Moyle had an uncle of the same name, born in 1781, who became the President of the Medical Board in Bombay. His grandfather was Dr Richard Moyle, born in 1756 — a surgeon at Marazion and Bodmin. Another member of this large family was Dr Matthew Paul Moyle, a noted photographer, and long after the death of John Grenfell himself, his great grandson became a doctor, Dr Grenfell Bailey.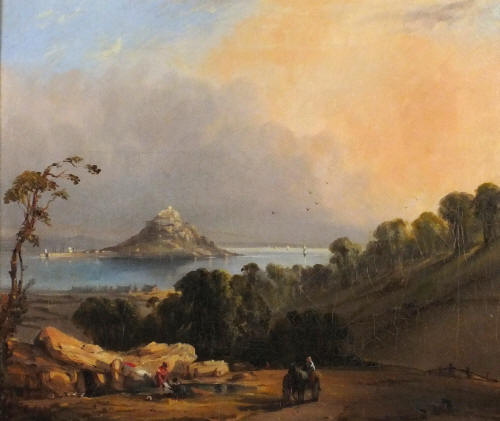 On retirement in 1890 the doctor was welcomed to a meeting presided over by his friend, Dorrien-Smith of Tresco Abbey. A presentation was made of an annuity purchased for the doctor, the amount of £52, plus a purse of gold. It was given with the greatest of goodwill from his many friends and patients.
The doctor left the islands on the November 17, 1890, for the town of Dawlish in Devon. Later, he moved to Reigate in Surrey where his eldest daughter Emma lived. He remained there with five of his daughters until his death in 1893, aged 76 years.
It was perhaps fortuitous for him that he decided to retire in 1890, because in January 1892, influenza swept through the islands. On Tresco some 300 inhabitants became very ill, there was no one available to run the launch and the newly installed doctor was too ill to be of any help.

Moyle was buried in Reigate cemetery in plot no. 9184, but the story doesn't end there. Due to shortage of space in the cemetery, his grave was later to become the resting place for two other persons. However,
being a man of the people all of his life, I don't think the doctor would have objected to the company.


Works by Dr John Grenfell Moyle can be seen at the Penlee House Gallery and Museum in Morrab Road, Penzance, and at the Isles of Scilly Museum, St Mary's.

Adapted from an article written for My Cornwall (2010). Zelonie E Moyle is the great, great granddaughter of John Grenfell Moyle.