Jessica Cooper: It doesn't take much to make me happy
Martin Holman
There are three compelling reasons why this exhibition by Jessica Cooper is a successful show. The first is that the installation in the gallery at Tremenheere works well: a balance is struck between content and setting, perhaps for the first time in this venue's short history. The architecture of the lower space, where this show takes place, is not easily won over by artists. Made up of raw, chunky wood beams and generous windows, it is strong on architecture: fixtures and fittings populate the room before any visitor arrives.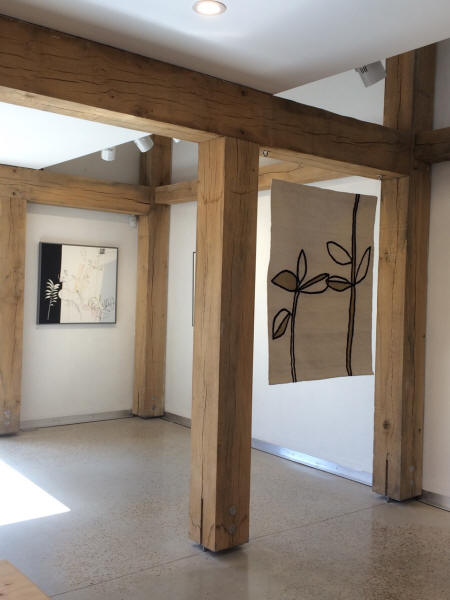 Cooper's interest in structure provides a foil and a complement to these surroundings, but on a diminished scale: minor contrasts with major. Her images share with the interior a linear quality and contrast the building's material force with spare, confident, knowledge-laden and willowy drawing. Nonetheless, the wiry geometrics that Cooper inscribes are equally constructive and offset simple forms with thought-through exchanges between open and occupied space on canvas and paper.
The second reason is that the exposure outside, to the garden itself and to the worked at, rural demeanour of the area's geography, permeates the experience inside the exhibition. Cooper has a long-established preoccupation with plants and their forms and has integrated this concern with a preference for the basic shapes of everyday existence – the rectangle of window or canvas; the curve of jug or pathway; the contour of stem, flower, edge or angle.
Outlines correlate organic and manmade forms into a streamlined shorthand where a little stands for much more. We see a black painted line rise dryly from the bottom edge, leaving its own shadow as it surges, and we think 'stem'; two or three colour-filled ovals sprout from its tip, and we think 'flower'. We quickly accommodate ourselves into Cooper's visual vocabulary: it registers a sign more than an image, importing an experience of a form like a how-to book with personality. Swift recognition is followed by ordinary memories that fill in detail, stimulated by just enough pigment to establish a pattern of corresponding colours in every imagination. Even tactility is implied because the viewer instinctively contributes individual perceptions.
There is a kind of winnowing going on, sifting crowded experiences into an essence of being around natural things, whether in a garden, on a shelf, on a walk or in a memory. So this distillation of sensations provides the third reason. It blends two arenas: the recollection of looking directly and the aesthetic possibilities in making. Her surfaces appear disarmingly simple – or simplified. These images risk being called minimal because of their reduced, notational style. It leaves a lot of space where marks are not made. But, in fact, there is substance there, too. It is hard not to be caught up in action and effect, in rhythms and varying speeds, in contrasts and, especially, in the placing of objects.
The viewer is very much in the presence of drawing, of hand on brush affirming a direction or registering a presence with gesture. Black, etiolated lines often extend to the picture edge, as if planted in or meandering into the real environment beyond. Also apparent, after a closer look, is how these lines ring out in a pellucid ground of solid white, visibly built up in layers sometimes to be physically present but not overbearing; it's there, emanating like atmosphere, capable of brushing a upright line into a quiver. At the same time, too, it seems dense and insubstantial, near and then far – the way that the space we walk oscillates in reflections, in our perceptions.
The result is a kind of pictorial notation abstracted from the real but not translating it. That abstraction is at its most insistent in the organisation of the picture plane into relationships between open and closed areas, between fast and slow marks, light and dark, anchored and free. There is no sense of images being mechanical or multiple renditions: the energy perceived in nature, in movement, space and light, filters into our interpretations. Cooper seems to have in mind the role that decoration has in our experience of flowers and the open air.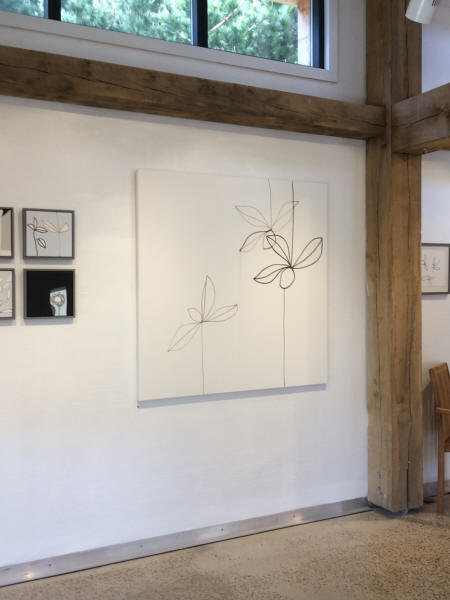 Designs that bring the outdoors into the home have been popular for centuries, from fresco to mass-produced domestic furnishing. That transmission by pattern of the pleasure of nature and the response it brings out in people animates the optimistic, post-war fabrics designed by Lucienne Day; they schematised plants in such a way that modern art found its way into the home as a print for curtains or cushion covers. Just as Day was strongly influenced by Klee, a channelling of artforms is also present in Cooper's work. Hers is a freer take on these models, one that is simultaneously a relaxed Art Nouveau loosened by being mixed with the celebratory late work of Matisse, and then naturalised by the St Ives tradition of abstract impressionism that thrived in the 1950s.
As a painter in Cornwall, Cooper is a sufficiently robust prisoner to that local imprint not to be dependent on it. Her reference points are affinities, widely spread round modernism, and open to exchange. So her participation in garden founder Neil Armstrong's programme at Tremenheere, which interlaces natural and artistic creativity, is obvious. Knowing her subject matter well, Armstrong invited her to make use of natural dyes derived from South American plants and to work with a weaver he met during a research expedition in the region.
The results hang in this show, sparer even than her paintings and close in conception to her pen drawings. Being woven, her line loses its elasticity; held in place by stitching, those ambivalent grounds of her canvases become more concrete; a fleeting image gains focus and permanence, downplays eccentricity. This collaboration, nonetheless, reveals that the gallery is at its best when the relationship between the garden and its interpreters – between inside and out, and between the artistic and actual – is a fluid transition.
Martin Holman is a writer who lives in Penzance. 'Jessica Cooper: It doesn't take much to make me happy' was at Tremenheere Sculpture Gardens 29th March to 29th April, 2018.