John Adams: Local legend
Alex Wade remembers the surfer, and film and music promoter John Adams
"Legend, n. A person having a special place in public esteem because of striking qualities or deeds, real or fictitious.

That's what the dictionary says, but how to define a surfing legend? Here are a few, for starters: Tom Curren, for his class and style, speed and grace; Laird Hamilton, for Teahupoo, Jaws and a perpetual absence of fear; Gerry Lopez, for Pipeline; Kelly Slater, for being elastic; and Eddie Aikau, because, as we all know, He Would Go.

Legends all, and let no man say otherwise. But guess what? Surfing legends abound on our own fair isles, too. In fact, we've got so many that it's difficult to know where to start. However, one man's claims put him in pole position as a true surf-legend. Step forward John Adams - the first man to surf the jewel in the crown of English surf breaks, Porthleven.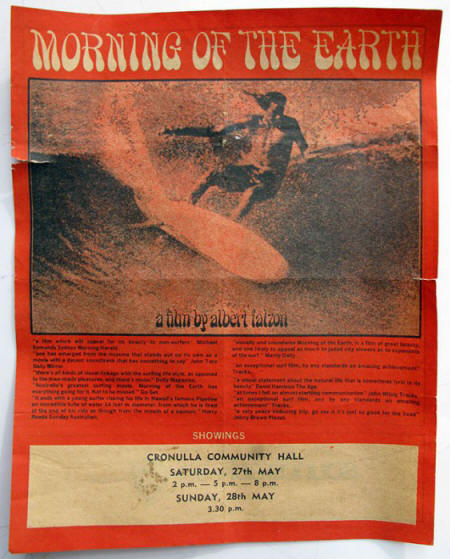 "It must have been in about 1965 or '66," says Adams, from his home in Penzance. "The wave was breaking at around four to five feet – a big, clean wave coming out of deep water and hitting a reef to the right of the harbour. Mike Carr and I looked at each other and said: 'Let's go!' So we paddled out and surfed it. The locals thought we were mad."

But Adams wasn't mad. He was a young charger in peak physical condition, whose fitness – and surfing stoke – is still obvious even now, at the age of 68. "I still surf, sure," he says, "usually at Gwithian. The funny thing is that I'm riding exactly the same board that I had in the beginning – a 9'2" single fin. I get as much pleasure from it now as I did then."

Back in the early to mid Sixties, Adams was one of a handful of surfers in West Penwith, the most westerly area of Cornwall. Today surfing at places like Sennen Cove, Gwithian and, further south on The Lizard, Praa Sands and Porthleven is taken for granted, but in Adams' heyday he was a pioneer. "I used to surf a lot then with Mike Carr, the first Secretary of the British Surfing Association (BSA)," recalls Adams, to this day tall, lean and tanned. "This was before wetsuits were invented. We used to wrap plastic bags around our legs to keep warm, and no one surfed beyond November. And no one thought to surf the south coast. The St Ives crew used to call us 'the Sennen spastics' but Mike and I would drive around, looking at breaks like Praa and Perranuthnoe. We knew the North Coast surfers were wrong, and could see that the south coast picked up swell. The day we clocked Porthleven changed everything."

Adams and Carr were also instrumental in the formation of the BSA, which was run in the Sixties from a shop next to the Savoy Cinema, in Penzance's Causeway Head. "It was run out of a shop called 'Modern Man'," says Adams. "We could hear whatever was showing in the cinema all day long. In fact, for 18 months we heard nothing but Julie Andrews in The Sound of Music."

Likewise, Adams formed the Sennen Surf Club, in 1967, and his entrepreneurial spirit also saw him carve out a highly successful film business. Three S Films – www.threesfilms.com - now makes and distributes a variety of films, but in its early days Adams was one of the first men to take surfing films on the road, up and down the UK. As he says: "Imagine 250 surfers crammed into a village hall watching 'Big Wednesday' back then. The atmosphere was brilliant."

Taking surfing's celluloid classics – films like 'Morning of the Earth', 'Salt Water Wine' and 'Free Ride' - around the country brings back many happy memories for Adams. "It was all well and good showing films in your own neck of the woods," he says, "but I wanted to see how surf films would go down elsewhere." Often enough, he would encounter another mainstay of the British surfing scene, Rod Sumpter, on his travels, whether because Sumpter was competing or himself showing surf films. "Rod was a great surfer in his day," recalls Adams, "though he could be a little unorthodox. I remember once that he surfed for a TV ad as a woman because back then, no one could find a female surfer. Rod wore a woman's wig and the story ended up in The News of the World."

Adams chuckles over this and hundreds of other memories of British surfing in its early, pioneering days, a time that he describes as "wonderful" not least, perhaps, because of an invention by one of UK's surfing's unsung heroes. "Ollie Crocker was a good mate and a diver. He'd started making wetsuits for Cornish divers and said he'd make some for me and local surfers, too. He made about 30 suits to a template, and they did the job. I'm pretty sure they were first wetsuits in the UK, maybe even the world. Just think – Ollie could have been Jack O'Neill."

For many years Adams also ran The Winter Gardens, a dance hall in Penzance that acquired its own legendary status. Now a keen yachtsman, Adams says that in surfing's early days the sport – or way of life - "was viewed as either dangerous or full of drop-outs; people viewed us as aliens. There was a hippie, offbeat feel to it all, a feeling that it was all there, waiting to be discovered. Yes, we were freaks to some, but if some people thought we were mad, they also looked up to us. It was a great time to be a surfer."

Porthleven will always have a special place in Adams' heart. "Leven is a gem. Catching perfect, clean barrels at an old, working port like Porthleven must have looked certifiable when we first started paddling out. But we loved it. It's my favourite wave, without a doubt."


In memory of John Adams who died in January 2021. Originally published in Pitpilot magazine.
see http://kernowbeat.co.uk/wintergardens.html for more on the influential Winter Gardens, which hosted gigs by Queen, The Sex Pistols and many others.
04.01.21