No more heroes: a response to 'Lets Play Records'
Rupert White
When people think of art from Cornwall most still think of twee beach scenes or excruciatingly tasteful abstract art, and it's been that way for decades. But Bruce Davies' show at the Exchange, which was the third of three impressive solo shows this year by a local artist, was massively removed from both. In fact, with the gallery filled to the rafters with 'pop-music' and pop-ephemera from the last 40 or so years, the contrast, particularly with Hepworth-style modernist abstraction, could not have been greater.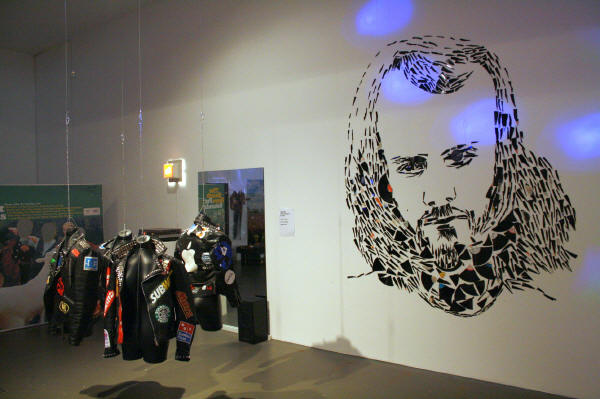 It's not surprising, then, that most of the local media, who are generally comfortable supporting Cornish abstract art, have failed to engage or respond to LPR. But these things are generational, just like music itself, and aspects of the media are still controlled by writers who, understandably, are not ready to give up their allegiances, and probably never will.
Their lack of engagement is frustrating for Davies himself, though, who has worked for months on the LPR project, ever since its first noisy beginnings at 'Transition' early in 2008. For 'Extended Play' he filled the Exchange with a mixture of sounds, objects, images and sculptures all of which take pop-music, and specifically the long-playing record or LP as their starting point.
Some bits of it, like the melancholy portrait of John Peel (picture above) made out of fragments of record vinyl, function as fully self-contained artworks with traditional art-attributes such as beauty and craftmanship clearly evident. Many of the others don't. Take 'No More Heroes' for example, comprising four studded leather jackets covered in painted logos. Its a work inspired by the iconic Stranglers song of the same name:
Whatever happened to Leon Trotsky?
He got an ice pick
That made his ears burn

Whatever happened to dear old Lenny?
The great Elmyra, and Sancho Panza?
Whatever happened to the heroes?
Whatever happened to the heroes?

Whatever happened to all the heroes?
All the Shakespearoes?
They watched their Rome burn
Whatever happened to the heroes?
Whatever happened to the heroes?

No more heroes any more
No more heroes any more

Whatever happened to all the heroes?
All the Shakespearoes?
They watched their Rome burn
Whatever happened to the heroes?
Whatever happened to the heroes?

No more heroes any more
No more heroes any more
Davies' version bluntly refers to the way in which corporate branding has invaded public spaces and taken the place of more personal iconographies, such as those which decorated the leather jackets of punks and heavy-metal fans, and which allowed them to express devotion to particular groups, movements or ideologies. It is also a work that, rather than being a sculpture in the narrow sense, was made to live and breath by visiting schoolkids, who photographed themselves wearing the jackets whilst dancing to the single as it played on a turntable nearby. Subsequently they made their own versions.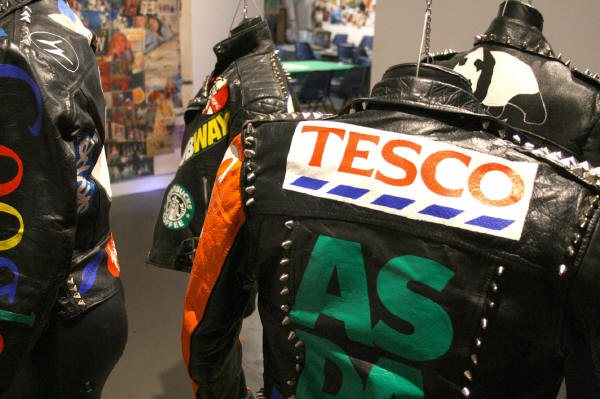 This open-minded attitude both to the presentation of the art-object and to traditional notions of authorship has, from its inception, been the core characteristic of LPR. It has also been a process constantly animated by Davies' own enthusiasm and generosity.
At the Exchange, LPR was explicitly set up to transform the space so that it functioned less as a gallery and more as a shared environment in which to listen to music, talk about records, dance, and make stuff. Tables or desks in the space were set out to encourage visitors to contribute. On one, for example, old album covers were displayed ready to be cut into pieces and reassembled into photocollages. Davies and staff at the Exchange even organised events such as an extraordinary 24 hour Discothon, in which disco teams danced to raise money for charity. Rather than being an add-on or after-thought, these events were integral to the whole concept.
And what could be more sociable or socially responsible? Certainly LPR's main strength was its accessibility, and the degree of its public engagement. Few can or would argue with this, though there will be some who question the nature of its engagement, asking how democratic it was and whether it was really relevant to local people and their specific cultural concerns and traditions.
On this last point it is interesting that most of Davies' recent projects have been made in the Cornish landscape: a choice of location that positions the work both geographically and semiologically. It was a similar sense of the artist acting as a catalyst to bring a community together that was the key feature of Daviesí land-art-as-live-performance piece CUT/STACK/BURN of 2007 (see archive). The fact that Davies has also made works in the landscape is a reminder of the complex nature of living in Cornwall or somewhere else in the Celtic fringe: there is a sense of being part of, but separate from, a larger national or global whole.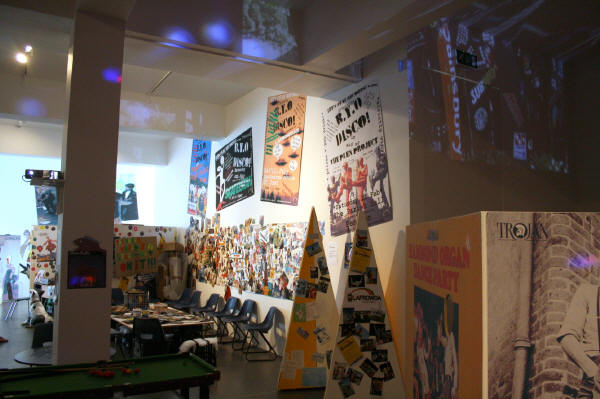 Others, probably the same people that have the abiding loyalty to modernism, will say that LPR isn't sufficiently different from a youth club or disco to be taken seriously as art. Yet this would be to fail to understand the way in which art has, necessarily, changed since Barbara Hepworth's time.
Artists like Gabo, Hepworth and Nicholson were idealists, who in the 20's and 30's believed modernist art - through aspiring to detached purity or 'ideal form' - would contribute to constructing a better, fairer and more beautiful world. In fact by detaching art from lived experience their legacy has been, arguably, substantially less than this: uninhabitable tower blocks and an elitist abstract art that only they and their friends 'got', and which to this day is still quite forbidding for many people. In cultural terms it was not visual art but pop music that in the 50s and 60s, especially in the UK, helped usher in a new more egalitarian and liberal era.
The elitism of modernist art was a problem that lingers on into the present, such that barriers between visual art and pop culture, which roughly correlate with high and low art, persist. So, especially in this Cornish context, there is something important about Davies setting out to make LPR inclusive, accessible and democratic, and something logical in using music as a vehicle for doing so. In celebrating pre-digital pop-culture by using the physical form of the record, not only does he demonstrate and disassemble some of the conditions that have in the past 100 years made visual art inaccessible, but in so doing he excavates an important aspect of recent social history, and does relational aesthetics properly to boot.
24//7/09