Lexis Over Land: Towards a Feminist Geography
Nina Royle
Six months ago I wrote a text aiming to articulate ideas for this show through logic: that seductive, imposed rationale that cuts, segments and seems to explain the world more clearly than it can itself. The text tried to plot a common ground between the artists' work, yet on reading it through recently, the words seemed hollow in their meaning. Whilst there is much common ground between these artists' works, there is also a complexity of subjective thoughts, emotions and experiences informing them that I cannot explain. It made me think I need to start elsewhere. Iíve drawn these particular artists together for reasons that first and foremost were instinctive. So down roots, down tendrils, I must write from an internal place: a place I see as cast in darkness, where one border bleeds into another, and where all roots grow together. In feeling I can only think to describe this place as 'closer than the vein in my neck'.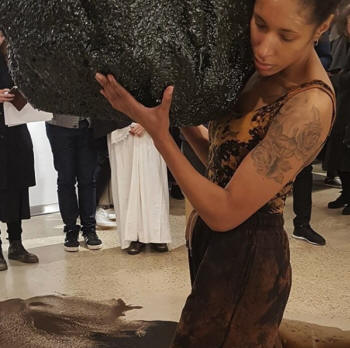 I once heard a friend describe another as exactly this: 'closer than the vein in my neck'. The phrase comes from the Qurían; a metaphor to make palpable the presence of an abstract, omnipotent Allah. The intimacy, sensitivity and vulnerability of the words has stuck with me ever since. The words never make me think of a God, rather they invoke all that is external to myself that I feel a deep resonance to within. The landscape of Penwith, which I know so well yet donít know at all but feel rooted to Ė that feels closer than the vein in my neck. Above my bed, pinned to the wall is a postcard of a 22,000 year old, female figurine, carved in yellow steatite. There is an inherent creativity to this figure. In one glance she shape-shifts between being a singular pear-shaped woman with heavy breasts, then a mother sheltering two children who stand in front of her. I recognise my body and its creative capacity in that archetypal figurine. Itís a wordless feeling - yes - itís a feeling that is closer than the vein in my neck.
The work in this exhibition feels similar. It belongs to the output of friends whose life paths have overlapped with mine at different points in time. In both the concept and aesthetic of their work, I recognise something that constitutes part of my own work, my point of view, my geography. In all the work in the exhibition an interest can be traced in how a body and the gestures it makes interlocks with the ground: the history or geography that supports it. In ways that range between the ephemeral and long lasting, their work respectively gives expression to a sense that where the body marks place, it itself becomes marked by place - that these things are incarnations of one another.
Change tack, down roots, down tendrils. On the calendric clock, itís late autumn falling towards winter. Nature once again has birthed her fruits to feed another year. And in the mythical realm, in one of many incarnations of natureís story, Persephone, the Greek Goddess of the harvest has at this moment begun her descent into the underworld. Over ground, the world waits fallow for her springtime return: waiting for her emergence so life can blossom again. Walled away in the Garden of Eden, it must have been during this season that Eve, blinded by temptation picked that red apple for Adam to eat, its seeds of curiosity carrying the couple towards their expulsion from paradise. That blunder seems unshakable. In Medieval imagery the Virgin Maryís annunciation is often depicted in conjunction with a hortus conclusus Ė an enclosed garden. It is a womb-like space; a sanctuary for gestation and cure, whose beauty like that of Edenís is premised on innocence. Yet even in this garden - and even though Mother Mary, Queen of Heaven is an epitome of Christian chastity, there is an element of distrust signalled by that wall surrounding her. It suggests Maryís innocence must be faltering. Of course! She is the same gender as Eve.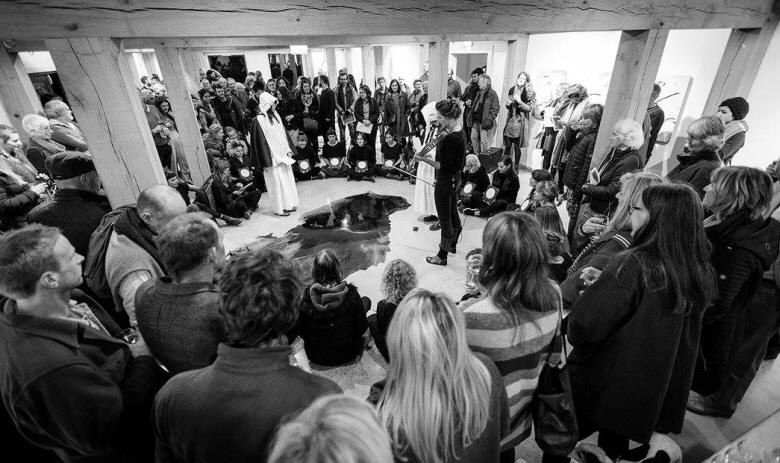 A deep tangent of thought related to this exhibition appraises what it means to be a woman. What it means to inhabit a body biologically different to a manís and how that difference affects thought, a relation to time and a negotiation with the world. Through the process of this exhibition Iíve decided to enter the garden of Western culture and enquire into, not reject its abundance of synonyms that conjoin a feminine body to an Earthly one. Synonyms that typically divide into archetypes related either to Mother figures representing protective, fertile and creative forces. Or primeval bodies evoking a nature to tame and conquest. What can be learnt from engaging with these archetypes and how can seemingly solidified meanings attached to them be re-mapped?
Climb up roots now, climb up tendrils to a lexis over land. This exhibition is a root system of verbal and non-verbal conversations. It is tightly embedded with a dialogue prompted by Lucy that considers how positive female principles in Western society, have fallen subordinate to male ones; the result creating a catatonic imbalance in its structure. It has grown from a walk with Laura around the gardens at Tremenheere, on which we discussed how much of the sculpture in the garden, (made predominantly by male artists) assumes a stance in relation to nature that frames it, not co-exists with it. It comes from a late-night conversation with Jasmine and her mother that considered the word 'feminist', and the importance of embracing its meaning and keeping it open to re-imaging. Lastly Ė lastly Ė it comes from a long thread of conversations with Libita that centre on how the politics of place and a modern world dissected by aggressive expansion, has laid its marks on our skins. As we grow older, these conversation become deeper. How can we resist?
See Lexis over Land for installation shots of exhibition at Tremenheere. Photos (by Kate Walters and Steven Tanner) are of performances by Libita Clayton (top), Lucy Stein and Nina Royle on 18/11/17.