Banishment workshop, Boscastle Museum of Witchcraft and Magic, 18th May 2017
Lucy Stein

(Banishment: The ritual action of getting rid of something unwanted.)

17th May.
Today it is 26 years since uncle Robert committed suicide off Beachy Head. The weather is cloudy but hopeful, contrary to reports. Theresa May is still banging on about being "strong and stable." The moon is in her last quarter.
I park my Nissan Micra with a "goddess worshipper" sticker on the bumper, near a National Trust sign on the road between Boscastle and Tintagel. Andrew Kerton is with me. We met at art school in Amsterdam and bonded over having been Hole fans as teenagers - goddess-worshippers of a sort. He's going to run a body-work session as part of the workshop tomorrow. I'm happy to be spending time with him; it feels comfort-ing. We're off to look for the labyrinth carvings in Rocky Valley. Cecil Williamson, the Museum of Witchcraft's founder, sited the museum in Boscastle for its proximity to this sacred place.
It is so different to the granite landscape of Penwith here, the pile ups of slate give a sci-fi-ish feeling of horizontality. After walking down to an inlet we admire the thrift and some little belled flowers with snakeskin petals that live in the cracks and gullies near the flowing water. We collect some of these, some bluebells and lots of twigs and stones for the charms we're going to make tomorrow.
I've read that the labyrinths are near a ruined mill so we turn inland. The grasses become yellow under a canopy of trees and I start to trance out on the bluebells flickering through them. (This May I have taught myself to "lift the veil" in a bluebell trance.) They are so bouncy! I put one behind my ear like a microphone and pretend to talk to the goddess on it. Babbling, I'm a few steps behind Andrew when he turns to me and motions that the air has changed, he has passed through a threshold. When I get there I feel it too, the energy is palpable. We cross over the bridge slowly and arrive at the dripping ruined mill and it feels as though we're wading through treacle. The air is throbbing and again in Cornwall I'm reminded of the MRI scan I once had, when my body was violently shaken by electro-magnetic pulses. It is pleasurable but quite eery. We creep behind the buildings and come upon the petroglyphs which are positioned low on the rock- face behind the ruin. They are immaculate. Andrew sees in them a body surrounded by connective energy. I see female reproductive organs. Suddenly for me everything is sexualized; the trees heave with May's chaotic and unstable rebirth. I laugh.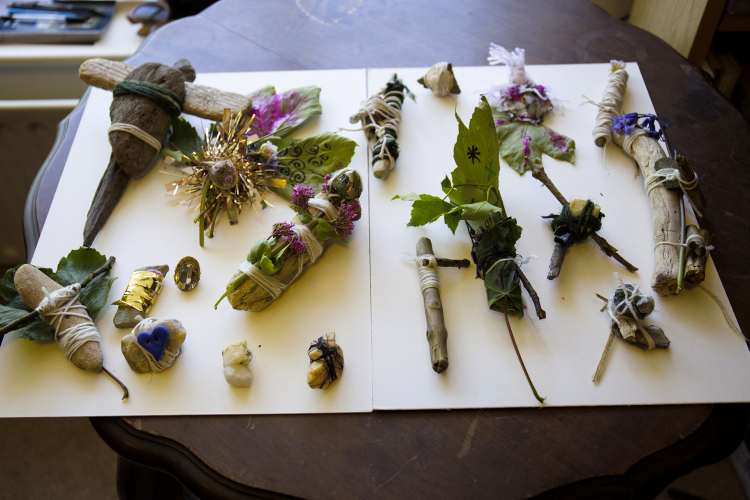 18th May
The weather is meant to be bad but it really isn't. Andrew and I head to the museum with our bundles from Rocky Valley in a shoebox.
The ideas for this banishment workshop came from talks with Natalie Gyll-Murray and Rupert White from Addaction and Teresa Gleadowe and Josie Cockram from Groundwork. Addaction is a nationwide organization that provides a meeting place, life skills and craft sessions for clients recovering from various types of addictions. On visits to the centre in Redruth I was struck by the spirit in the place and the artworks on the walls, as well as the interesting-looking people hanging around. I want my workshop for Groundwork to be a gathering up of spirit, and a sharing of energies, inspired by the museum's collection of folk objects which I love.
I very much believe in the power of group-work and the use of ritual in what Suzi Gablik in her 1991 book "The Re-enchantment of art" called "redemptive healing". In preliminary conversations Nat and I thought it wise to focus on banishment rather than, say, an invocation which suggests a relinquishing of control. Without speculating about the clients' or volunteers' histories or reasons for being involved with Addaction, I know that if I couldn't make art and channel my rage and feelings of hopelessness, I might be existing under the sign of a great immoveable depression with suicide as an emblem, like many members of my family before me. Like anyone I have loads of issues or "demons" that I would like to banish, inherited ones, congenital ones, relational ones, bodily ones etc etc. One of my demons is an obsession with suicide as a spectre- this I would like to banish off the headland. Also, it seems apparent that the private practice of online brooding on one's own lack compared to the perceived strengths of others is the ritual that feeds cognitive capitalism. It's hard to identify this when you feel trapped inside the competitive arena but it seems to me that deep concentration, compassion, reciprocity and group actions can help you to crawl out and become a more activated and useful member of society.
Nat arrives with the group, they have come in two vehicles with pick-ups from Truro, Redruth, Bodmin and Liskeard. Immediately the energy levels are so high that my own spirit rises and I know that it's going to be an amazing day. The clients are Ann-Marie, Gene, Andrew, Lisa and Tom and the volunteers are Andy and Westy. Volunteers tend to be former clients who have gone on to work within the charity, in this case as drivers. I notice that a gallows humour exists between everyone in relation to addiction issues. We all laugh when someone makes a joke about taking poppies from the flowerbed outside.
I introduce myself, Andrew, Josie and Peter from the museum, and explain that our base will be the library which is a calm feeling place full of magnificent books and archives. Josie explains about Groundwork which is happening next year and Tom asks if they are our guinea pigs and we all laugh again. I tell the group about our trip to Rocky valley the evening before and my thoughts about the different wild atmospheres in Cornwall and how that marks it out from other places. Everyone seems to agree with that. I suggest that being open to the particular spirit of a place is a form of magical practice in itself. A connection to nature and the seasons is what defines traditional witchcraft. The plan, then, is to each make a couple of charms using materials that we have collected from the area, one a positive keepsake and the other to banish into the harbour. We had asked everyone to keep something they would like to banish in mind.
Peter then introduces the museum and talks about banishment magic and cursing. He describes the practice in ancient Egypt of putting your problems onto a doll or figurine and taking it to the temple for the priest to smash into smithereens and thus appease you of your trouble. The literalness of this seems to appeal to the group. The performance of making an object imbued with the intangible but real and releasing it of those properties, is interesting. The shifting between the real and the imagined, concrete and abstract, the enchanted and the emptied out vessel. A friction is generated by the idea of enacting violence upon psychic objects.
Peter then describes the shaman from Egypt and beyond as a member of society who was always in some way weakened, perhaps mentally or physically. This idea of the wounded healer struck a chord. The sanctioning of a sacred imperfection that makes you a greater support to others seemed poignant to us all.
On this empathic note we took off to look around the museum, heading in through the exit in order to experience the place "widdershins" (against the sun) but more prosaically in order to not put the onus on the slightly scary temporary exhibition about cursing that is at the entrance. Being someone who can hold rage and vendetta close to me like Medea, I was keen to stay on the side of the positive and hopeful in this workshop.
Instead, the objects that Nat and I had chosen to focus on in the guide we made beforehand included a "get lost box" in which you might lock away and bury your problems, and hag stones (natural stones with holes in them), lucky keys that protect your home, green men and sea witch love charms which can protect a man's masculinity. In the museum I poured over the sea witch collection as usual, admiring the fisherman's caul and sea horse charms and the seabeans. Ann-Marie put a coin in the tarot machine and her hunch about a family tension was confirmed by the devil reversed card. Gene was making some beautiful drawings of horseshoes, wheatsheafs and dead cats. The potency of his works made me think more about the power of drawing and painting, how those mediums can add a further layer of efficacy to already humming folk objects. During lunch people went off to gather bits and bobs for the charm making whilst a core group of us sat outside the museum eating pasties and soaking up the sun. It was now boiling despite all the weather reports saying it would be cold with torrential rain all week.
We regrouped in the library which was cool and settled down on a dust sheet on the carpet to make our positive and negative banishment charms. Nat and I laid out all the stuff we had brought and people chucked in what they had gathered at lunch. Besides a few key objects for which ownership was a goddess given right (like my diva bluebell from the night before) or Westy's lump of quartz, everything was shared and up for grabs.
A powerful quiet settled on us as the talismans became more and more weird. I thought of the political moment and the potential of humans to share and inspire each other, and to elegantly sidestep the frameworks' requirement for us to be pitched against each other at all times for optimum efficiency. Sod that. The objects we made were useful, eery, creepy, beautiful, loaded, chic, indigenous, efficacious and (mostly) biodegradable. (I had included some rose gold tinsel. I would like to banish Christmas but since I can't, I thought I'd try to recuperate it in my positive charm instead.)
We spent about 45 minutes making our charms and then admired them for a minute on Cecil Williamson's heavy wooden table near the window looking down to the harbour. After this we recited three times the banishment spell that Nat and I had found in the library on a previous visit. Josie recorded it for the Groundwork website as a further memento of the day. This felt like a consolidation of the profound and cheerful spirit we had summoned up in the charm making.
Next we headed out to the harbour. The slate was baking. We sat in a circle in a natural arena formation above where the rushing stream and the sea meet. Earlier in the morning there had been a scummy spume covering everything but now it just appeared in patches like sordid little icebergs. There were lots of day-trippers but we just sort of went for it, drawing the circle and taking over the plateau with our grounding session, unapologetically.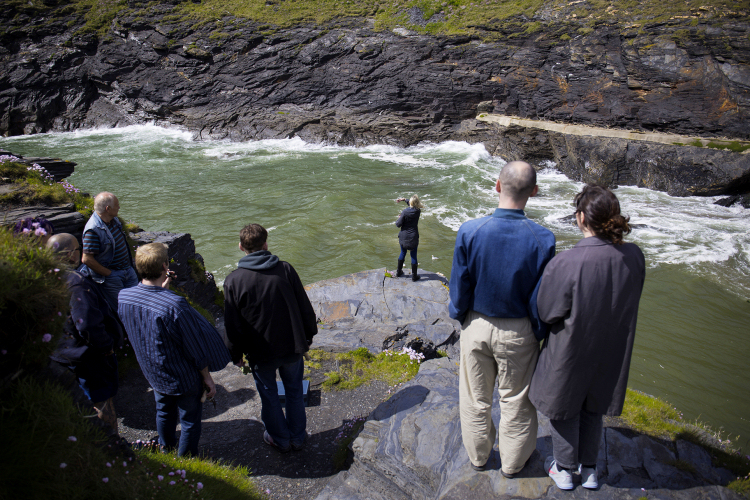 First Andrew tells us to feel our bums on the rock and then feel down our legs to our feet, taking in all the sensations of being in this place at this time, in this body. He tells us to feel ourselves being held by the warmth of the sun, and to breathe in as deeply and slowly as we can and to hum as we breathe out. Most of us hum. Speaking only for myself but with the memory of my blind perception of the group within the drawn circle, it felt really humbling and euphoric. When I open my eyes I notice that a few members of the group have stayed a bit on the outside, watchful, maybe self conscious, but everyone seems very calm. All the while our little objects, to keep and to banish, had been languishing in the heat on the slate gathering up all the magic of the sun and the day. They were laid out like tools and must have looked pretty peculiar to the day trippers since by this point they were powerfully resonating with folk magical properties. Then we headed down one level of slate to a natural platform in the rock and I went first, screaming as I threw in my diva bluebell hoisted to a lump of quartz with twine and birch leaves on which I'd drawn some Celtic insignia.
The next person to go was Ann Marie and by now the seagulls had started to take an interest and were swooping. Soon they were gathering and hovering and squawking and by the time Gene's turn came they tore his elegant charm apart with their beaks before it hit the water. Bits broke up and made it to the water only to be dove for by other birds. Gene got the best of both the airy and watery realms in his powerful banishment. The birds, prehistoric and determined, like demons themselves, tore apart everyone's charms eventually and got anything that was in the water and then dropped it again since there was nothing of nourishment for them. Perhaps next time there should be, I thought, enjoying the idea of my problems emerging as bird shit, or someone else's good luck? Such are the transformations of folklore. I thought also of Daphne du Maurier writing "The Birds", and again I felt that here in Cornwall we are at the epicentre of fearful and primordial power. It was all a bit overwhelming, in a good way.
Reeling from the epic spectacle we headed back to the museum. The idea was to have a quick cup of tea and bit of cake and fill out our feedback forms in the National Trust tearoom. I mumbled something apologet-ically about the public sector whilst handing out the bits of paper but everyone seemed quite keen to report back on the day which was helpful. I was gratified to hear from Nat later that one of the clients said she felt the happiest she had for years. I felt really happy too.
More and more I think that the sacred duty of the artist is to activate atmosphere and magic where possible. Getting people together in places that feel potent and doing things in those places that generates more power makes me feel healthy and alive. Currently there seems to be an urgency to communicate life to the living that feels like a form of activism in the face of the bland and branded options for socializing and the rampant privatization of social space which has clad our most potent and pagan places (cities and towns mainly but nowhere is exempt over time) in thuggish mediocrity. Cornwall has retained many of its different and flickering numinous values in towns, villages and landscapes, hence perhaps the culture of healing that has developed here. The goddess is immanent, networked, fluid and untamed here and the Museum of Witchcraft seems to be a gathering place for these complex energies. I am proud that as a group we were able to contribute to the mytho-poetics of this supernatural site.
Thanks to Groundwork http://c-a-s-t.org.uk/projects/groundwork/