Luke Frost and the Tate St Ives residency
Alex Wade
Of all the artists currently living and working in Cornwall, it seems reasonable to expect Luke Frost to be more preoccupied than most by the weight of the county's artistic history. Not only does the artist-in-residence at the Tate St Ives for 2008-09 occupy No. 5, Porthmeor Studios – two of whose former occupants are Ben Nicholson and Patrick Heron - the 32-year-old also hails from one of the most illustrious families in British art. His grandfather, Sir Terry, had achieved international recognition as an abstract painter and printmaker before his death in 2003, while his father Anthony is also a formidable name in the contemporary British abstract art scene.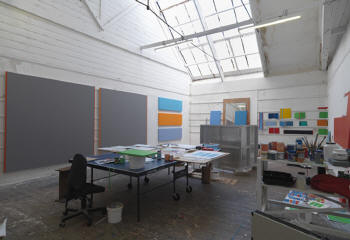 Luke, though, is unpretentiousness personified. "I'm very proud to have come from a family with such an important name in art, and I'm glad I'm carrying on the family tradition," he says, adding that he often sought his grandfather's advice, and still asks for his father's today. But a healthy, constructive dialogue is as far as the burden of history goes. "I like reading about my Granddad, and yes, it's enjoyable to think that he's such a great international painter. But other than that, I don't think about the past or my family too much. If I did the pressure would be intolerable. I wouldn't be able to produce my own individual work."
A similarly down-to-earth view is taken of Nicholson and Heron, two luminaries of St Ives Modernism who worked, just as Luke has for the past year, at No. 5 Porthmeor Studios. "People often visit the studio to get a sense of where they worked," he says, wryly remarking that the extent of the visitors' pilgrimage is often all too clear: "Some people tend to treat the studio like a shrine. It's almost as if they expect me to have a couple of candles flickering in honour of those who were here before me. They ask what it's like, me being here, where they once worked." His response – which, one suspects, is whispered inwardly rather than articulated – is that "I've got four white walls, and they're not here."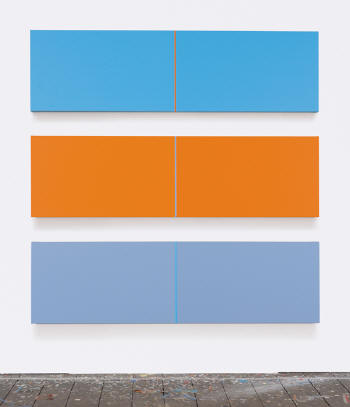 In other words, pragmatism prevails – and the work is all. Luke's upbringing may have played a vital role in making him the artist he is today, but what counts is the finished creation, not its hidden prompts. Indeed, to the extent that Luke does allow for the influence of the past, it is by way of celebration rather than homage: "I look back on my upbringing, in a place near Morvah in West Penwith, with great fondness. The main thing I remember is that it was quite Bohemian. There were lots of parties and lots of loud, extroverted people. And there was always lots of colour. Literally so – my Dad and Granddad's houses were two of the most colourful places I've ever seen. The whole family was full of larger than life characters and there was a constant sense of fun."
Colour is integral to the Luke Frost oeuvre. "I want my work to be uplifting," he says, "so that people walk into a room and experience a bang of pure colour." Looking around the studio as Luke prepares for a show to mark the end of his spell as the Tate St Ives's artist-in-residence, it is impossible not to be mesmerised by the intense, pristine canvases hung either in triptych or individually. Layer upon layer of acrylic paint has been applied in a style that nods more to American minimalists such as Donald Judd and Dan Flavin than the great St Ives Modernists. The multiple layers resonate, imbuing the work with a richness and depth that linger long after the eye has moved away. No wonder, for in both the Volts and Supervolts series of paintings – to be continued with his Tate show – Luke Frost knows exactly what he is doing.
"Six or seven years of thought have gone into these paintings," he says. As such, the works are paradoxically harmonised and yet strangely disrupted by two electric zips or "volts" of contrasting colours which are painted deceptively so as to leave a deliberate impact on the retina. "The surfaces are never flat," says Luke, "but they may appear so. The volts trick the eye into expanding into the space around the canvas."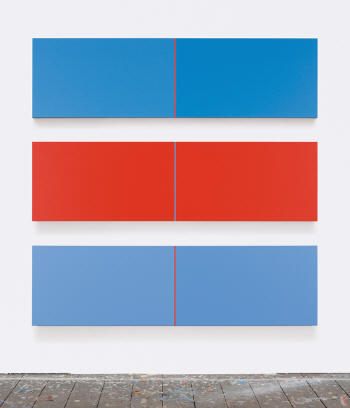 Luke's affability is genuine, but the allusion to the profundity of thought and technique essential to his work reveals that there is more to him, and his paintings, than meets the eye. Born in 1976 in Penzance, he attended Penwith College before studying at Falmouth College of Art. Then it was to Bath, where, between 1995 and 1998, he completed a BA in Fine Art. He returned to Cornwall and immediately began working as an artist, showing with the likes of the Rainyday Gallery in Penzance and Badcocks in Newlyn before establishing what has proved to be an ongoing relationship with the Somerville Gallery in Plymouth. There have been many London shows and, in 2007, Luke was part of the much-publicised 'Art Now Cornwall' show at the Tate St Ives.
This, then, is a man whose art education is both academic and instinctive, but who remains humble enough to be immensely grateful for the experience of being the Tate St Ives's artist-in-residence for 2008-09. "It's been very rewarding," he confirms, "As an artist you can sometimes fall into a vacuum and wonder what you're doing. But being the Tate artist-in-residence has given me the chance to think about what I'm doing, to explore my work and take my time over it." As a consequence, Luke has begun experimenting with right-angled paintings on aluminium frames, hung in Triptych. Their effect is typically physical, their colours almost viscerally lodging themselves in the mind's eye, and thanks to his Tate residency, Luke reckons he is "about a year ahead in terms of what I'd hoped to achieve by this stage."
But throughout his intense engagement with colour, Luke has pursued a lifelong passion – football. For the past 10 years he has been a key member of Newlyn Non-Athletico (of which he is now joint player-manager), surely the Cornwall Mining League's most flamboyant team. "We've always had lots of artists, writers and poets. At the moment, there are three artists, one poet and one writer," he says, before, as ever, dropping in a wry aside: "There's just one problem with having so many artists. At crucial moments we get distracted by the light."
The image is an arresting one, but there is a sense that Luke himself is not the type to stand still for long. He and his partner Louise have two children, Leo, three and a half, and Arthur, just four months, and what with his involvement with Newlyn Non-Athletico life is never less than busy. But from Monday to Friday, from nine to five, Luke devotes himself rigorously to his abiding fascination with colour and tone and his quest to create those 'uplifting bangs of pure colour'. Judging by his latest work, he's admirably living up to the family name, but better yet, if you mention it, he'll smile, take his hat off – and then get straight back to work.
See www.lukefroststudio.com for more information. Luke Frost's latest work can be seen at the Tate St Ives from 24 January 2009. See www.tate.org.uk/stives.
article first appeared in Cornwall Today